Two recent videos show a UNICEF employee threatening and physically assaulting a group of people at a house party in Kenya.
Thogori Karago, co-founder of LGBTQ-friendly travel booking platform Pink Coconuts, shared the videos and detailed her experience in a Medium post. Karago had rented an Airbnb in the Ridgeways neighborhood in Nairobi, Kenya, to host a post-wedding luncheon for her brother. UNICEF employee Philip Van De Graaf crashed the small gathering and immediately began acting belligerently toward the guests.
"It's 9 o'clock now, no? It's curfew time, no?" Van De Graaf says as he enters the premises and interrupts a guest's speech. He then asks who is renting the Airbnb and demands they leave.
After Karago unsuccessfully asks Van De Graaf to back off, he shouts "fuck you" and raises his middle finger to the man filming the altercation. He begins shoving the guests, continually yelling "fuck you" and threatening to kill the partygoers.
Van De Graaf stumbles backward and appears to trip over patio furniture as the guests repeatedly tell him to leave. A second video, however, shows that the altercation continues for several more minutes. Van De Graaf staggers around the patio, hurling more threats and profanities and growing increasingly hysterical. Finally, two guests tackle Van De Graaf to the ground in an effort to subdue him. 
On Reddit, Van De Graaf was dubbed "Timekeeper Karen."
The man filming the video dares Van De Graaf to call the police and adds, "I will post this on Twitter. Trust me, you are leaving this country."
In her Medium post, Karago said she and her guests locked themselves in the Airbnb and called local police on Van De Graaf. They learned from the staff on the premises that Van De Graaf "has a history of substance abuse, hurling racially verbally abusive language and using his dogs against the guards assigned."
Karago said she reported the assault to local police and UNICEF on Sunday but had yet to hear back from UNICEF. According to his LinkedIn, Van De Graaf has worked for the organization for nearly 12 years, most recently as a regional supply and logistics manager.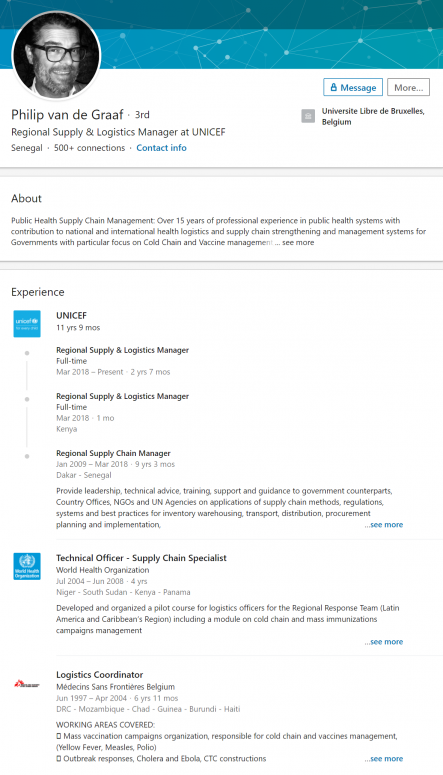 Neither Karago nor UNICEF immediately responded to the Daily Dot's request for comment on whether the company had taken disciplinary action against Van De Graaf, but at the time of this writing, his LinkedIn profile is no longer available.
---
Today's top stories