On Tuesday, Texas's Senate State Affairs Committee began its hearing for the state's bathroom bill, SB6. Under the bill, transgender Texans would be required to use bathrooms in government buildings, public schools, and public universities that match their "biological sex," instead of the gender they identify with.
Sen. Lois Kolkhorst of Brenham, Texas, the bill's author, said the bill was an effort to "strike a balance" for the protection and privacy of women and children, with other Republicans focusing on the bill's aim to keep men out of women's bathrooms.
"I have to say that while many have made this about a transgender bill, it's more about someone that will use this bill [transgender protections] as an excuse to go into the most intimate places we find ourselves in," Kolkhorst told the Texas Tribune.
Despite what Kolkhorst and other Republicans say to justify the legislation, however, opponents say the bathroom bills of Texas, North Carolina, and other states hurt transgender people the most. Supporters may argue that SB6 is written to prevent a man from violating a woman's privacy in a women's bathroom, but there are no recorded incidents of men "disguising" themselves as women to pose as trans women and attack other people in women's restrooms.
Transgender people's safety, on the other hand, is at risk when they use public bathrooms. According to the 2015 U.S. Transgender Survey with responses from more than 27,000 transgender adults, 12 percent of people reported they were harassed, attacked, or sexually assaulted in a bathroom in the last year.
In addition, 24 percent reported they were told they were using the wrong restroom or were questioned about their presence, and 9 percent reported they were denied access to the appropriate restroom. Overall, 59 percent of those polled said they avoided public bathrooms altogether because they feared confrontation.
To the LGBTQ community, Texas's bathroom bill perpetuates the idea that transgender people are a threat to cis women and should be feared, ignoring that trans people are a vulnerable group that needs to be protected from the crimes Kolkhorst is trying to prevent. They also simply deserve equal rights, which includes using the restroom that aligns with their identity.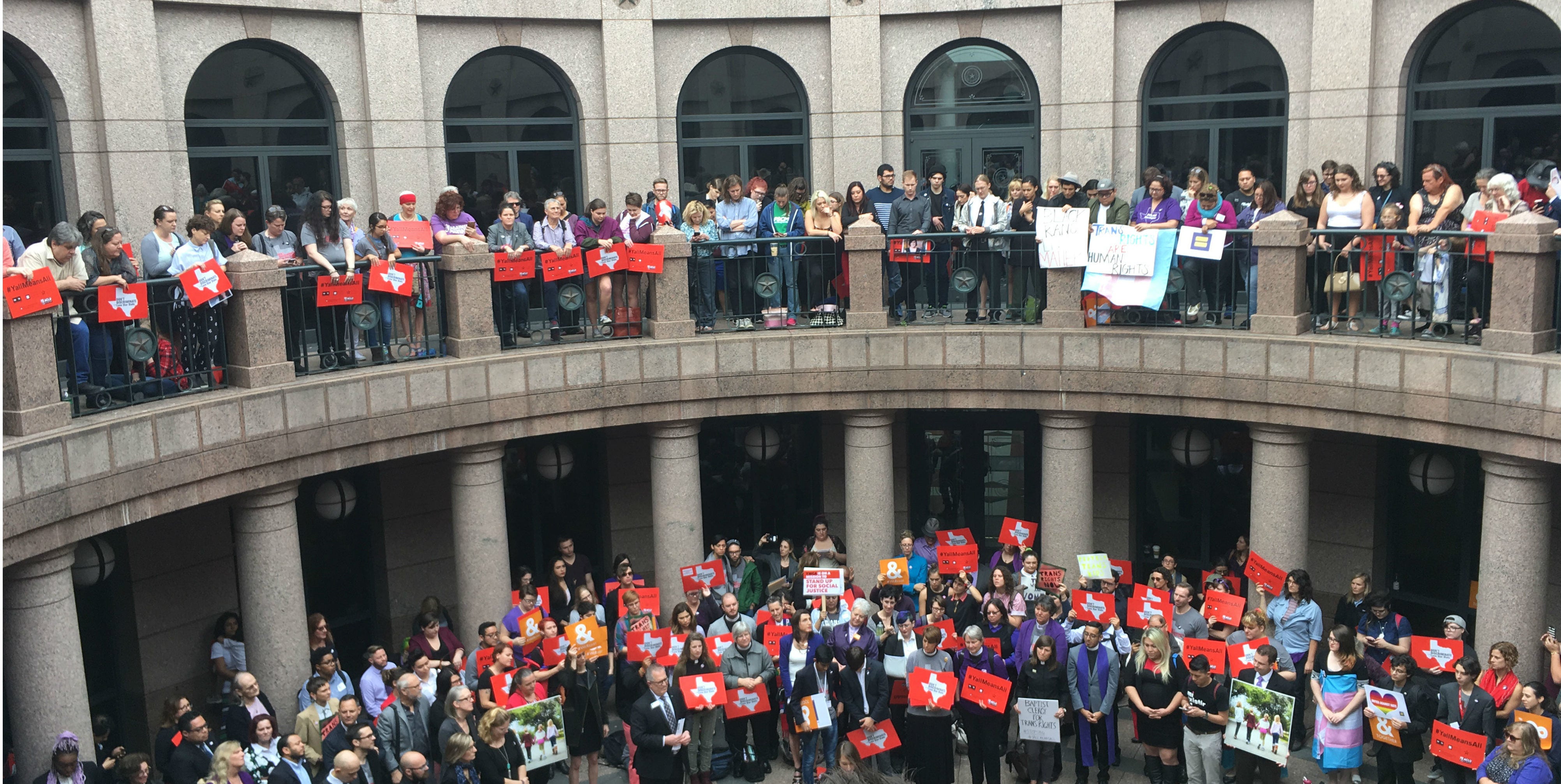 Interconnected: The Longing by dailydot
During the senate committee's midday recess, hundreds of people rallied against the bill inside the Texas Capitol and listened to stories from transgender advocates and supporters. The day before, on Texas Trans Lobby Day, hundreds also spoke out against the bill at the capitol.
Kim Farbo, a former Austin Police Department officer and a current law enforcement training specialist with non-profit organization Texas Association Against Sexual Assault, talked to the crowd about her time in the force. In her 13 years as a sex crimes detective for the department, Farbo said a transgender person has never been a suspect in a sexual assault case—however, trans people were often targets of assaults.
"From the beginning, 1986, I investigated victims that were transgender—sexual assault, assault, robbery," Farbo said. "This bill will put targets on the backs of our children and transgender population that doesn't need to be there."
Farbo said while the bill's supporters say they want to stop assault against Texas women, she believes the bill endangers transgender children, who would be unable to use bathrooms corresponding to their gender identity at school.
"Senate Bill 6 purports to protect women and children but in reality, it will put our children at a greater risk for bullying, harassment, physical and sexual assault, if they're required to use a bathroom that doesn't correspond with their gender identity or physical appearance," Farbo said.
Engineer Danielle Skidmore, who's transgender, also insisted that the bill directly targets transgender kids, as evidenced by the bill's civil penalties against schools that don't enforce the bill's requirements.
"Under the guise of protecting women's privacy and safety, [the bill] will ostracize these children," she said. "It will isolate them from their friends. It will force this myth that being transgender is somehow something to be scared about."
. . .
By 2pm on Tuesday, an estimated 420 people had signed up to publicly testify on SB6. Provided all 420 spoke for the maximum time of two minutes, the hearing would last an additional 14 hours. According to Chuck Lindell, reporter for the Austin-American Statesman, 70 people had spoken on the bathroom bill shortly before 7pm—19 in favor and 51 against.
Another sticking point about the bill is how it will affect Texas's economy. The NCAA and other companies are threatening to rescind their business with the state if the bill passes.
One of the speakers in the bill's favor, North Carolina Lt Gov. Dan Forest, testified about the economic impact his state's bathroom bill, HB2, has had since being implemented a year ago. Contrary to reports that the state has lost $630 million because of its bathroom laws and will lose another $250 million over six years if the NCAA pulls out of the state, Forest told the committee that the economy was booming.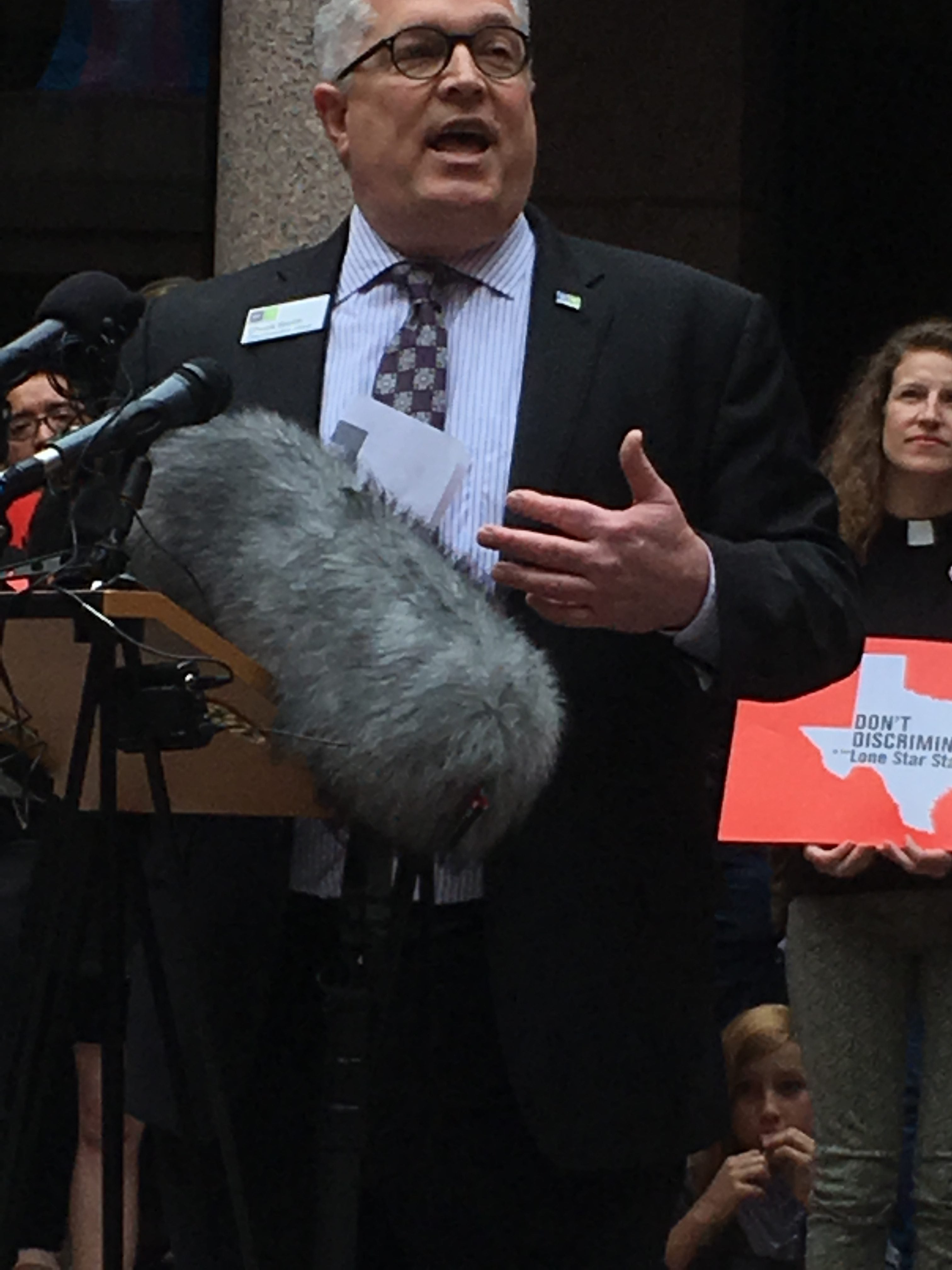 Chuck Smith, CEO of LGBTQ non-profit Equality Texas, believes this is revisionist history. "[Forest] conveniently failed to mention the companies and businesses that canceled expansions," he told the Daily Dot. "He didn't talk about the sporting events that were removed from the state… He basically ignored all the bad stuff that is happening in their state and is trying to pretend that everything is hunky-dory and nothing is wrong."
Then there is how the decision in this case could serve as foreshadowing for similar cases in the country. The bill's hearing comes one day after the Supreme Court's decision not to hear the case of Gavin Grimm, the transgender boy in Virginia who was told he could not use the boys' bathroom at his high school. In light of President Donald Trump's recent removal of protections for transgender students under Title IX's directives, SCOTUS sent the case back to the lower courts for further consideration. In the case of SB, a loss at the state level would further send the message that trans protections aren't necessary.
For Smith, however, SB6 and the indecision of Grimm's case isn't just about bathrooms, but for the livelihood of all transgender people.
"None of this is about bathrooms. It is about discriminating against transgender people," Smith said. "It's up to us to do the level of public education that is necessary in order to help Americans understand who transgender people are and to make sure that they recognize that transgender people are more likely to be the victims of crime—they're not the perpetrators of crime—and that any legislation that singles out or tries to prevent them from participating in public life is outright discrimination."