A Loughborough University student learned a tough lesson in cause and effect when he got suspended for making racist remarks about his flatmates on Snapchat.
In a since-deleted Snapchat post that was screenshot and widely shared on Twitter, the student expressed his dismay over his living situation.
"Without being racist…." he began (never a good sign), "So far I have met my flat mates named Gloria, Tarun, Aman and Mo. They're [sic] all sat in their rooms and don't speak and they all stink."
The student continued: "You're not allowed to go in anyone else's flat so I'm stuck in the ethnicity flat who probably don't drink when there are lots of fittys [attractive people] in all the other flats."
The student was able to find a silver lining to being stuck in the "ethnicity flat," though: "The only good thing is my leftover curry from last night."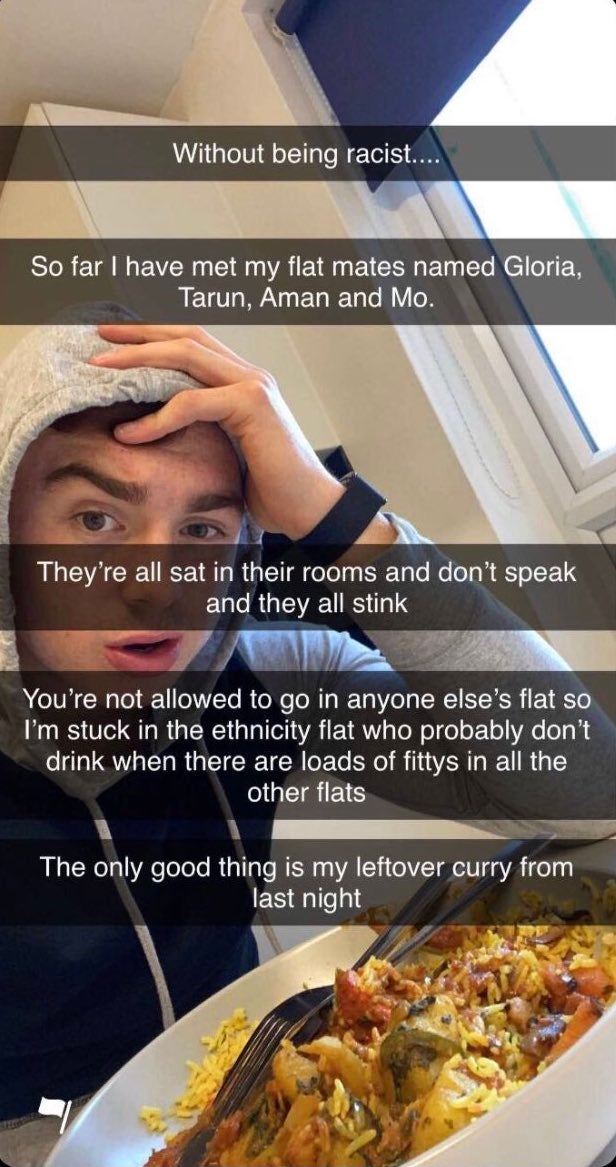 Twitter user @m_flamboyant shared a screenshot of the deleted post and tagged the English university, receiving 3,600 retweets. Among them was Twitter user @SimplyBlessingg, who noted the irony of "complaining about 'ethnicity flat' whilst also eating a curry" in a post that has been retweeted nearly 12,000 times.
The viral spread apparently worked, because on Monday, Loughborough University announced on Twitter that it had suspended the student responsible for the racist Snapchat.
"A student has been suspended from the University following offensive remarks of a racist nature made on social media and a full investigation is underway," a Loughborough University spokesperson confirmed to the Daily Dot. "Those directly affected have received support or offers of support."
While some Twitter users argued that the Loughborough student didn't deserve to have his life "ruined" over one "mistake," many pointed out that racist actions deserve consequences—and as @itskennday noted, "I'm pretty sure a suspension hasn't ruined anyone's life. He'll be fine." 
---
Today's top stories