A new Reddit video shows one of the most insufferable types of Karens—the "Religious Rights Karen"—calling 911 and claiming she was being oppressed because she was denied service at a pet store for refusing to wear a mask.
The video starts with Karen standing outside Bones-N-Scones, a Palm Springs, California pet store, being filmed by an employee. The woman has already dialed 911 and goes immediately off the rails and into the cesspool of false, white victimhood once the operator answers.
"Per the 1964 Civil Rights Act, I cannot be discriminated against," Karen says. "I do have a right to be able to breathe O2 [oxygen], not CO2 [carbon dioxide]."
The shop employee audibly sighs. Then the 911 operator asks if Karen needs services for, say, an emergency. Karen tells her that she's not being allowed into the store.
The employee says it's because she won't wear a mask, as California has a mask mandate and the store maintains a right to refuse service to non-compliant customers. Karen tells the operator she has a "religious exemption right" and "a God-given right" to breathe oxygen and not carbon dioxide.
"I thought it was a medical exemption," the employee quips, to which Karen replies, "Uh-huh, yes, medical exemption, too. It's all under the same topic."
"They close in six minutes from now as well, and I'm just here to buy a couple of items, so I don't know if this is gonna turn into a whole long thing when I'm just here for a couple of items," Karen continues.
"If you need them so badly, why not just put on a mask?" the employee asks.
"Because I won't wear a mask!" Karen snaps back.
After being asked not to argue by the 911 operator, Karen identifies herself by first and last name. She reiterates that the store is empty and about to close, so she deserves to be let in, but the employee reminds her it is "a private business with private rights."
The video fizzles out with the 911 operator acknowledging the county-wide mask mandate, and it is unclear whether the conflict between Religious Rights Karen and the Bones-N-Scones employee gets resolved. Just as the video wraps, though, Karen curiously says: "You're one of the first people that I've called 911 who actually doesn't seem to…"
In a Twitter reply to the posted video, @naima wrote, "But you hear at the end '… you're one of the first people when I've called 911 who actually doesn't…' meaning she's just roaming around doing this shit."
Other Twitter users noted Karen's audacity and false victimhood in holding up 911.
@BrnEyes999 tweeted, "It's bad enough that she's acting like a victim because she doesn't WANT to wear a mask (and she can't seem to make up her mind whether her 'exemption' is religious or medical), but on top of that she's admitting to abusing the 9-1-1 emergency system. Ay Dios mio!"
The use of 911 is especially heinous, given that Karen essentially weaponized the emergency service and tried to use it to shield herself from inconvenience.
Karen also made herself easy to locate by giving out her full name while being filmed. Other Twitter users identified her account, which is currently locked. She appears to co-run the account with her significant other and recently retweeted a #SaveTheChildren post, which is part of QAnon messaging. In other words, she is the embodiment of Karen in 2020.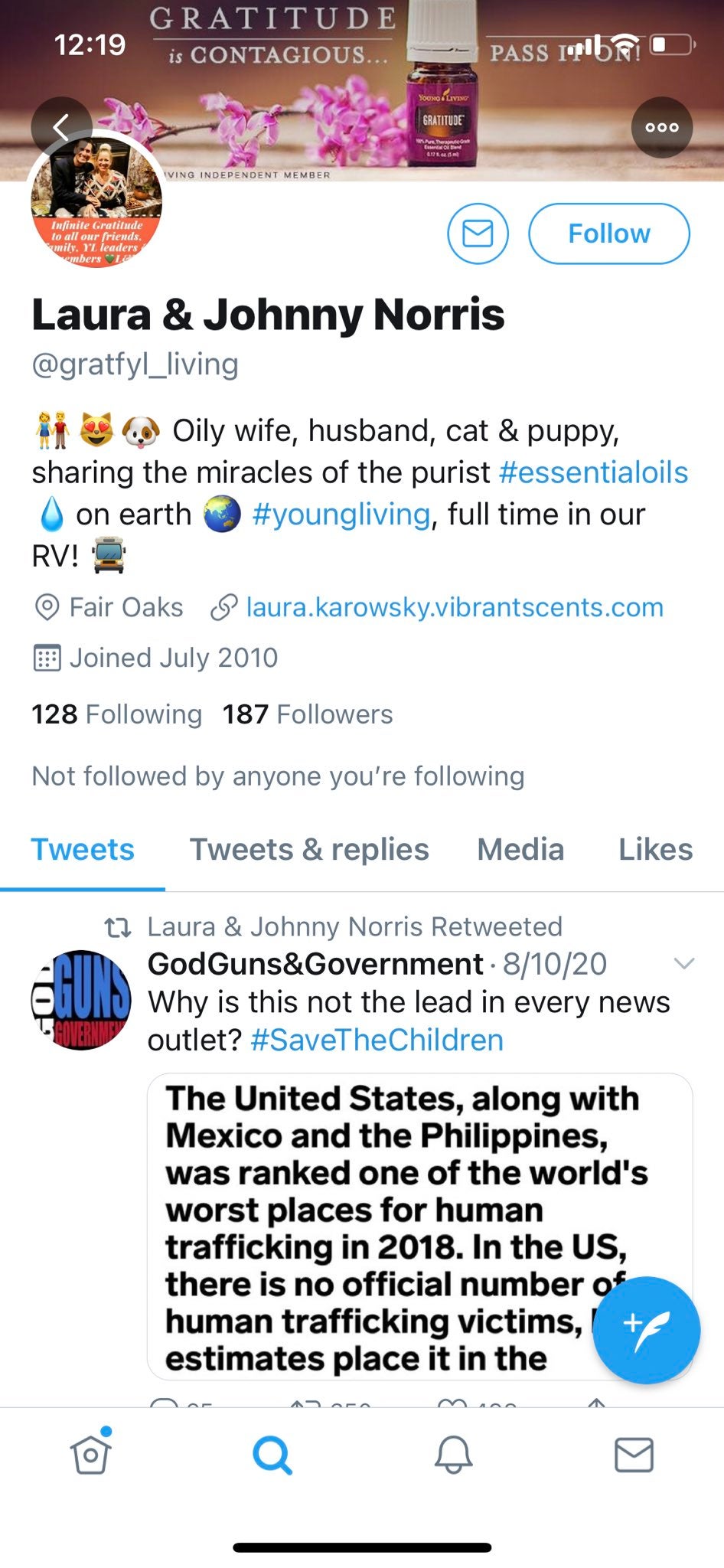 "AND she sells essential oils through an MLM [multi-level marketing] pyramid scheme," @miz_teresak tweeted. "She's a walking stereotype."
---
More Karen News