A New Hampshire couple has gone viral for posting a racist video on Thanksgiving about Black people.
Their TikTok account, @whynot2boys, was not available to view on Friday when the Daily Dot ran a search. 
The video has since been shared by others on social media, such as users @my_doode on TikTok and @davenewworld_2 on Twitter, garnering thousands of views and comments.
Twitter user @davenewworld_2 apparently identified the woman as Rebecca Whyte, whose bio on Facebook has their usernames for their other social media handles by the same name, @whynot2boys. The man has been reportedly identified as Mike Tolvanen. Their video was accompanied by hashtags such as "jokeoftheday" and "thanksgiving" and "turkeyday."
"Hey babe," Tolvanen says in the video.
"Hello darling!" she responds.
"A little trivia for you…What do Blacks get after sex?"
She pauses for a bit, before saying, "A.I.D.S.!"
He shakes his head and says, "Seven to 10!" and cracks up.
Whyte appears confused for a moment before cracking up.
According to some viewers' comments in the responses, it appears that the "seven to 10" is a reference to jail time— insinuating that a Black person having sex would inevitably be rape. 
Whyte did not respond to the Daily Dot when contacted via Facebook on Friday; neither did Tolvanen.
They also have a YouTube channel where they post other problematic content, including homophobic jokes and other anti-Black racist jokes, some even joking about the killing of Black children.
The TikTok username @whynot2boys is connected to an Instagram name of the same username, whose screen name is Rebecca Whyte. Her Facebook profile has links to social media accounts with the same username. The Instagram page also links to a YouTube comedy page run by the duo, "Mikey T & Becky B Jokes."
On Instagram, user Mike Tolvanen is followed by and follows the account of a username @mikeyt_becky_b_jokes.
Their Instagram profiles are set to private.
"Joke page that IS NOT politically correct," reads the description of the page, with mentions of their other handles, @whynot2boys on TikTok and @mikeyt&beckybjokes on YouTube.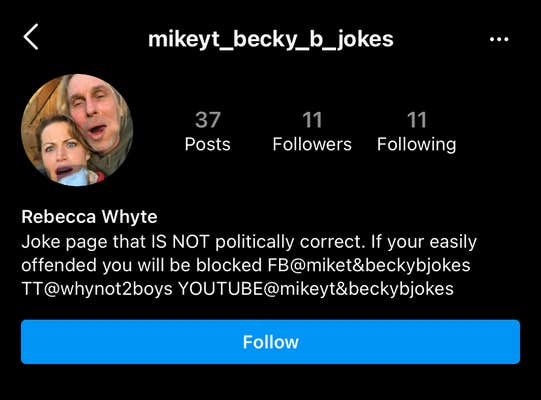 One user on Twitter posted an image of their business "Wood n Stone Creations LLC." When the Daily Dot called the company on Friday, the call went to voicemail, but it did identify Tolvanen as the owner.
On Friday, the Yelp page for the business was filled with negative reviews.
"It is such a disgrace that the owners think that they can be openly racist on their social media. Do not give them business," wrote one user.
"Racist people who should not ever do business with others," read another review. "I am sick to my stomach that these people are/were able to conduct business. For thirty years. Shame."
All six pages of their reviews are from Friday—all condemning them for their racism. 
A notice also read "Yelpers report this location has closed." Often, when a business is inundated with negative reviews after its owner has been exposed for bigotry, Yelp issues a warning on the page claiming it's monitoring the page in order to contain reviews by users who weren't verified customers of the service. No such warning was present on the page on Friday.
Must-reads on the Daily Dot