Wednesday morning on the front steps of the Texas State Capitol, 15 young women danced in colorful quinceañera dresses that shimmered in the sunlight. It was a different type of cultural celebration: a protest of Texas Senate Bill 4, known colloquially as the state's anti-sanctuary bill.
In Latino culture, a quinceañera is a traditional event held for a teen girl's 15th birthday and symbolizes her transition into womanhood. They bring together the family and community who raised her. At the protest organized by Jolt Texas, a statewide Latino nonprofit, the girls wore quinceañera dresses with sashes that read "no fear," "democracy," and "no SB4."
"I am undocumented, and SB4 is a law that is racist and that has a lot of people scared," Daniela Rojas told the Daily Dot. "It's important for the community to fight back. It's important for us to show our cultural heritage and be proud of it." The 22-year-old wore an intricate silver dress with a sash that read "democracy."
Protests against SB4 have been taking place outside the Texas State Capitol since it was first introduced to the Senate House Committee in February. The bill, written by Sen. Charles Perry (R), was pushed quickly into law with the encouragement of Texas Gov. Greg Abbott (R). Abbott made the bill a priority after Travis County Sheriff Sally Hernandez stated that her department would not be helping Immigration and Customs Enforcement (ICE) detain and deport undocumented citizens who have not committed violent crimes. The new law will require local law enforcement to help ICE and punish those who don't comply.
Those opposed to the law argue that it promotes racial profiling and makes people in the community afraid to report crimes or speak to law enforcement.
"My parents are undocumented, and it scares me to go to school thinking that my parents are at work and something bad might happen," Kaitlyn Barrientos said. The 15-year-old wore her baby-blue quinceañera dress, which she used for her birthday just last month, with a sash that read "no fear."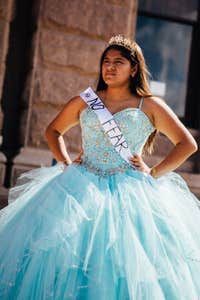 Wednesday's protest overlapped with the beginning of a special legislative session. On Tuesday, the first day of the session, Sen. Jose Mendez (D) filed a bill to repeal SB4. The city of San Antonio and its surrounding Bexar County are among those who have filed lawsuits against Texas over SB4 in the months after its signing into law.
The protest included speeches by several of the girls and a choreographed dance to traditional music, as well as modern hits like the rap song "Immigrants" by artists K'naan and Snow Tha Product.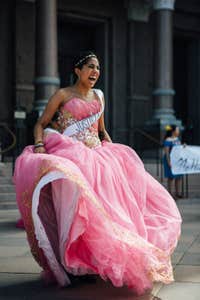 After the dance, the women delivered gift baskets to legislators who voted against SB4. They then delivered photos of 16-year-old protester Jennifer Ramirez posing as the statue of liberty to legislators who voted for SB4. During the protest, Ramirez recited the poem "The New Colossus," which is engraved on the Statue of Liberty.
"They built the Statue of Liberty for freedom," Ramirez said. "For them to write this law, it doesn't give us that freedom that they supposedly stand for."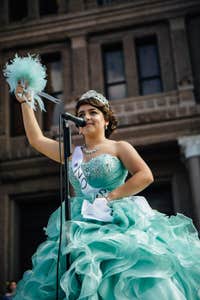 Quinceañera dresses are bigger than your typical prom gown, and the women spent a lot of the protest hiking up their skirts in the 88-degree heat. But all the pomp, glitter, and makeup represent more than a fun party for teenagers—it was a display of how cultural traditions are an important part of the fabric of the Hispanic community. Since a quinceañera is a family-oriented celebration, many girls feel that by wearing these dresses they are representing not just themselves, but their undocumented parents and family members.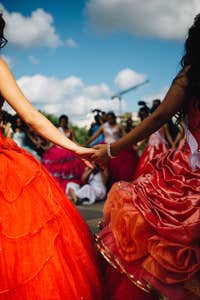 "I think it's important to show that we have a lot of pride for our community and pride for our culture," Jolt Texas intern Leslie Abraham said. "We're going to celebrate our existence and joyfully protest these hateful acts."
If SB4 remains, the law is set to take effect Sept. 1.