California-raised, bilingual rapper Claudia Feliciano, known nationally as Snow tha Product, wanted to become a psychiatrist. She believed that was the only way to help teenagers who struggle with depression—the experience of deep hopelessness is one she can personally relate to, after all.
But then her hip-hop career took off, and well, it provided a better platform for that.
"I felt like through music I would be able to help way more people, and what better way to [impact] teenagers than to do so with the type of music that they like," Snow tells the Daily Dot.
She's a natural performer who came of age rapping at house parties. Her mixtapes went straight to the internet, and skyrocketed into the public eye once she landed guest appearances from high-profile rappers like Tech N9ne and Ty Dolla $ign. In 2012 Snow signed to Atlantic Records. In 2016 she performed on "Immigrants," a song from the Hamilton mixtape.
Then there was that one time Snow's educationally minded music caught a psychiatrist's attention.
"It was a crazy epiphany to me. I ended up doing what I wanted to do and now I have someone who went to college and is a professional looking to me for the answers," she says. "All my mom ever wanted was for me to be a psychiatrist and now here I am giving advice [to one]."
Snow says her ability to help those who struggle with depression find hope in life is the greatest gift she receives through her career. In the lyrics of her songs, she opens up about her personal battles in life, which include alcohol abuse, depression, and mapping out the racial discrimination she's faced. Snow says she's witnessed fans open up about their struggles and seek help because they were inspired by her ability to be vulnerable in front of them.
More than 300 million people of all ages suffer from depression worldwide. It is the leading cause of disability and can lead to suicide, according to the World Health Organization. And so, Snow says, she does her part.
"Whenever I meet people who [say] 'I was going through the worst time' or 'I was suicidal and you inspired me,' that's the one thing that means a lot," Snow says. "And that's what I brag about."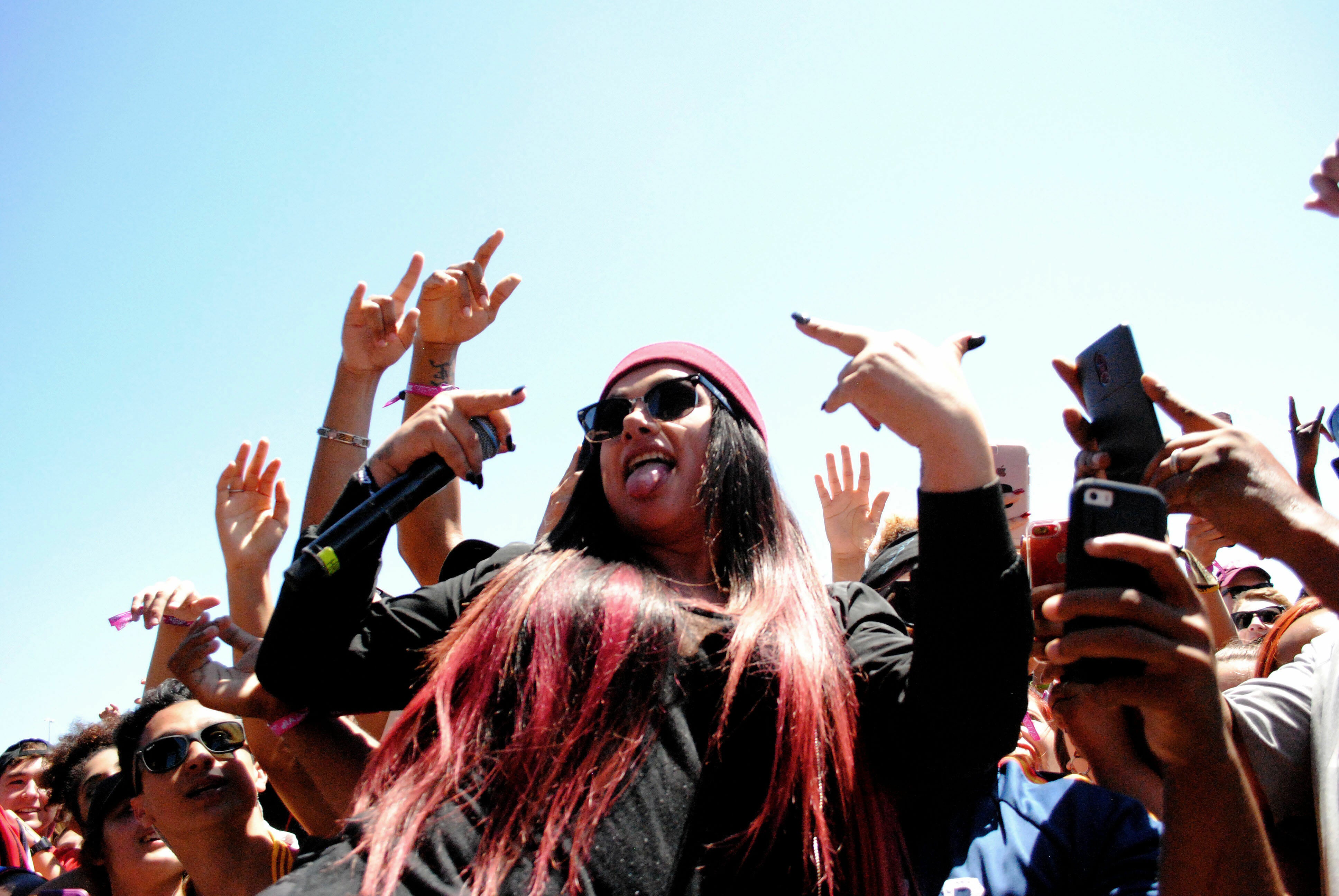 She also uses her music to embrace her Mexican heritage. Growing up Snow witnessed classmates try to disclaim their Mexican culture because they felt ashamed by some of the country's  political issues. Now in the public eye, she works to help people see the good in Mexico and take pride in their country.
"I feel like we have such a beautiful culture and maybe it hasn't been portrayed right, maybe some people don't agree with certain things but that doesn't mean you have to just shun your whole culture," Snow says.
"I'm a Mexican and don't get scared, all the Latinos, we are one," she hammers home on "Despierta," before complaining about the president.
Unapologetically herself, the rising rapper performed at the Jmblya festival in Austin last month. She did so with pink streaks in her hair, shouting F-bombs onstage before Chance the Rapper's headlining set, and making a conscious effort to use her politically driven lyrics to keep fans "woke," or aware of current events and relevant issues of today. She projected an image of President Donald Trump, then led chants against his plans to build a wall along the U.S.-Mexico border.
In the short term, she's planning more concerts that include meet-and-greets with fans. She's working with her brother and the rest of her team to produce singles and music videos, while juggling the schedule of her new role in Queen of the South. The TV thriller series tells a story of woman who is forced to run and seek refuge in America after her drug-dealing boyfriend is unexpectedly murdered in Mexico. Season 2 premieres via the USA network on Thursday.
Snow constantly works to surpass her own expectations, and is motivated to put in the time and effort to take her music career to the next level. Enjoy the rap music while she still has time to make it, in other words.
"It's time for me to just turn up a little bit," she says. "And hopefully take it all the way to the top."