The white mother who called the police on a Black teenager said she regrets making that call. The 17-year-old, Anthony Thompson Jr., was shot and killed in the bathroom of Austin-East High School by police on April 12.
"We're all looking for justice in this situation," Regina Perkins, the white mother of Thompson's 17-year-old girlfriend Alexus Page, told Knox News. "I never meant for anything to happen to him."
Perkins received a call from her daughter Monday morning at school asking if she could go home early. When she arrived home, Perkins said her daughter was missing hair and had marks on her face. For months, Thompson and Page's relationship reportedly involved incidents of physical fights and suspensions from school.
"At the time, I felt like both of the kids needed a break," Perkins said. "They needed some counseling. They were both dealing with issues mentally that they could have used some help in those areas."
In the past, Perkins said she had asked the school to do more to intervene and separate Thompson and Page.
"We're looking for these schools to help us to protect them where I feel like they failed to do so," Perkins said. "This is a complete and total tragedy and we're all suffering as a community because we've lost so many children."
Officer Jonathan Clabough of the Knoxville Police Department arrived at Perkin's home at 2pm Monday afternoon to file a police report. Perkins texted Thompson to let him know that an officer would be showing up at Austin-East High School to follow up a report of domestic assault.
Page spoke to Clabough and told him she was "tired of being scared."
"[Page] normalized the relationship a lot, just because of the abuse that she's witnessed and that, I take responsibility for and feel awful for," Perkins said. "That's more of the reason why I feel like I had to stand up for her because she wasn't going to do it for herself."
At approximately 3pm officers Clabough, Brian Baldwin, Adam Wilson, and Lt. Stanley Cash arrived at Austin-East High School. Perkins told the police that Thompson owned a 9 mm pistol, and the officers planned to arrest him on a domestic violence charge.
Police body camera footage of the altercation shows the officers enter the school restroom where they find Thompson sitting in a stall.
"Keep your hands out of your pockets," the officers tells him. A scuffle quickly erupts between Thompson and the officers. Off-camera, Thompson says, "Wait, wait."
The officers struggle with Thompson after a bullet fires from Thompson's gun. Clabough fires two shots, killing Thompson and hitting Wilson in the leg. Thompson's friend sitting in the next stall pleads for the officers to help Thompson. "He fucking bleeding," he says. "I need y'all to do something."
Knox County District Attorney General Charme Allen said the shooting was justified under Tennessee self-defense and defense of others laws in a press news conference. The four officers are currently on paid leave, and Wilson was hospitalized for a few days.
Knoxville Mayor Indya Kincannon released a statement on April 21 after the investigation was completed. "Even as we find ourselves in places of disagreement, let us remember that we stand united in our quest for safety in our communities and accountability and the truth," the statement read.
While some Knoxville residents praised her leadership, others were upset about the lack of police de-escalation training.
"Why not instead of trying to militarize our police department by buying them equipment fit for warzones, you spend that money training the officers how to de-escalate situations without murdering children, Mayor Kincannon?" Facebook user Angie Pentka commented.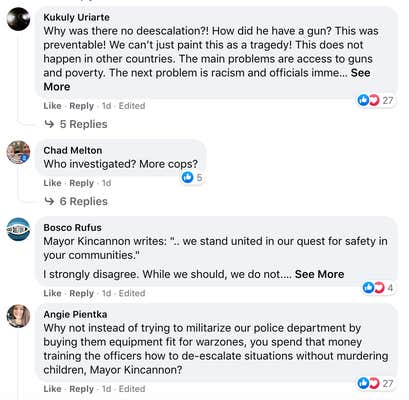 Although Perkins saw that the relationship between Thompson and her daughter had become unhealthy, she said she wishes the situation had been dealt with differently.
Perkins and Austin-East High School did not immediately respond to the Daily Dot's requests for comment.
---
Today's top stories