"Comedy podcast Twitter" staked its claim for the most salacious intra-community beef on the internet this week when Pod Damn America co-host Jake Flores accused the Legion of Skanks podcast of leaking an old BDSM porn clip in which he starred.
Flores, a standup comedian and co-host of the "gothic socialist podcast" alongside Anders Lee and Alex Ptak, shared the details of the video on Twitter on Wednesday.
"Hello internet. Today the Legion of Skanks has decided to out me, or cancel me, or harrass me or something, by disseminating a FEMDOM style PORNO video I made with a friend of mine who is a sex worker and a fantastic lady," Flores tweeted. "In the video I eat my own CUM. 10 stars, would go again."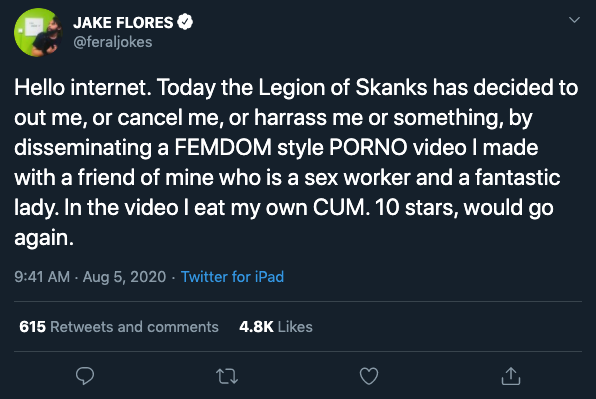 A screenshot of the video in question appeared on the r/LegionOfSkanks subreddit yesterday. Flores implicated Legion of Skanks co-host Luis J. Gomez, who co-founded the Gas Digital subscription streaming network, which the Hollywood Reporter previously described as "catering to alt-right sensibilities." (Gomez invited disgraced alt-right provocateur Milo Yiannopoulos on Legion of Skanks last year.)
"I don't understand the point that is being made by doing this, Luis Gomez is literally on film sucking [comedian] Robert Kelly's dick, presumably so something funny would finally come out of his mouth," Flores continued. "Obviously we're all degenerates."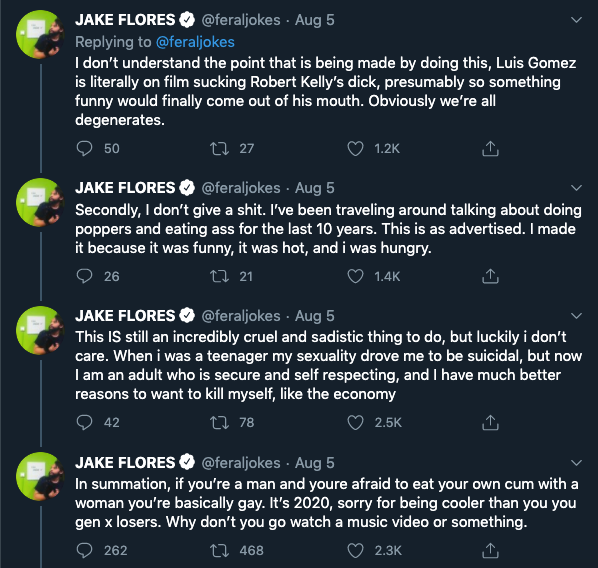 Flores insisted that while the alleged leak was "incredibly cruel and sadistic," he was unbothered because he is no longer insecure about his sexuality and now has "much better reasons to want to kill myself, like the economy."
"If you're a man and you're afraid to eat your own cum with a woman you're basically gay," Flores capped his Twitter thread. "It's 2020, sorry for being cooler than you you gen x losers."
Gomez addressed the controversy in a 30-minute YouTube video uploaded Wednesday. He clarified that he did not "suck Robert Kelly's dick" but in fact sucked Kelly's dildo and was embarrassed by it. He drew a distinction between that stunt and Flores' video, which he called "dehumanizing" because women were present. Gomez also repeatedly accused Flores of being mentally ill and obsessed with him.
The two podcasters briefly sparred on Twitter as well, when Gomez quote-tweeted Flores and wrote, "I sucked a fake dick for a bit on a podcast. You ate real cum to pay your rent." Flores, in turn, quote-tweeted Gomez and wrote, "We are NOT the same."
Flores shows no signs of backing down on this issue. On Thursday morning he announced, "I am not going to stop tweeting about cum."
---
Today's top stories