If you've ever looked up "plantation wedding" on Pinterest or wedding planning website the Knot, you might have seen words like "elegant" or "southern charm" come up in search results. But a civil rights advocacy group is looking to end the glamorization of former slave plantations.
BuzzFeed News reports that nonprofit Color of Change sent letters to several wedding planning sites demanding an end to the promotion of plantations as wedding venues. Pinterest and the Knot have responded with promises to change their policies.
"Weddings should be a symbol of love and unity. Plantations represent none of those things," a Pinterest spokesperson told the Daily Dot in a statement.
Pinterest said it's working to prohibit plantation wedding content from its site. On Wednesday, the Daily Dot's search for "plantation wedding" on Pinterest brought up photos of smiling brides and coordinated floral arrangements at plantation wedding venues.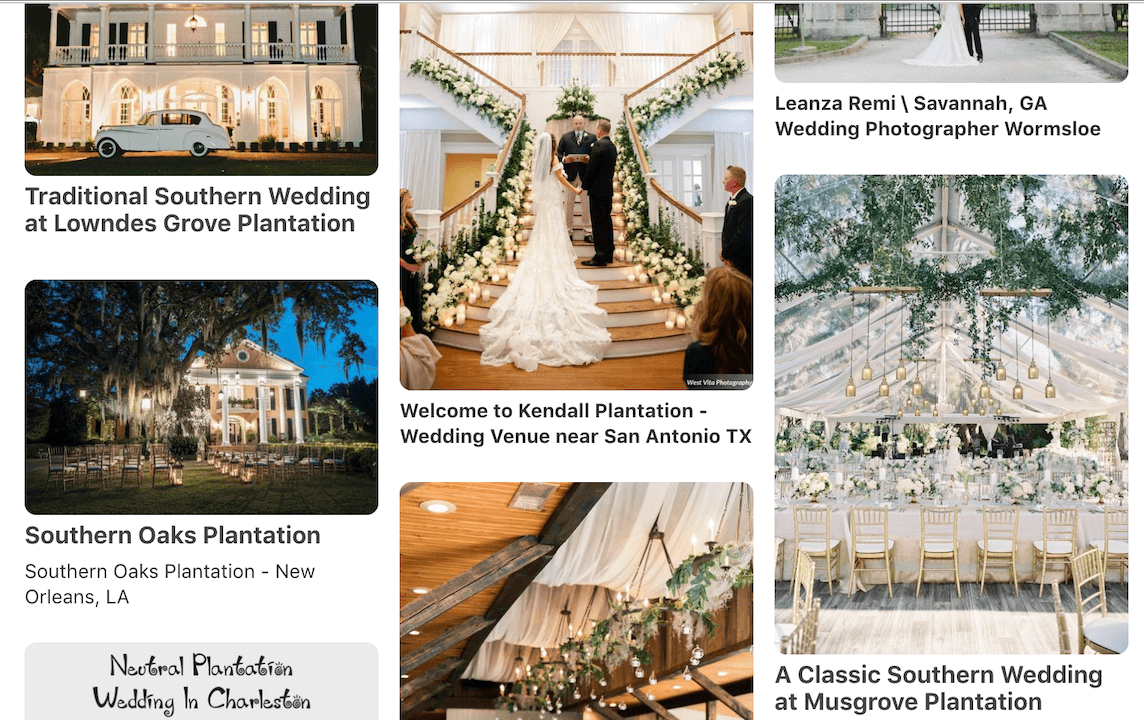 The Knot, a wedding guide site, recommends venues like Kendall Plantation in San Antonio, Texas, for "elegant" features.
"Experience the true southern charm Kendall Plantation offers with wrap around porches, rolling hills, cool breezes, and gorgeous scenery," the Knot's website states.
The Knot told BuzzFeed News that it intends on taking down words like "elegant" and "charming" from plantation venue pages.
Other wedding sites have already stated their opposition to the promotion of plantation venues. Wedding blog A Practical Wedding wrote a post in 2018 explaining the problems of having a wedding on the grounds where people were once held captive.
"Choosing to celebrate your love, your hope for the future, and the beginning of your new life on the grounds of a plantation is bizarre at best, but the word I'd really use for it is horrifying," wrote Allison Davis, founder of the wedding planner site Davis Row. "As a non-Nazi, would you get married at Auschwitz, and take portraits by the crematorium because the flowers in the field there are so beautiful?"
Update 11:33pm CT, Dec. 4: When reached for comment, a Color of Change spokesperson told the Daily Dot that the steps Pinterest and The Knot have taken "are in the right direction," but there is still more work to do.
"Color Of Change expects to work with The Knot Worldwide and Pinterest further to revise their policies and guidelines for both editorial and vendor content," the spokesperson said.
The spokesperson said that Color of Change also sent letters to Zola, Martha Stewart, and Brides.com.
The spokesperson said that Brides.com requested a meeting with Color Of Change's outreach team on Tuesday. While Zola and Martha Stewart have yet to respond, Zola scrubbed "some of the content Color Of Change reached out about," according to the spokesperson.
"Color Of Change plans to run a public campaign against Zola because they portray themselves as a progressive company yet they are not practicing progressive values–and won't even meet with Color Of Change," the spokesperson said.
READ MORE:
H/T BuzzFeed News