A woman in Phoenix, Arizona was slapped in the face after she was caught antagonizing two customers. She's since been dubbed the "Phoenix Karen."
She began arguing with the gas station clerk because her pump wasn't working. Then, she focused her anger on customers. She began spewing racist comments at a couple nearby, telling the woman, who is Native American, to "go back to where she came from."
The incident occurred on Saturday and was caught on film by a man named Greg Cunn. TMZ reports that Conn called her a "Karen" before he started filming because she was getting upset that the clerk was helping the couple and not her.
"Karen" told the clerk to attend to her needs first and to not help the young woman. Then "Karen" told the woman to go back to Mexico, prompting the two to get into a screaming match.
"Native Americans are from this country!" the younger woman can be heard saying in the video. She then told the clerk, "Don't serve her racist ass."
"Karen" gets even more upset, yelling, "Where are you from? Where were you born?"
The young woman shot back that she was born in America.
"Karen" then gets into the young woman's personal space and pushes her, prompting the young woman to slap her across the face. "Karen" is stunned and claims that the younger woman assaulted her.
According to Complex, this woman was later identified by some Twitter sleuths, and people began to write negative reviews on the Google page that she allegedly owns with her husband.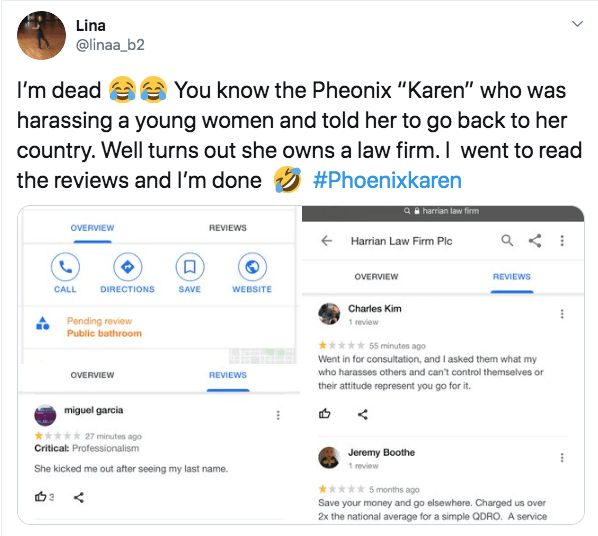 One Twitter user found the slap "refreshing."
"I'm not a violent person by any means, nor do I advocate for it…but…seeing this racist Karen in Phoenix get SLAPPED after telling a Native American woman to 'go back' to her country was refreshing," she wrote. "More so than Savasana (yoga)."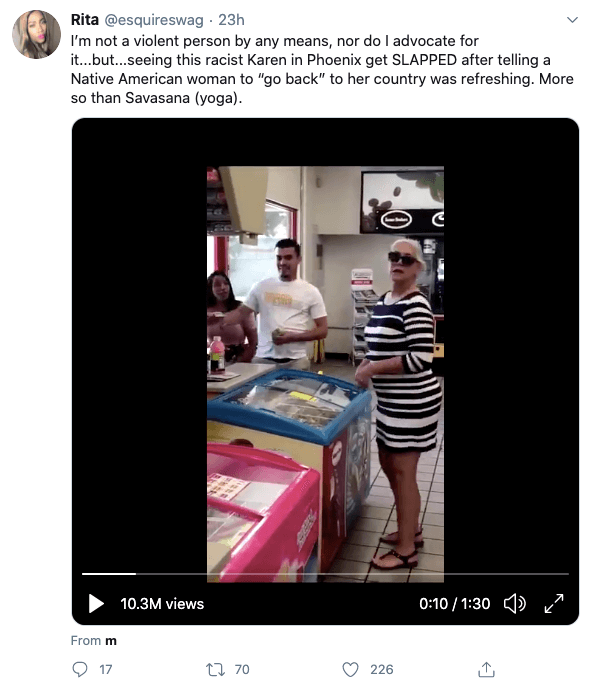 The convenience store chain said she is no longer allowed in their stores nationwide, TMZ reports.
READ MORE: