"You never have to endure another date with a #feminist," declares one Facebook ad for Patrio. It features a topless woman swaddled in an American flag, stranded in the middle of a wheat field. How could I resist?
Launched in September, Patrio is an unironic safe space for conservatives looking to match with other Trumpy singles. There's a clear need for the service: Earlier this year, a survey by OkCupid found that 74 percent of users thought that supporting the president is a deal-breaker. We're a nation divided, and nothing, not even sexual attraction, can bring us together.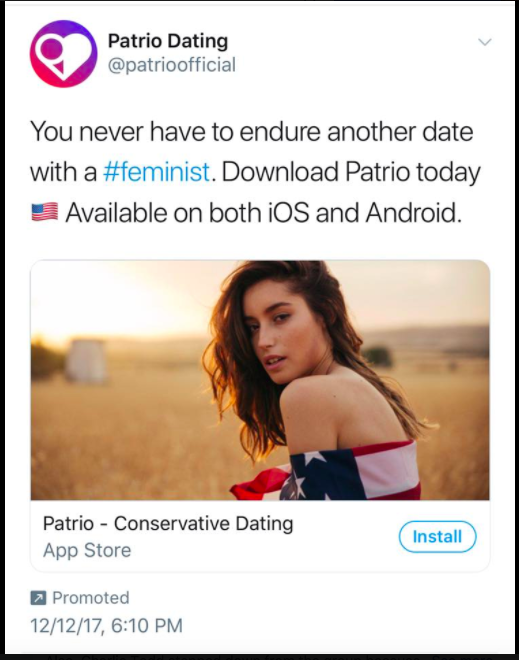 Patrio's interface isn't new by any means. After downloading it, I was surprised that the founders of Tinder hadn't already drawn up an IP lawsuit. The only discernible difference on Patrio is that a left swipe switches out Tinder's "nope" for a "pass." Otherwise, it's a carbon copy of the world's most popular dating app.
Patrio users are naturally "Patriots," and upon registering, you're asked to choose your political leanings from a list: Conservative, Classical Liberal, Center Right, Libertarian, or Other. Patriots are then asked to select their gender and the gender of their preferred match. "Male" and "Female," as you might expect, are the only options. After answering questions about education and occupation, you're ready to gawk at all the GOP hotties your heart desires.
My first few swipes included a picture of a man showing off an inflamed MAGA thigh tattoo, another smirking next to a bust of Ronald Reagan, and one whose third photo displayed was just a stock photo of Truth by pick-up artist Neil Strauss. Pledging fealty to far-right media agitator Milo Yiannopoulos in one's profile was also a popular trend.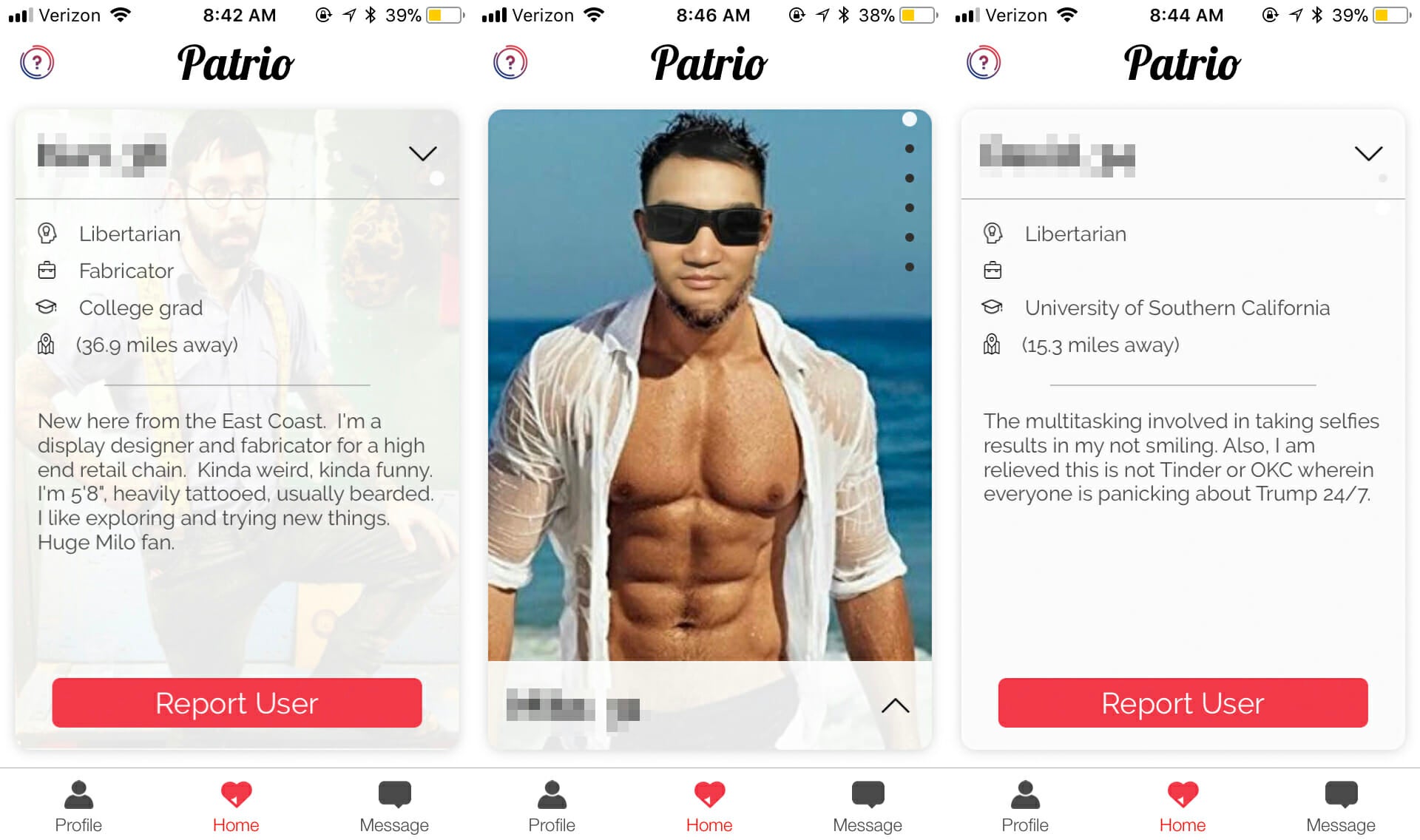 "I am relieved this is not Tinder or OKC wherein everyone is panicking about Trump 24/7," Ross*, a 34-year-old Libertarian wrote in his profile.
The fragmentation of online dating is not new. FarmersOnly is just that, DatingInk connects tattooed singles, and Spex helps glasses wearers to find love. There's a Dating Freedom Lovers group on InfoWars, and if that doesn't work, Awake Dating for those obsessed with conspiracy theories.
One of the earliest top dating sites, ChristianMingle, long-catered to the religious right who sought soulmates. Conservatives have also enjoyed ConservativesOnly, Hannidate (fans of Sean Hannity), and more recently, TrumpSingles. "As mainstream websites go further left, [Trump voters'] pool is becoming smaller. It is sad to see we are furthering the divide, even in the dating world," David Goss, the founder of TrumpSingles told the New York Post this summer. Mainstream aside, snowflakes can find love on Bernie Singles and Liberal Hearts.
But what struck me about Patrio was the Facebook ad guaranteeing against feminist Patriots. To me, feminism is exactly what Chimamanda Ngozi Adichie says: "A belief in the social, political, and economic equality of the sexes." Feminism isn't about superiority over men, and believing that feminism means that is, well… sexist.
The founders aren't listed anywhere on the app's site, so I reached out to their general email for more info. Naomi L., a co-founder of Patrio, responded and agreed to be interviewed. She did not wish to divulge her last name, or the name of the app's other founder, who she says is her brother. This is their first app together.
Naomi said that when looking at services for conservative singles, she saw a demand that needed to be met.
"A conservative is probably going to want to date another conservative, if they have strong enough convictions. A liberal is going to want to date another liberal. That's just the way it works," she said. "We aren't pushing anyone in a certain political direction; we're just a platform that allows conservatives to meet each other." (I certainly felt pushed in a political direction when my political beliefs fell under "Other," but that's besides the point."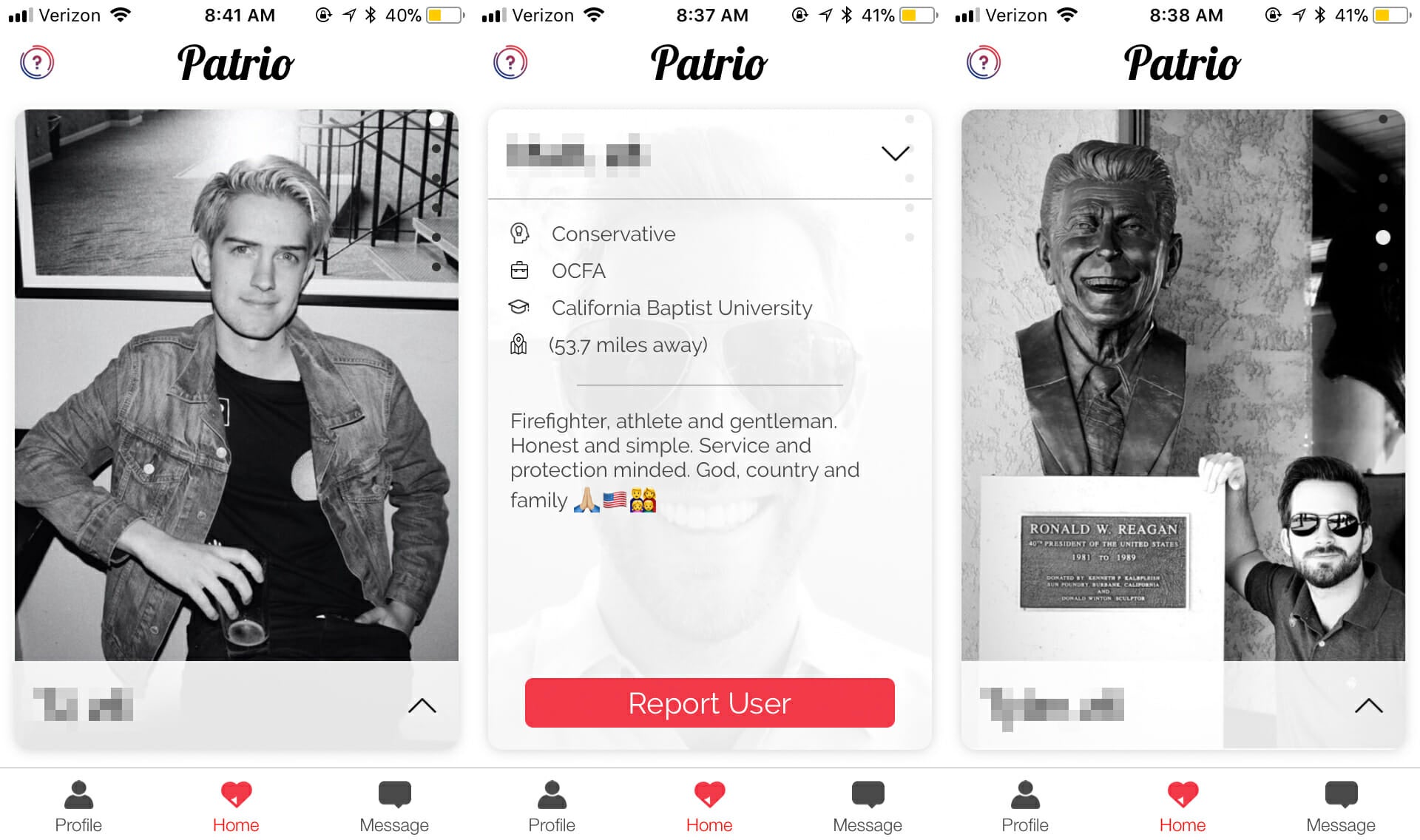 When I asked about the anti-feminist ad, Ms. L. responded making it clear that to the right wing, "liberalism" and "feminism" should be conflated. "I think it's pretty obvious that conservative men don't want to date today's modern feminist. And I've heard of a lot of dates that have gone awry because of that," she said. "That really has to do with the fact that a guy doesn't believe in those principles, meeting a girl who is on the total opposite side of the spectrum, becomes a very awkward and difficult date."
I thought back to President Trump's infamous Access Hollywood tape, his repeated sexist attacks on female senators and journalists, and the accusations of sexual assault levied against him. To Patrio users, the problem isn't the president's behavior—it's the women who have the audacity to bring it up in conversation.
Dating IRL after meeting strangers on apps is awkward, for sure. When I was swiping, I had a couple dates where my politics didn't necessarily align with guys I drank beers with. But equally, if not more awkward, were the narcissists, compulsive liars, and the one who constantly dropped quotes from Step Brothers as conversation substitutes. If the worst thing that happens to a man on a date is that the person sitting across from him went to the Women's March, I shudder to think what that man's bar for "having a good time" must be.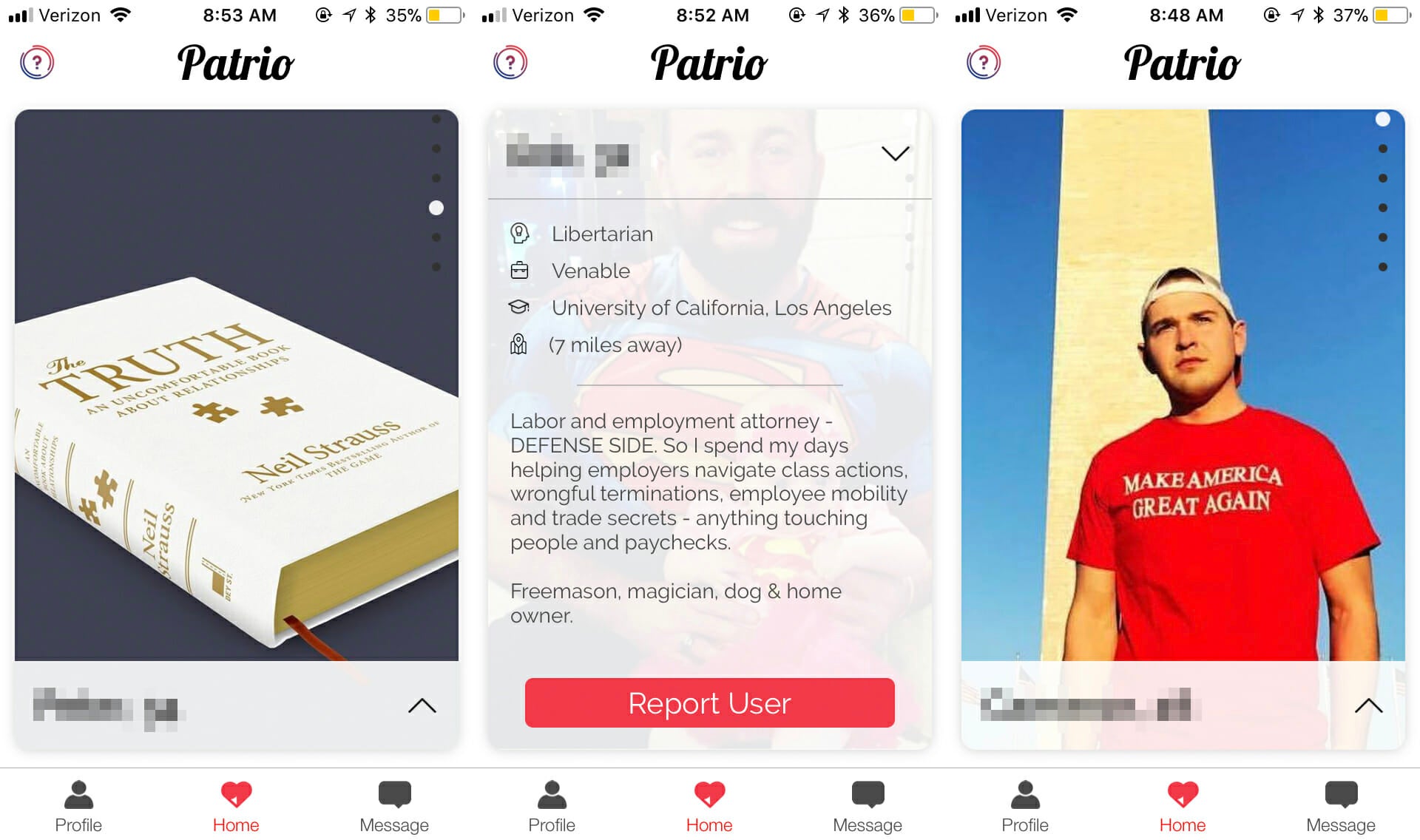 Patrio isn't for brave patriots. It's an app based on being afraid to confront people different than you.
I'd personally love to see a dating app promise I'd never have to sit across the table from someone who sexually assaulted his college girlfriend, but I wouldn't expect those kind of guarantees from any app advertising on Facebook.
Naomi did concede that Patrio "can't guarantee anything," just as there are no guarantees to who is going to be on Tinder or Bumble. But if it's just like Tinder or Bumble, then what's the point?
It gnawed at me. "Do you consider yourself to be a feminist?" "No," Naomi told me. "I think maybe a long time ago I would have considered myself to be a feminist, but that term doesn't really pertain to me. I don't think I share those core values. I think a lot of today's feminism alienates men. I think it creates a large divide between the genders. That's all I'll say about that. We could go on and on about the political discussion and my views on that. I think that's a different interview all together."
That's the heart of Patrio. It wants to be about politics, but it doesn't want to have a political conversation.