Black Lives Matter protests are dominating our global attention, as waves of people across the world protest police brutality and systemic oppression. This moment is all about celebrating and protecting Black lives, which has triggered racists.
Jacqueline Michele DeLuca lives in Secaucus, New Jersey, and recently uploaded a horrifying video to Facebook. In it, she drops the N-word several times and encourages violence against Black people.
"Folks, I don't like motherf*cking Black people," DeLuca's video begins. "I fucking HATE Black people bro."
Apparently the racist rant was set off after an ignored traffic light.
"F*ck all you Black Lives Matter f*cking people," DeLuca continues in the video. "I don't give a f*ck. Because y'all N-words wanna make it seem like it's our fault, or the white man or whatever the f*ck it is? Bro…Kill 'em all bro. Kill 'em the f*ck all."
The video immediately sparked outrage. DeLuca's vile message circulated all over the web within hours, and before the day had ended, internet sleuths had tracked down DeLuca and her place of work. She was—keyword was—employed at a local Party City.
Upon discovering her racist video, Party City immediately terminated DeLuca. It also released a statement condemning her sentiment in the video and made a statement in support of the Black Lives Matter movement.
"We have just seen this abhorrent and disturbing video post," the company wrote in a statement via Twitter. "Our team is looking into identifying this person, her employment status, and will provide a statement asap. @PartyCity condemns the statements made in this video and vehemently opposes racism and injustice of any kind."
Within no time, the company had tracked down DeLuca and released a follow-up statement.
"We have zero-tolerance for hate and for disregard for basic human rights and dignity," the company wrote. "We have immediately terminated the employee who posted this video and stand in solidarity with our black communities."
Just over six hours passed between Party City's first statement, and its follow-up, revealing that the company had terminated DeLuca. People online praised the company for its swift and appropriate action.
As user @0kbps put it: "what a world we live in that party city can locate an employee that said racist sh*t in a video and fire them in less than 10 hours but we cant do the same for the police."
Other commenters noted DeLuca's abrupt change following her termination. Posts to her Facebook show DeLuca initially basking in the afterglow of sharing her racist viewpoints, only to suddenly pivot to remorse following the fallout her comments received.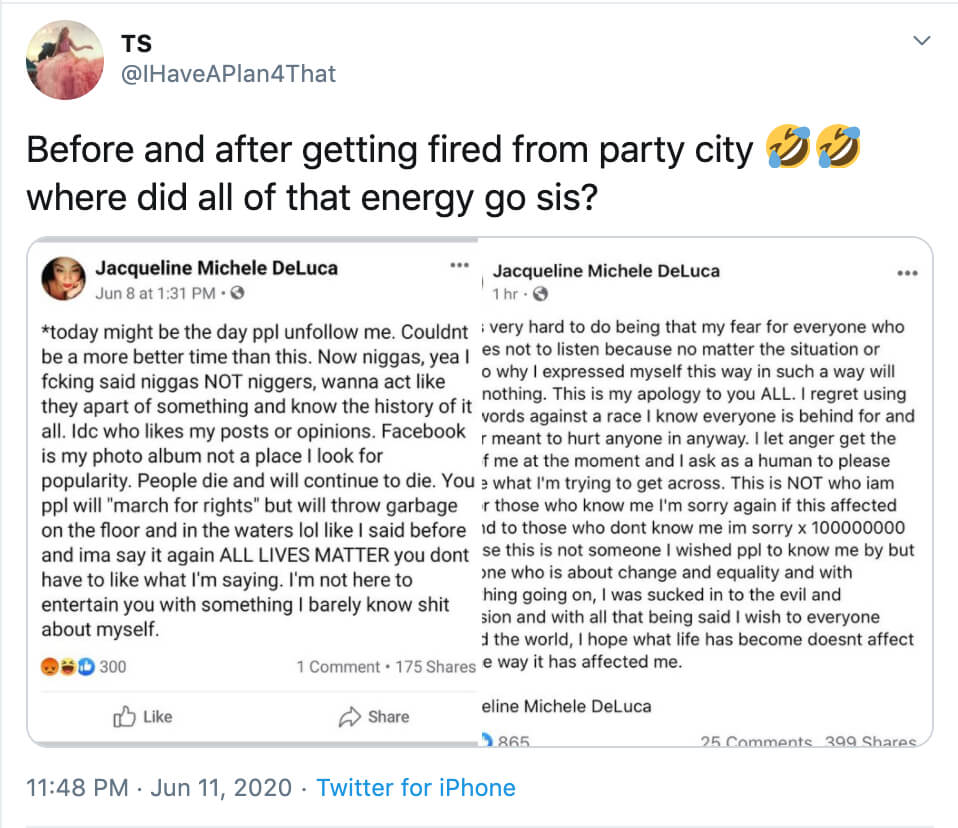 DeLuca's initial post is rife with racist language, viewpoints, and buzz words. Her half-hearted apology didn't win people back to her side. Instead, the internet is preparing to spend their next paychecks on a trip to Party City.
READ MORE: