Food essayist Rax King traded nudes for donations to community fundraisers helping the Black Lives Matter protests, sparked by George Floyd's death.
According to King, she and her friend Sabrina (@sadsleepygirl23) raised over $27,000 for several different organizations.
Organizers around the world are protesting the now-former officer's use of excessive force by kneeling on Floyd's neck, suffocating him for nearly nine minutes. Cities like Minneapolis, New York, and Los Angeles have been rallying in the streets for days.
In solidarity with the protesters, King told her followers all they had to do was donate $50 to a fundraiser of their choice and send her the receipt—in exchange, she would send them a photo of herself in lingerie. For a $200 donation, they would get a topless photo. Within hours, King was raising thousands of dollars.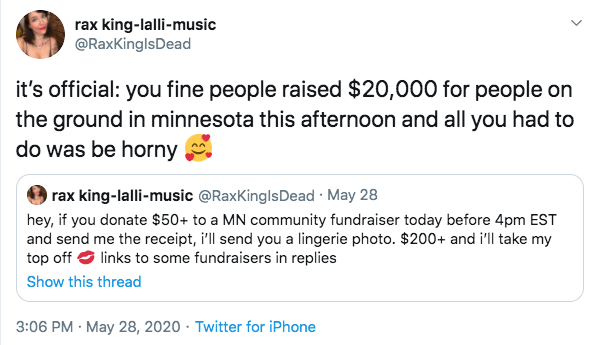 After an hour, King reported that donations reached the $1,300, and by the 4pm deadline she set, she, along with her friend Sabrina, raised a collective $27,000. Some of the organizations her followers donated to include the Minnesota Freedom Fund, the Black Visions Collective, and Reclaim the Black—all working against racial injustices that Black people in the country face.
King, who has over 30,000 Twitter followers, is joined by other sex workers using their platforms to promote donations to these organizations.
A 33-year-old sex worker, known as SpookyFatBrat, encouraged her followers to do the same. She spoke to Insider, saying, "As a collective, we can not just sit back and RT hashtags we have to be active about fighting white supremacy and police brutality. We have to put our money where our mouths are and show support and solidarity."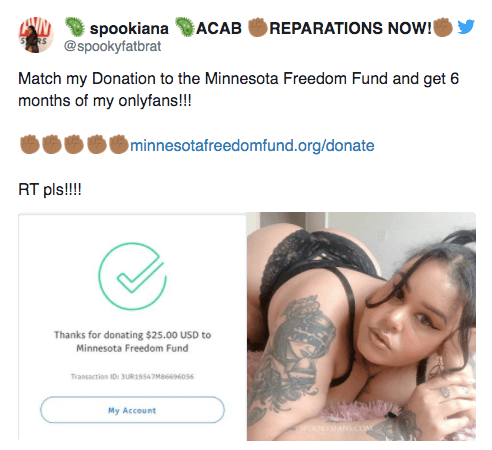 St. Louis-based gay porn star Joey Mills announced to his followers on Sunday that whatever he earned from Sunday to Tuesday would be donated to bailing out protesters in Minneapolis. He managed to earn over $1,200, donating it all to the Minnesota Freedom Fund.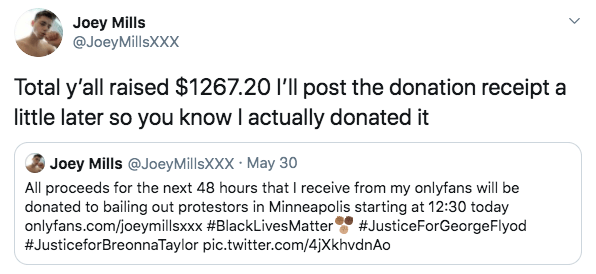 "We live in a world where money is power," c0ncreteveins, an Ontario-based sex-worker told Insider. "We need to help redistribute the wealth to those that have been cheated from it for reasons outside of their control." 
READ MORE: