Update 6:50pm CT, April 29: When reached for comment, a Universal Studios spokesperson told the Daily Dot that "a female guest was arrested by Los Angeles Sheriff Department deputies and charged with battery. Based on our review of the entire incident, we are confident that we acted appropriately and that our security personnel did not cause the guest to fall. As this is an ongoing investigation, we cannot comment further."
The spokesperson also sent the Daily Dot a statement by the LASD. In the statement, the LASD said that "West Hollywood Station deputies, assigned to Universal Substation, responded to an incident inside Universal Studios theme park" on Monday afternoon.
"Deputies received a call of patrons refusing to leave, as ordered by park security, due to park violations. When deputies arrived, they saw theme park security personnel attempting to escort two adults and a child to the exit after they were asked to leave," it continued. "The male and female adults were engaged in a verbal altercation with park security. Deputies were actively trying to de-escalate the situation with the male adult when the female adult assaulted a park security staff member."
The LASD said the woman was "subsequently arrested/cited for battery" and that "the male patron was initially detained pending the de-escalation of the incident and both were escorted off property and released."
Initial story: A video of a mother being pushed to the ground at Universal Studios Hollywood Monday by park security officers is being criticized, with many accusing the officers of using excessive force. 
The video shows the woman, toys and child in hand, being thrown to the pavement and handcuffed by three officers. The remaining officers can be seen restraining the father who struggles against the officers as they attempt to handcuff him.
The child stands alone for several seconds and wipes tears from his face as he watches his mother being detained. A woman tries to approach the boy but is waved away by the man in the blue shirt, who can be heard saying, "Nobody is holding him!" Two strangers quickly walk over and comfort the young boy, and the woman later joins them.
"A huge thank you to the onlookers who took care of this child after a blatant example of excessive force," @Tim_Tweeted commented. "This officer's snap decision to toss this woman and her child down could have led to hospitalization or worse."
People on social media were upset by the park's alleged use of excessive force on the woman.
"What is going on with all this brutality by cops against citizens?" one user commented. "Does every interaction have to be a beat down or death? What a f'ed up country we live in."
Others said the incident was a reflection of the growing issue of police brutality, especially against Black people, in America.
"It's like they are ordered to make the public afraid of them on purpose," one user commented.
Some called for training focused on de-escalation to avoid using violence or excessive force when restraining citizens.
"Without body slamming a woman to the concrete floor in front of her child, is there any other way a white officer can talk to a Black woman and man without the use of force?" one user commented. "Oh…respect and de-escalation."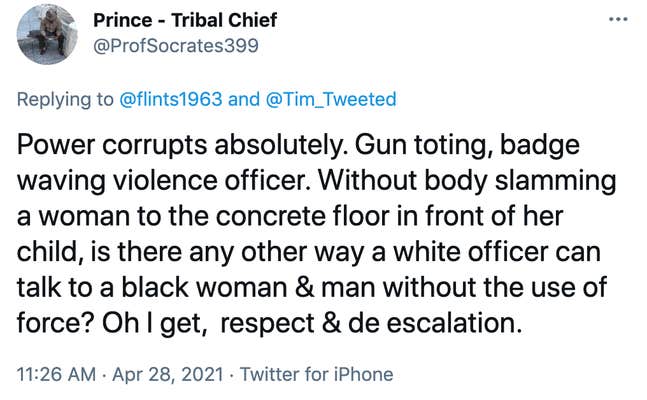 Despite Disney being referred to as the happiest place on earth, some expressed how they no longer feel safe in places like Universal Studios after watching the video."I thought that the only place safe in the USA was Disney and by extension Universal Studios," one user commented. "I am very concerned."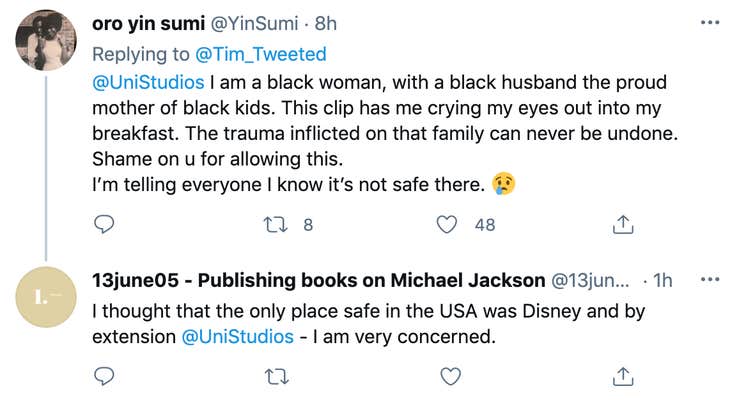 @Tim_Tweeted did not immediately respond to the Daily Dot's request for comment.
---
Today's top stories