Amid fire consuming Paris' Notre Dame cathedral on Monday, the internet has had some less-than-stellar takes surrounding the incident. While the blaze did not reportedly have malicious origins, Twitter user @gaygadott took being tone-deaf online to levels not seen since the Auschwitz concentration camp selfie. 
In a post that seems like a personal photography promotion, @gaygadott described the loss of the historical monument as "most aesthetically pleasing visually i've ever seen."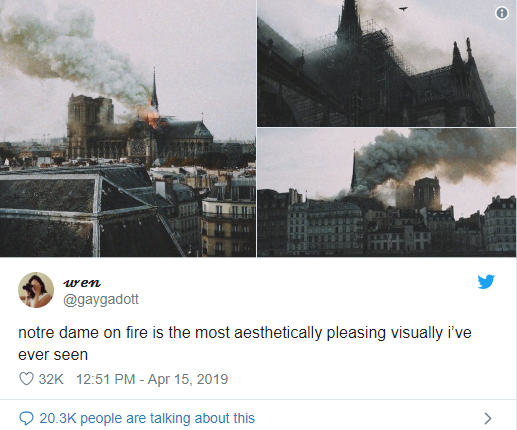 The response to the tweet currently stands at approximately 32,000 likes and 20,000 replies. Apart from being ratioed to hell, the tweet also received the attention of popular Twitter account @ArtDecider. Without much deliberation, the account decreed that the photos @gaygadott had posted were, in fact, "not art." 
After replying to the original tweet with the name of the filters used on the photos, @gaygadott thanked their audience for getting the post to 10,000 likes and clarified that the app used to edit the photos was VSCO.
https://twitter.com/gaygadott/status/1117898313435500548
The general reaction to @gaygadott hasn't been forgiving. Replies have ranged from simply recognizing the absurdism of the situation to open disdain and disgust for turning a tragedy into #content.
Aside from YouTube's algorithm thinking the Notre Dame fire was 9/11 and far-right grifters claiming it was an inside job, a Brazilian DC stan is currently being ratio'd out of existence for saying the fire was "aesthetically pleasing" pic.twitter.com/J3WvRJ1hjZ

— Ryan Broderick (@broderick) April 15, 2019
vsco bitches have no morals i swear https://t.co/s9wbuNfRah

— kate (@katemdon) April 15, 2019
glad the destruction of centuries worth of history is

~a e s t h e t i c~

for you https://t.co/tt9nOVhzAW

— great value nick jonas (@chanceharbour) April 15, 2019
After the backlash, @gaygadott tried to save some face by saying that they were not the original creator of the images and that the images were posted as "just a joke."
https://twitter.com/gaygadott/status/1117877440712298496
Neither VSCO nor @gaygadott immediately responded to the Daily Dot's request for comment.
READ MORE: