Professional Anarchists is an ongoing photo series by Lisa Allen that aims to capture the peaceful demonstrations against the Trump administration and to meet the ordinary people behind them—to learn why they march and to put a face to the new resistance movement.
Even the silence spoke volumes at March for Our Lives, the student-led rally for gun control in Washington, D.C.
Parkland shooting survivor Emma González's speech lasted six minutes and 20 seconds—the same time it took to lose 17 of her classmates to an act of savage violence—and much of it came in the form of solemn silence. It was not merely a moment, a prayer, or an act of remembrance. It was an act of bravery and heightened awareness, revealing just how quickly and profoundly one's world can be turned upside down.
Hundreds of thousands gathered in the nation's capital and around the world to demand action against gun violence on Saturday. They came from near and far, in groups representing their communities and with their families, with stories both personal and profound, and their message was clear: Enact meaningful gun control measures or prepare to be voted out of office. Here's a closer look at why some of them rallied in D.C. and at the day in photos. —Austin Powell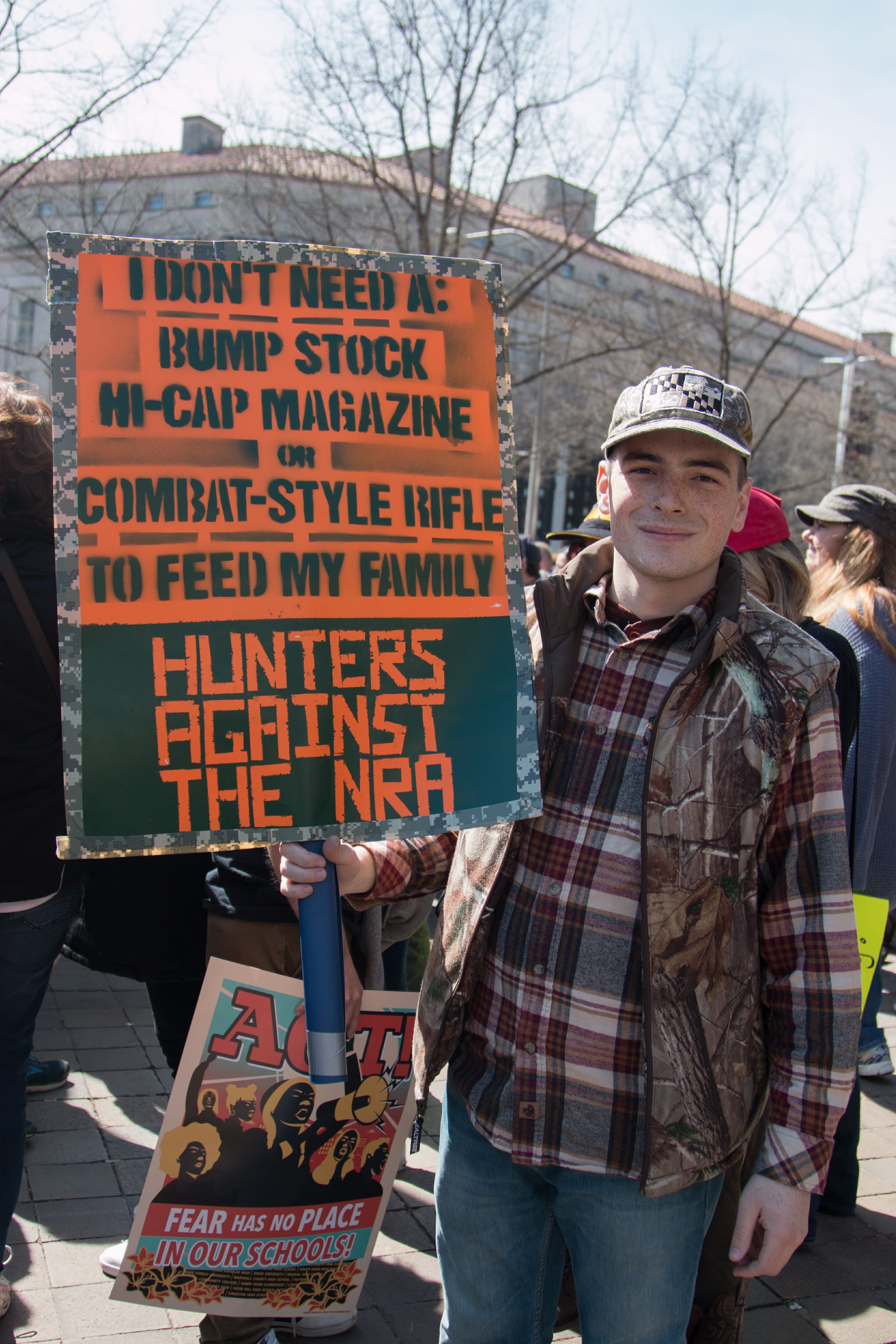 Connor Roberts 
"I'm Connor Roberts. I'm from Southern Maryland, White Plains, Maryland, specifically. I'm here today to protest the extreme stances of the NRA. I hunt every year. I hunt deer and turkey to feed my family and enjoy being outside. I use a bow and arrow and a pump shotgun. I don't need an AR-15 or a high-capacity magazine. I don't need these combat weapons to be an outdoorsman and provide for my family. I'm sick of the NRA and other groups like them using hunters as an excuse to let these weapons invade our concerts and schools. We don't need them. We just don't."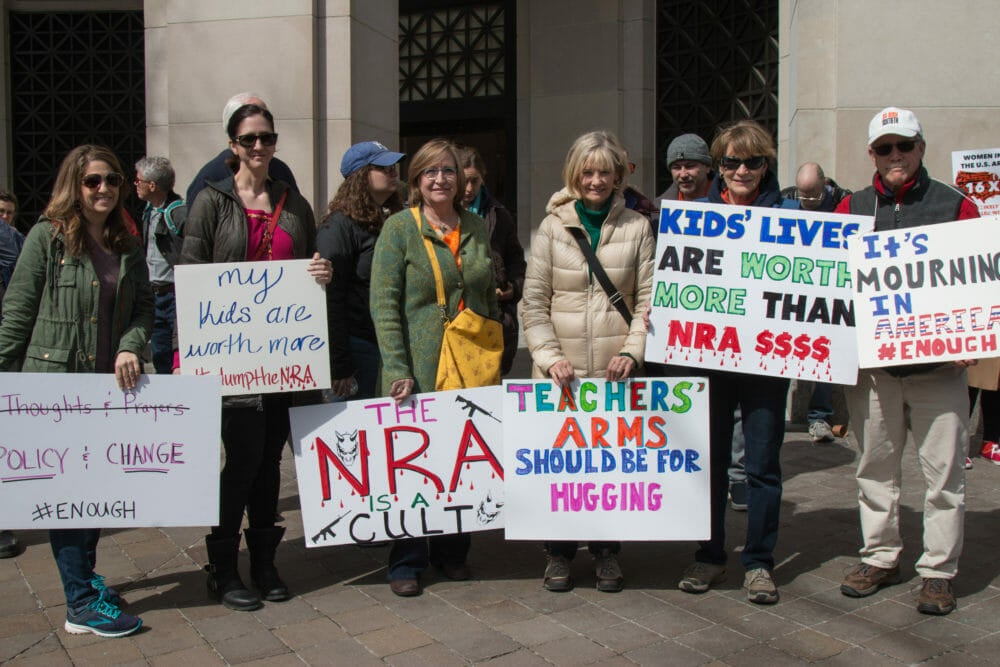 Karen Harris (fourth from left)
"My name is Karen Harris and I'm from Alexandria, Virginia. I'm out here today because of the gun issues in school. My heart bleeds and breaks for these kids that are now fearful to be in what used to be the safest haven of some of their lives. … It's got to change, and not through arming teachers but removing all guns."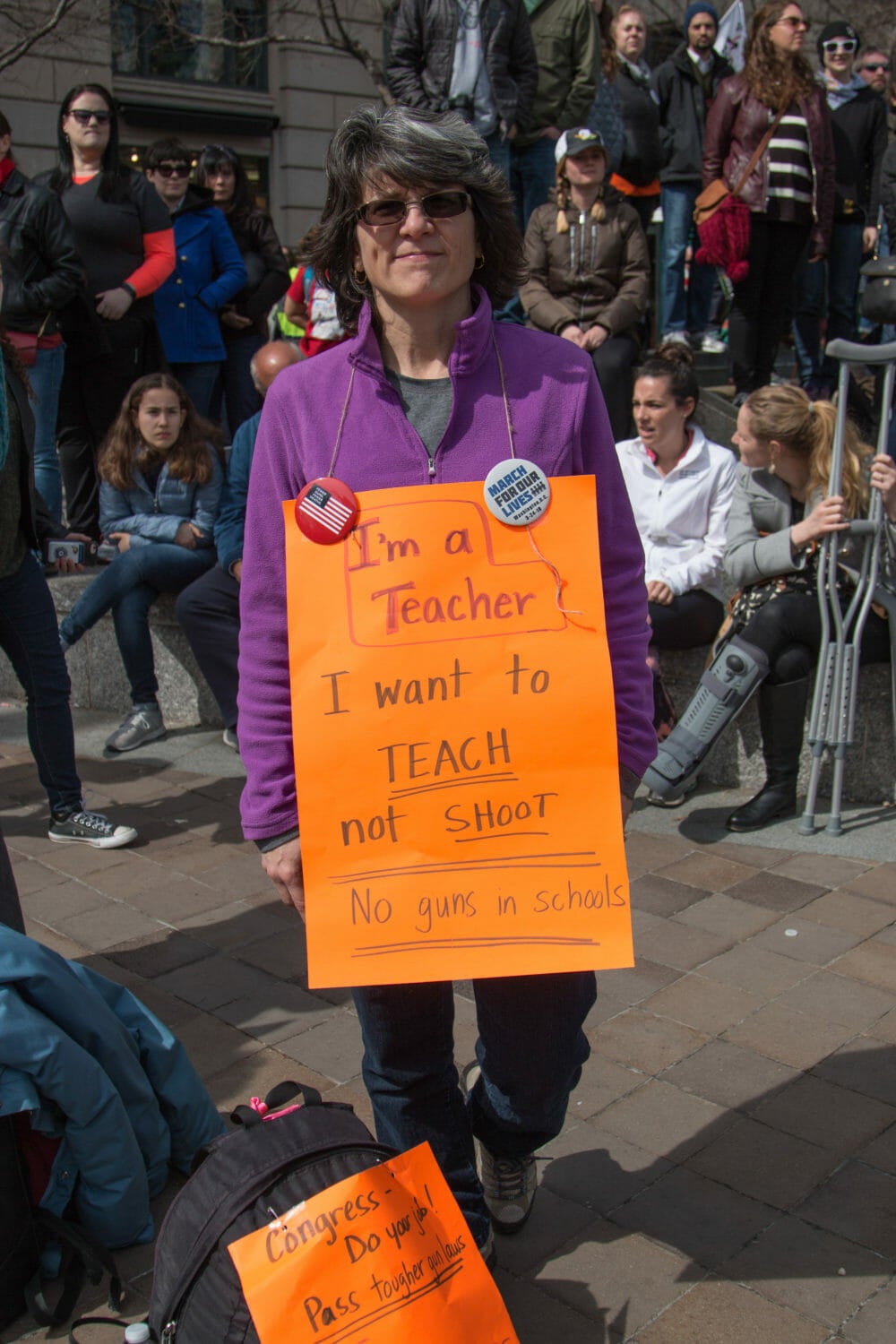 Nancy Moriarty
I'm Nancy Moriarty and I'm from Springfield, Massachusetts. I'm here because I feel like gun violence is out of control. I'm a teacher, I'm a mother, and I wanted to be here and make a statement with all these thousands and thousands of people to say to Congress that it's time for a change, and we need tougher gun control laws.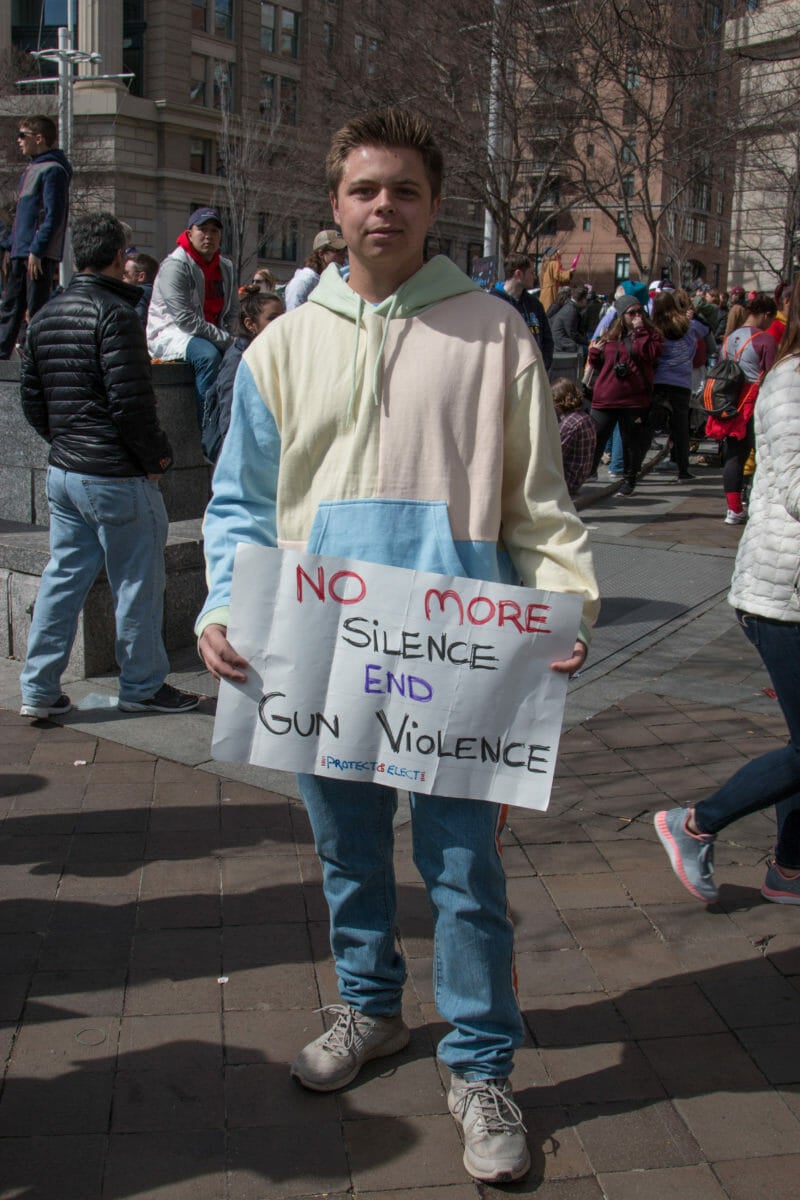 Jack Reagan 
My name is Jack Reagan. I'm from West Palm Beach, Florida. I came out today because I think that everyone should feel safe where they go to school. School is one of the most important things to a child especially, and if they don't feel safe there, there's no way to tell how they'll respond growing up as an adult. It's just a bad mindset to have at school, and I feel like if it was just a problem that was over and done with and no one would have to think about, then we'd live in a much more peaceful country and world.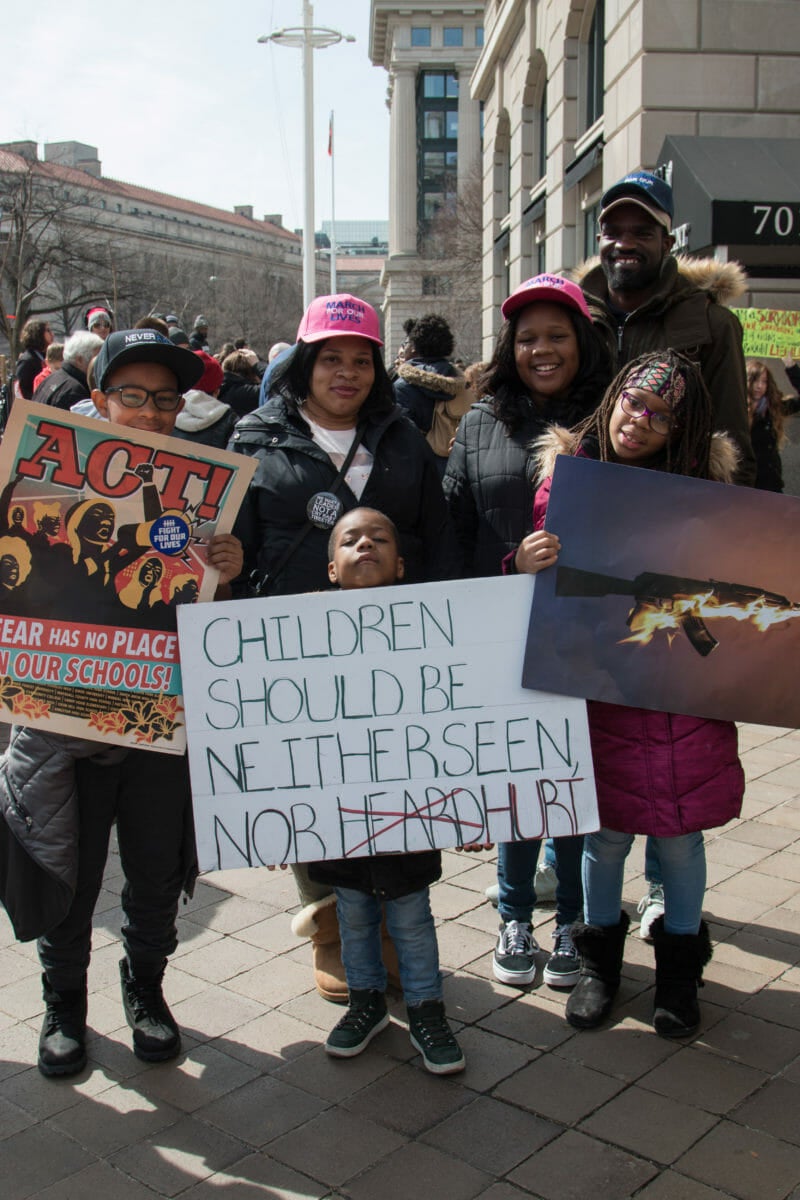 Jamal Marshall (left)
My name is Jamal Marshall. We're from Washington, D.C. We came out so we can show that we care about African-American kids and all of our lives matter.
Jerrell Marshall (middle)
My name is Jerrell. End the violence! I come from Washington, D.C., and I'm going back home!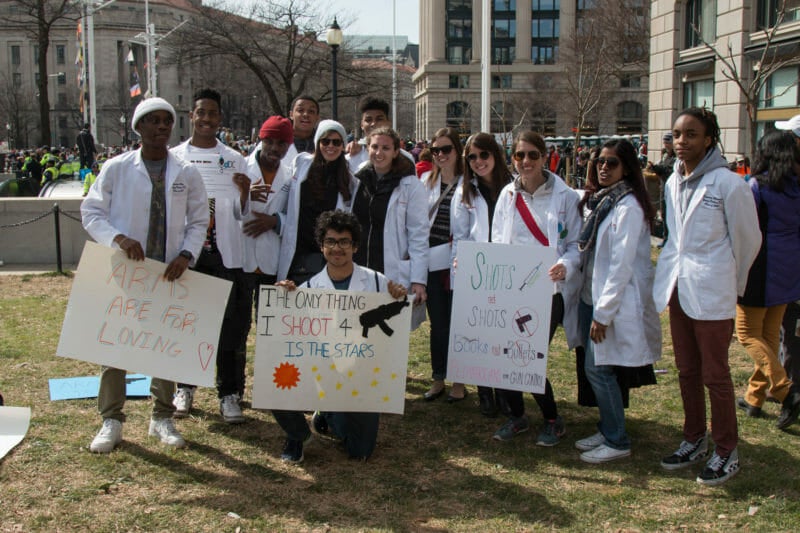 Lexi Crawford (third from right)
I'm Lexi Crawford. I'm one of the second year pediatric residents at Children's National Medical Center. I'm here with all my amazing co-residents because as pediatricians, we are advocates for children. And this is such an important issue to fight for the lives of our patients, our future kids, and the future leaders of the world!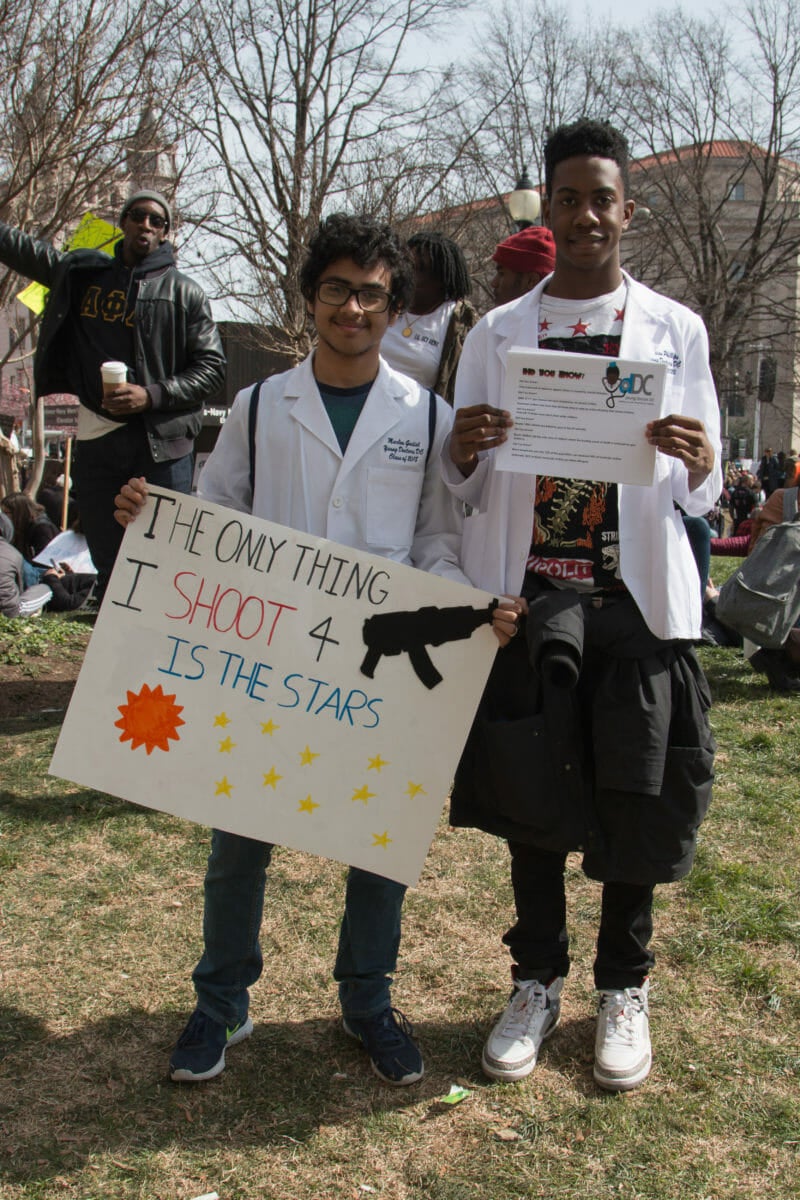 Adrian Phillips (right)
My name is Adrian Phillips. I'm from Northeast D.C. And the reason why I'm out here today is to support the gun violence laws that also give people a new perspective for how us, black minorities, are impacted by the laws and also to support the 17 victims that died at Douglas High School.
Marlon Gudiel (left)
My name is Marlon Gudiel. I'm from Northwest D.C. Our program, Young Doctors DC, got together and came here today because we focus on medicine and health issues in our community. These issues aren't just like disease-wise; they're also like gun violence. In the news we often see policemen killing minorities, black children with a great future for them being killed. We just came here because we want our voices to be heard to show that we care and we want this to stop.
0
Krista Borling 
My name is Krista Borling. I'm from Fredericksburg. I'm still marching for a friend who was lost at Virginia Tech, so I'll never forget him. And I'm marching for the fear that I see on my fourth graders' faces every time we have a lockdown drill, and the tears that they cry when I have to shove them into a corner.
…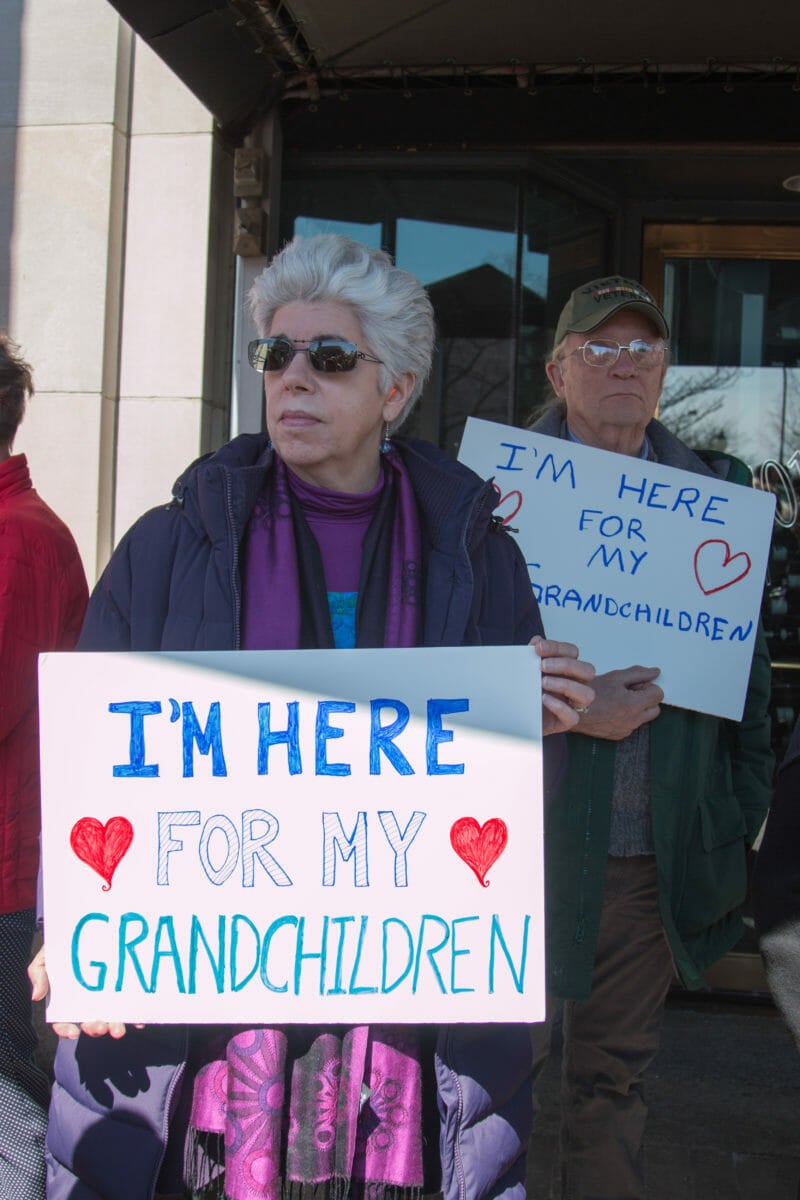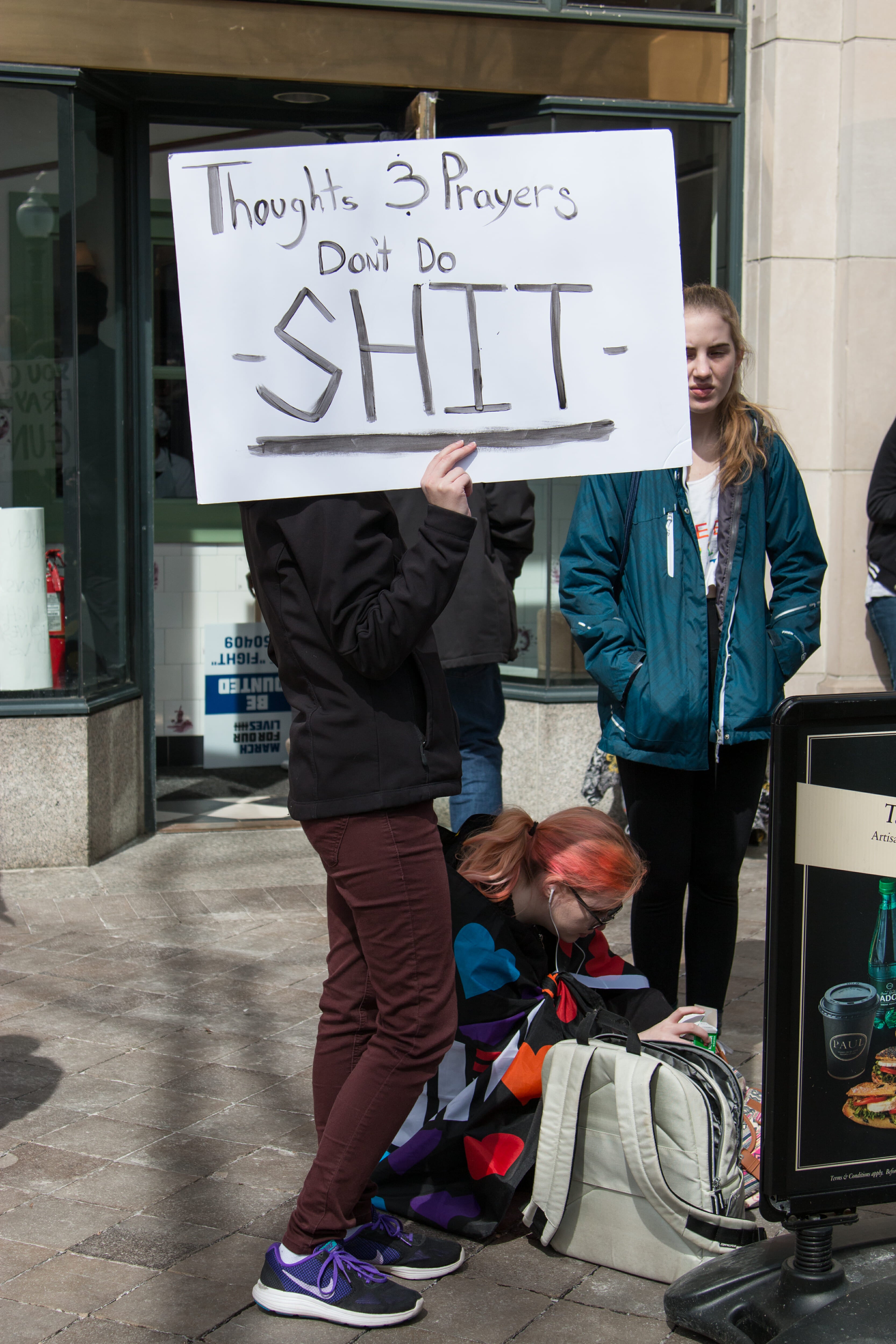 Lisa Allen is a freelance photojournalist covering events and activities in Washington, D.C. She lives with her fiancé, cat, and guinea pig, and is a member of Studio Gallery in Dupont Circle.