It's rare for a platformer game to have an unapologetically queer storyline. But Kitsune Tails isn't average. Developed by queer indie studio Kitsune Games in collaboration with queer game development studio MidBoss, Kitsune Tails stars a young half-human, half-kitsune named Yuzu in love with another woman.
Kitsunes are magical fox creatures commonly found in Japanese mythology, which Kitsune Tails takes direct inspiration from.
Kitsune Tails is an homage to classic '80s and '90s platformers like Super Mario. Players can wear special outfits, turn into an invincible rainbow fox, and use samurai spears to climb walls. It serves as a successor to another popular old school platformer published by Kitsune Games, the free political satire game Super Bernie World.
Cade Peterson, CEO of MidBoss, which is known for 2064: Read Only Memories, said the collaboration with Kitsune Games began after the two studios agreed to share the trademark for "MidBoss." When the proposal for Kitsune Tails came, Peterson said, it was "too wonderful" to pass up.
"They needed more help with marketing and navigating getting games out into the world, and that's one thing we're good at, and they obviously know how to make a solid retro platformer (as seen from Super Bernie World), so it felt very compatible," Peterson said.
Unlike most throwback platformers, Kitsune Tails features a canonical lesbian pairing at the center of its story. After Yuzu is saved by a friendly human healer named Akko, a "budding romance" emerges "between the two young women," according to a press release obtained by the Daily Dot. When Yuzu's mentor Kiri kidnaps Akko, Yuzu must call upon the goddess Inari's power to rescue Akko from her former childhood friend's clutches.
Kitsune Tails' explicitly queer storyline was fundamental to the game's development, Kitsune Games developer Emma "Eniko" Maassen told the Daily Dot. An early pitch for the game involved a similar lesbian romance as an MS-DOS title. Over time, Kitsune Games refined the relationship between Yuzu, Akko, and Kiri, assuring the game's narrative is "about these three women and how they all relate to each other and themselves and who they are."
"We didn't want Akko to feel like she was just a plot device who gets 'damselled' in order to give Yuzu a reason to engage with the plot," Maassen said. "So we've made sure to develop Akko as a character and give her her own motivations and inner world and reasons and motivations for playing the role she does in the plot, though obviously, it's a little difficult to go into details without spoilers."
Kitsune Tails is an unapologetically "soft" queer game, too. The platformer is intended to be lighthearted as opposed to exploring "real heavy" queer narrative themes. In that way, it emulates the classic '80s and '90s platformer, providing a fun, laid-back adventure to tune out the world and escape into another universe.
"In general when designing the narrative for Kitsune Tails we're very focused on making it a feel-good story because we feel queer people deserve representation in narrative contexts that are light, fluffy, and relatively uncomplicated," Maassen said.
The game's sapphic themes seem to be resonating with LGBTQ gamers too. Kitsune Games' announcement tweet has over 1,500 likes and more than 750 retweets and quote tweets, most of which expressing excitement or anticipation for Kitsune Tails' release. Qweerty Games, a queer nonprofit in the games industry, aptly summed up the social media response in one tweet: "WE'RE FREAKING OUT! This looks so cute aaaaaa!"
Maassen confirmed that the game's social media response has been strong and that Kitsune Tails is gaining recognition from word of mouth alone. She also mentioned another aspect of Kitsune Tails' growing fandom that cements its status as a queer favorite: Fans are already eagerly shipping Yuzu and Akko and figuring out what to call the pairing.
"Right now the consensus seems to lean towards 'Yuko.' I've had to become Switzerland and stay neutral, we just make the game, we shouldn't be the ones making the fandom, haha!" Maassen said. "We've also gotten some messages saying people feel that Kiri, the orange kitsune in the trailer, has some Catra [from She-Ra: Princess of Power] vibes going on."
Peterson added that the game's marketing, including its trailer, is "not shying away" from the queer love story at the game's center. "I actually can't think of a single queer platformer out there off the top of my head," Peterson said, "but why not add a sweet love story in one?"
Kitsune Tails is set for release on PC, Linux, PlayStation 4, and PlayStation 5 in the first quarter of 2022. The game will have English, German, French, Spanish, Portugese, Russian, and Japanese localizations. Interested fans will be able to pledge to the game's Kickstarter in mid-2021, according to Kitsune Games' press release.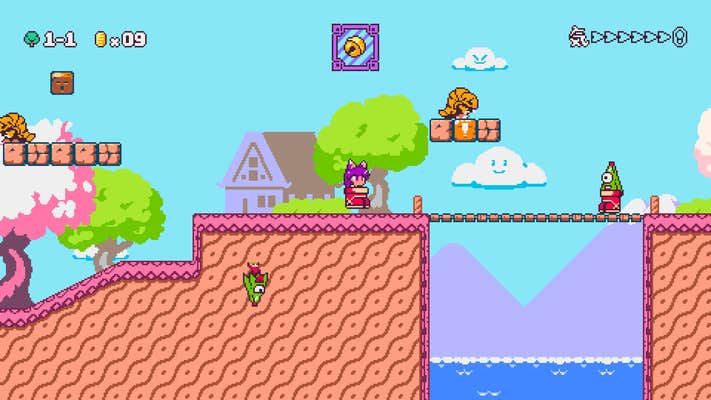 In the meantime, Maassen encourages fans to wishlist the game on Steam, share their thoughts via the #KitsuneTails hashtag, and continue to spread the word among their friends and communities.
"Also," she said, "I'm going to put in a selfish request for fan art of Yuzu, Kiri, and Akko, because I just love fan art so much and can't wait to see what fan artists come up with!"
---
Must-reads on the Daily Dot
Correction: Development studio MidBoss is no longer associated with GaymerX.