A young Black man named Robert Fuller was found hanging from a tree in Palmdale, California on Wednesday morning. The news of his death became public on Friday.
While the investigation into his death is still ongoing, the police department has announced that it believes that he died by suicide. Many people on social media are speculating that he did not die by suicide and are demanding a thorough investigation.
According to a press release from the Los Angeles County Sheriff's Department (LASD), someone walked by Fuller's body hanging from a tree at around 3:30 a.m. on Wednesday. The nearest fire station responded to the call and pronounced Fuller dead at the scene.
"Although the investigation is on-going, it appears Mr. Fuller, tragically, committed suicide," the LASD wrote in a statement released earlier today. "A full autopsy is anticipated in the immediate future."
The LASD refused to provide additional comments or answer any of the Daily Dot's specific questions.
The news of his death has dominated social media, causing Fuller's name to trend on Twitter all Friday. Even celebrities began advocating for Fuller. Kim Kardashian tweeted a link to a petition demanding a "thorough and proper investigation." The petition is on its way to reaching its goal of 35,000 signatures.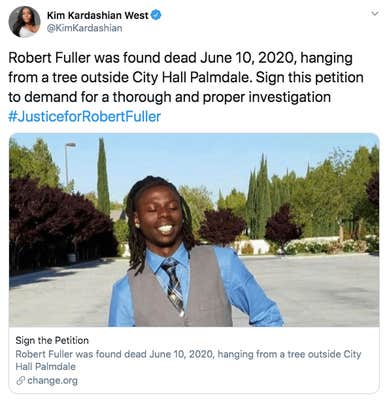 YouTuber Marina Preciado also weighed in saying his death sounded suspicious.
"You're telling me a black man hung himself in front of the biggest American flag in town, in front of city hall, around the corner from the sheriffs department, across from a fire department, no cameras &  ruled it suicide same day? Yea…somethings not right."

Many Twitter users are calling for an independent autopsy, especially with the recent case of Breonna Taylor not far out of mind.
Taylor was shot eight times by plainclothes officers after they entered her home. The officers claimed to be looking for a suspect who was already in custody. The police report labeled her injuries as "none."
Her death has caused further distrust in the police and prompted calls for independent autopsies.
"Call us skeptics for not believing a black man hung up at CITY HALL was just a suicide victim," another user tweeted. "But it's going to take rock hard undeniable proof for you to prove to me Robert Fuller wasn't murdered. We are waiting @PalmdaleCity."
READ MORE: