People have taken to social media to call for justice after the police killing of Jonathan Price, a Black man, on Saturday night. On Monday, his name became a hashtag on Twitter.
Price, 31, was reportedly intervening in a domestic violence situation in Wolfe City, Texas. According to WFAA, when Price was responding to a situation where a man and woman were arguing, the man assaulted Price. As a result, the police were called. When police got to the scene, Price raised his hands to try to explain the situation, according to a Facebook post by civil rights lawyer Lee Merritt, and that's when police tased him.
"When his body convulsed from the electrical current, they 'perceived a threat' and shot him to death," Merritt wrote in the post.
Kyla Sanders, who knew Price and his work, heard three shots from across the street.
"We all love him and think so highly of him and just the nicest guy you could ever meet," Sanders told WFAA. "We're all devastated, shocked, we don't really know what to do or where to go from here."
Sanders isn't the only person to feel so. In a profile by WFAA, Price was described as a well-known local gym trainer and known for his friendly attitude. "Everybody loves Jonathan, everybody, Black, white, Mexicans, everybody. It don't matter, he loved everybody, and they loved him," his sister told WFAA.
In June, right at the heart of the George Floyd protests, Price wrote a lengthy Facebook post speaking in favor of police officers, and saying as a Black man, he has "never got that kind of ENERGY from the po-po" with the emoji of a police car, referring to police mistreatment of African-Americans.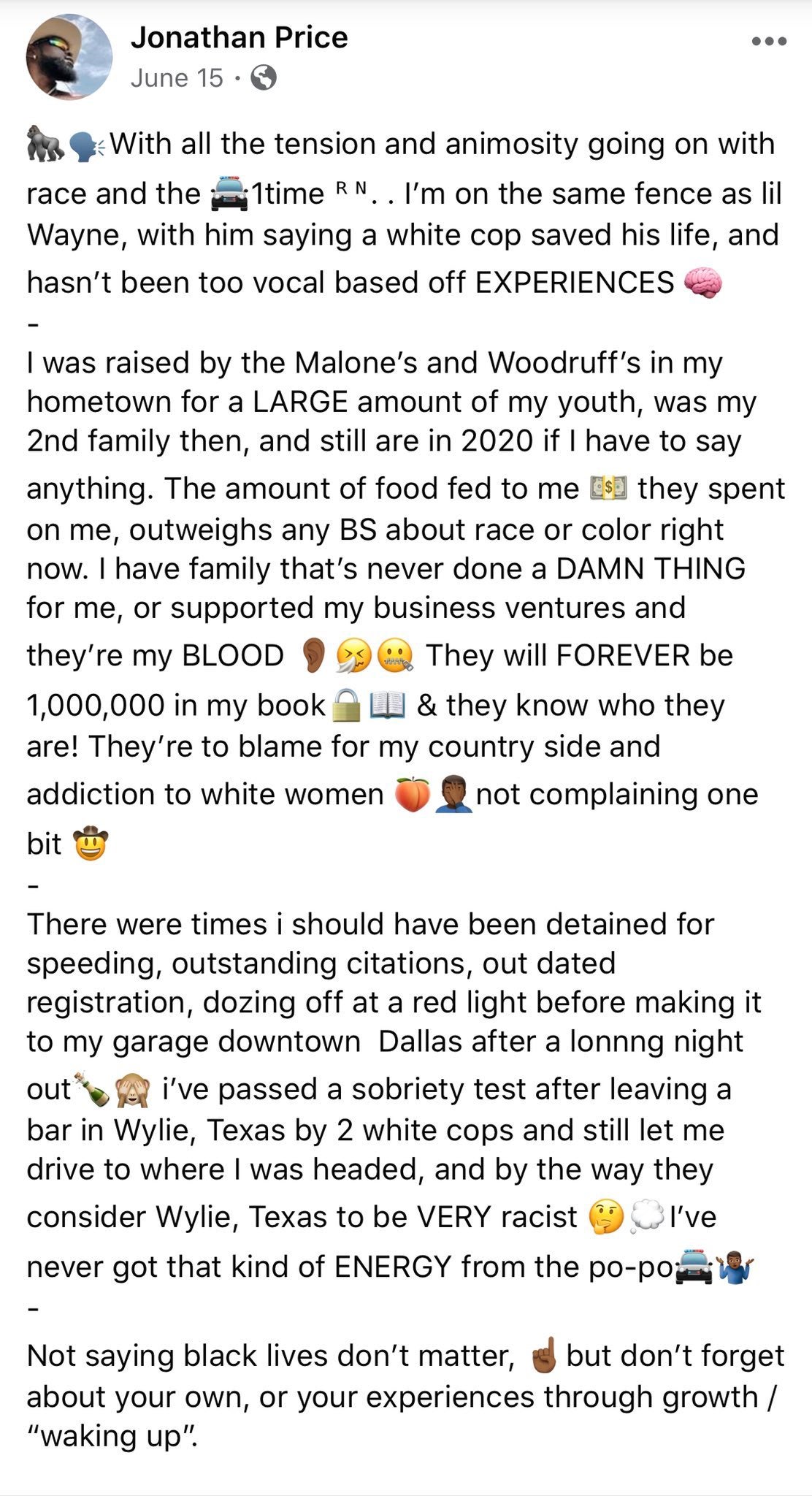 "There were times i should have been detained for speeding, outstanding citations, out dated registration, dozing off at a red light…," he said in the post, "i've passed a sobriety test after leaving a bar in Wyle, texas by 2 white cops and still let me drive to where I was headed."
"Not saying black lives don't matter," he concluded, "but don't forget about your own, or your experiences through growth / 'waking up'."
In May, as the protests for Floyd were beginning to brew, he wrote that the protests would increase the profiling of African-Americans and called them an "idiotic stunt."
"Now y'all are increasing the chances of MORE PROFILING by cops when they roll them TROOPERS in town this summer 2020 (& I haven't even experienced profiling)," he wrote.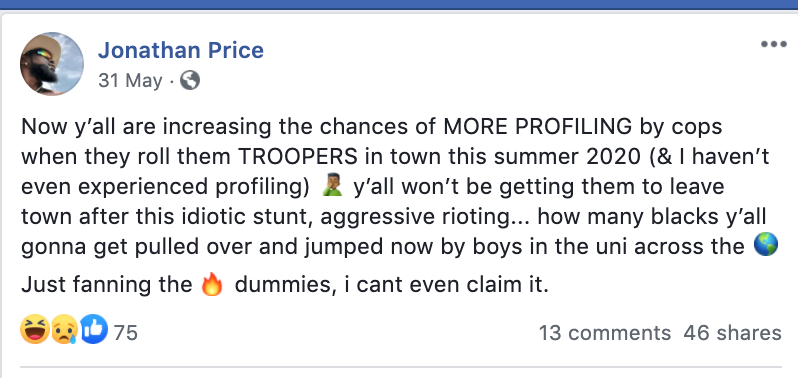 By Monday, his name became a hashtag on Twitter with some expressing their grief and some sharing their frustration that the police continue to mistreat Black Americans amid a social justice movement for change.
"We need to continue the conversation about change in policing. The current system is not working for all of us. Rest in Power #JonathanPrice," wrote another. "I am sorry that you have become another hashtag. #BLM."
Many acknowledged that while Price's own views of police and the Black community differed from that of many activists, but that he deserves justice all the same.
Wrote writer Naima Cochrane, who shared the screenshots of his Facebook posts: "#JonathanPrice still deserves justice, but gotDAMN I hate he had to find out the hardest way possible."
"Jonathan Price was a good man who vocally, publicly supported the police. He really backed the blue," wrote another user. "Here is the lesson for black men that he learned too late: They can be kind to you a hundred times. They just have to murder you once."
In a video posted by a WFAA reporter, Price's mother said she was not allowed to go near him.
"They wouldn't let me get close to my baby," she wept in the video. "I just wanted to hold his hand, they wouldn't let me do that."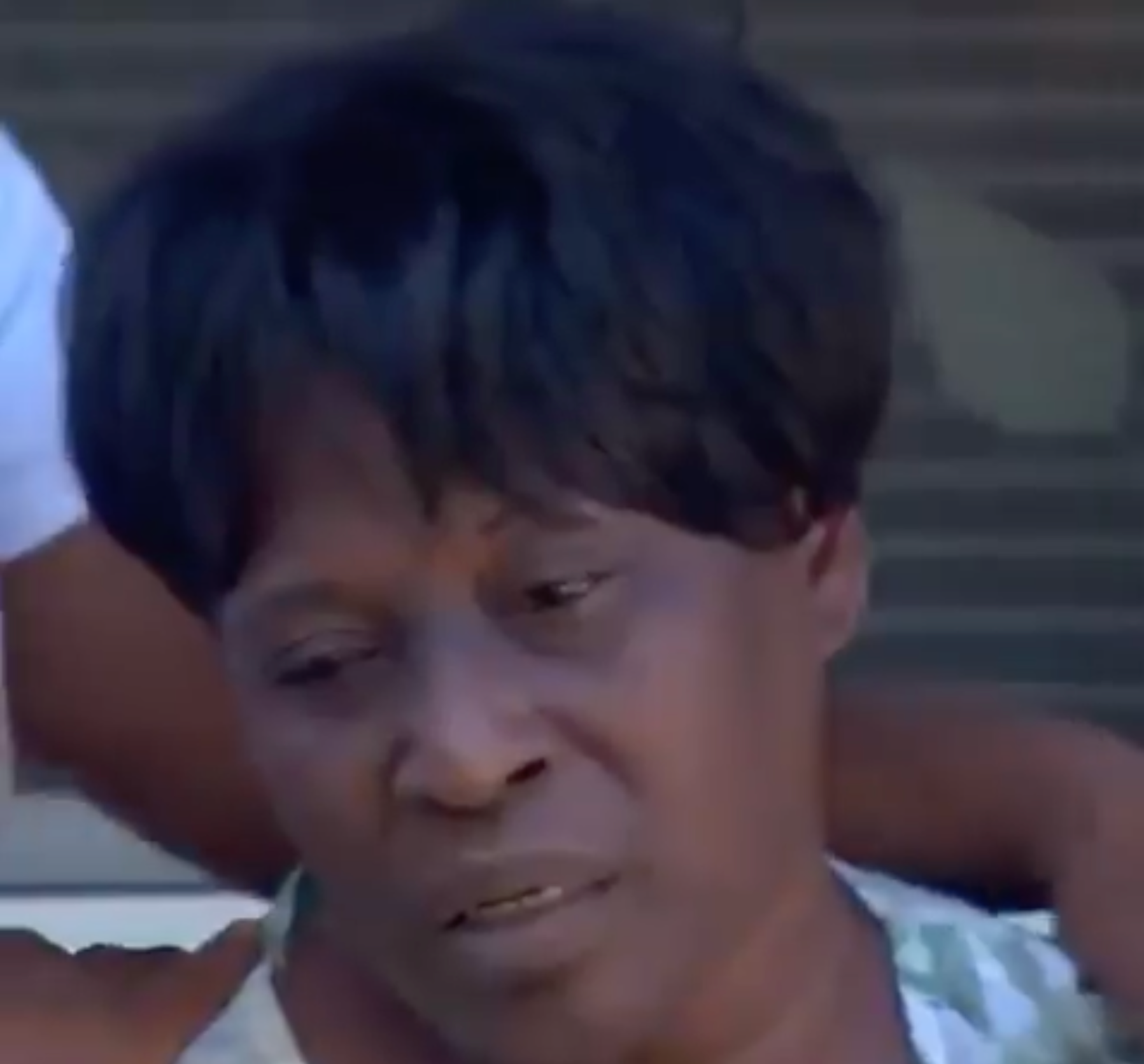 A fundraiser with the target of $50,000 for his family has already garnered more than $53,000 for the targeted $50,00
The Texas Rangers have reportedly opened an investigation and placed an officer on administrative leave following the shooting. While the identity of the officer has not been revealed, witnesses said he is white.
Update 10:52am CT, Oct. 6: Wolfe City police officer Shaun Lucas was charged on Monday with murder in the death of Jonathan Price, who witnesses say was breaking up a domestic dispute when cops were called.
Lucas is booked in Hunt County Jail on a $1 million bond. The Texas Rangers, which was investigating the murder, said the killing was "not objectionably reasonable." Lee Merritt, a civil rights attorney working with Price's family, called the arrest an "important initial first step."
---
Today's top stories