A Twitch streamer who was sexually assaulted during a live stream said she feared Twitch was going to ban her and that some of her viewers blamed her for what happened to her, according to a recent interview she did with VICE.
Jasmine Vo, whose username on Twitch is IMJASMINE, documented her trip to Osaka, Japan, in September. She live-streamed herself shopping, eating, and interacting with locals.
Videos from her trip were uploaded on YouTube in December on the channel Screw The Fracking Rules. In one, Vo is seen eating ice cream at 6am on a sidewalk. The sun is up, but the streets are empty.
She sets up on the sidewalk while eating her ice cream and responds to comments coming in from her viewers in real-time.
Eventually, a man comes over. "Hello," he says as he sits down behind her and starts patting her back.
"No, stop. I'm sorry. … No," she says, attempting to maintain her composure and positivity, even though she's visibly uncomfortable.
She tries to tell him her video is live, and he leans in, saying something in Japanese that she doesn't understand. He keeps trying to get close to her while she inches away from him. He even briefly tries to rest his head on her shoulder. He pats her on her thigh, all the while she's saying "no" politely.
"Stop, man. Stop touching me, man. No no," she keeps saying.
At this point, viewers are urging her to get out of there and "stand up!"
"OK, I'm standing up," she says to her viewers while trying to laugh the man off.
She puts on her mask and gets ready to leave, and the man keeps talking to her in Japanese. As she packs up her belongings, he extends his hand and touches her.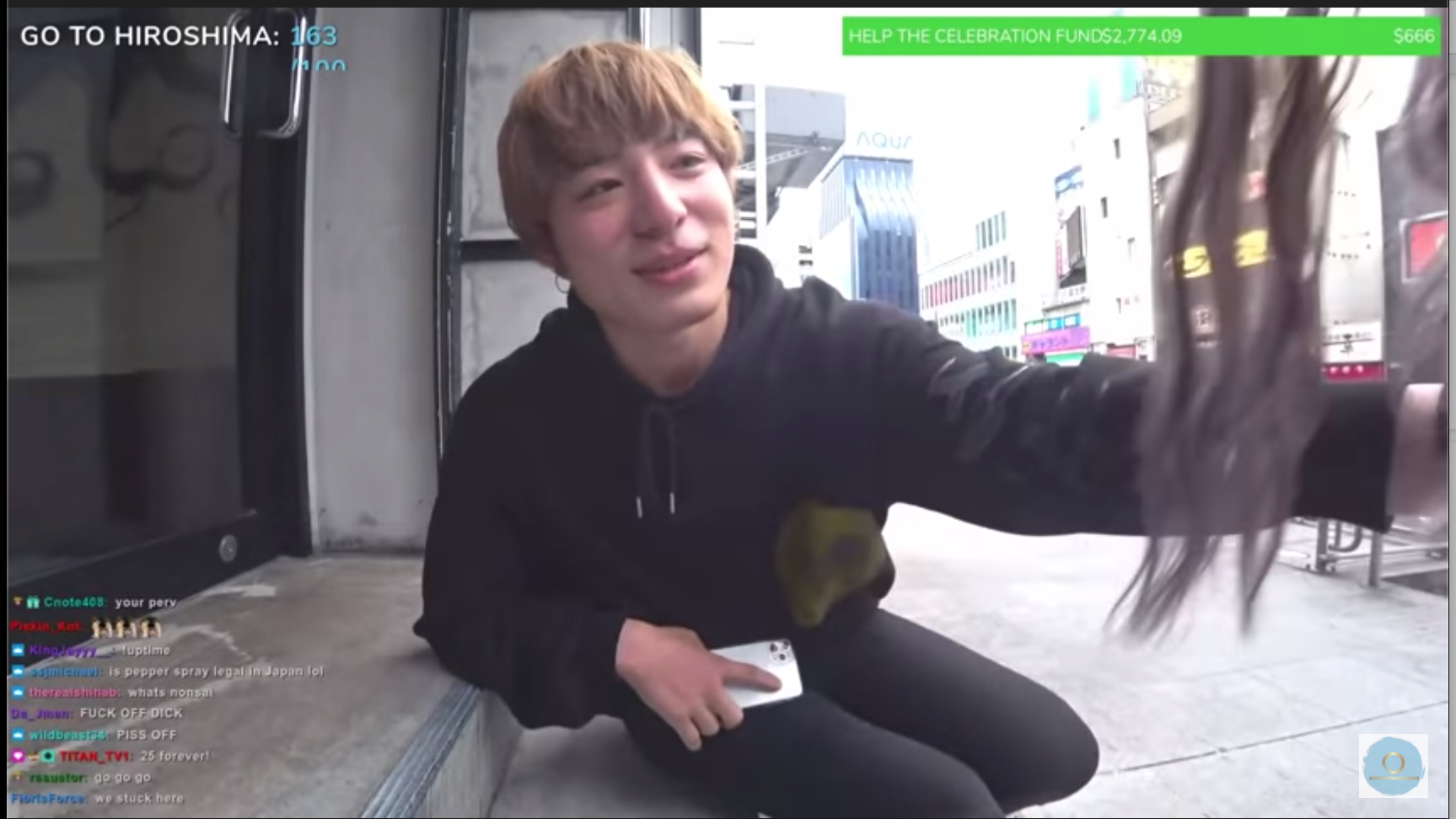 As she says bye and gets up, still trying to play it cool, the man lingers around, and, at one point, gropes her breast. "Woah, stop. No, stop it," she says.
Her viewers are also livid at this point, with some telling her to "run" and "just leave."
"Slap him," one said.
"Walk away!" another urged.
As she gets up and starts walking away, the man keeps following her. "Oh man, you following me? Come on. No, go!" she says, attempting to shoo him away.
He keeps following her until she gets on the main street, where there are other people, and she enters a store.
Vo told VICE that given how unsafe women feel on Twitch, she was worried she would be kicked off the platform for her assault. "I was so overwhelmed… I was afraid that I would get backlash, or that Twitch would ban me," she said.
Vo said she was also blamed for her own assault. "There'd unfortunately be comments about how 'You deserve this,' 'You're wearing certain clothing,' or 'You brought this upon yourself.' I would get so many comments like that," she told VICE.
One of her viewers even told VICE that it "Maybe it would be better for her if she didn't wear those kinds of clothes to help deter those types of people."
Vo continues to stream her life on Twitch, where she currently has 190,000 followers.
If you are a victim of sexual assault or want more information on sexual assault, contact the Rape, Abuse & Incest National Network at 1-800-656-HOPE (4673).
---
Today's top stories