U.S. Immigration and Customs Enforcement (ICE) announced on Monday a new policy change that could dramatically affect foreign students.
In a statement on the agency's website, ICE revealed that those with student visas will be asked to transfer or leave the country if their universities move to online-only schooling this fall.
"Active students currently in the United States enrolled in such programs must depart the country or take other measures, such as transferring to a school with in-person instruction to remain in lawful status," the announcement reads. "If not, they may face immigration consequences including, but not limited to, the initiation of removal proceedings."
ICE further noted that the change will also affect those looking to obtain a student visa moving forward.
"The U.S. Department of State will not issue visas to students enrolled in schools and/or programs that are fully online for the fall semester nor will U.S. Customs and Border Protection permit these students to enter the United States," the agency added.
Schools that adopt what ICE calls a "hybrid model," a combination of courses both on campus and online, must be certified by the Student and Exchange Visitor Program (SEVP) run by the agency. Schools must then ensure that students are "not taking an entirely online course load this semester, and that the student is taking the minimum number of online classes required to make normal progress in their degree program."
News of the change immediately sent shockwaves throughout the foreign student community, with many raising questions over whether they could remain in school if deported.
Aaron Reichlin-Melnick, a lawyer with the American Immigration Council, outlined on Twitter the many ways ICE's new policy could affect students.

"Under the rule ICE announced today, schools like Harvard wouldn't lost tuition from students forced to leave the United States," he said. "Students could 'attend classes virtually—in their home country. But if the choice is stay at Harvard or leave the U.S…many will choose to transfer."
Others noted that if students are forced to leave the country, many may be unable to attend online courses due to poor internet connectivity as well as time differences.
Students who came from countries such as China, for example, may not even be able to access the tools needed for class given the country's restriction on certain U.S. technology.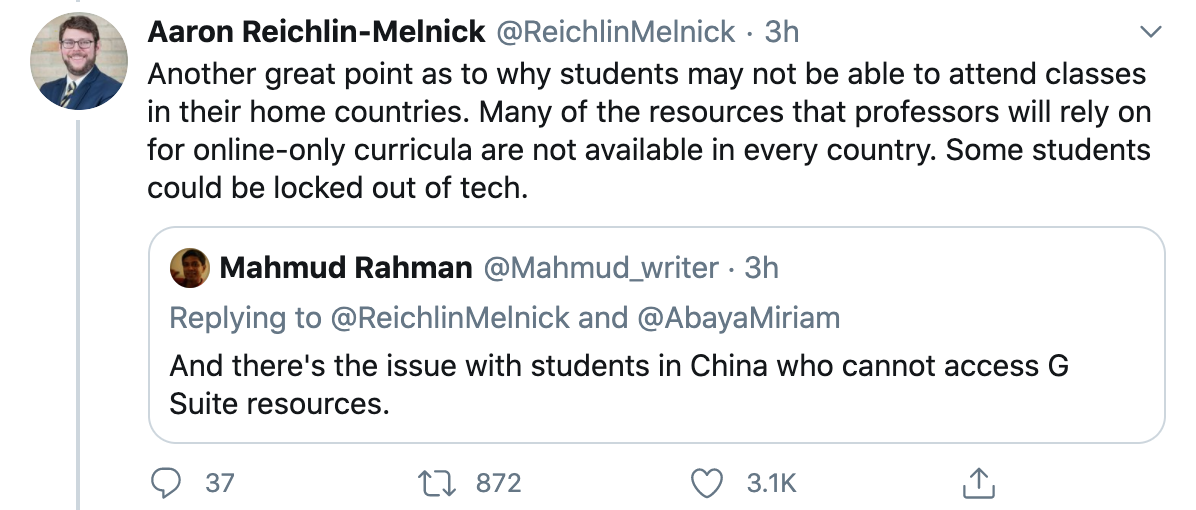 Although ICE states that there are certain steps a student can take to avoid deportation, Reichlin-Melnick argues that the vast majority of students are not eligible for such exemptions.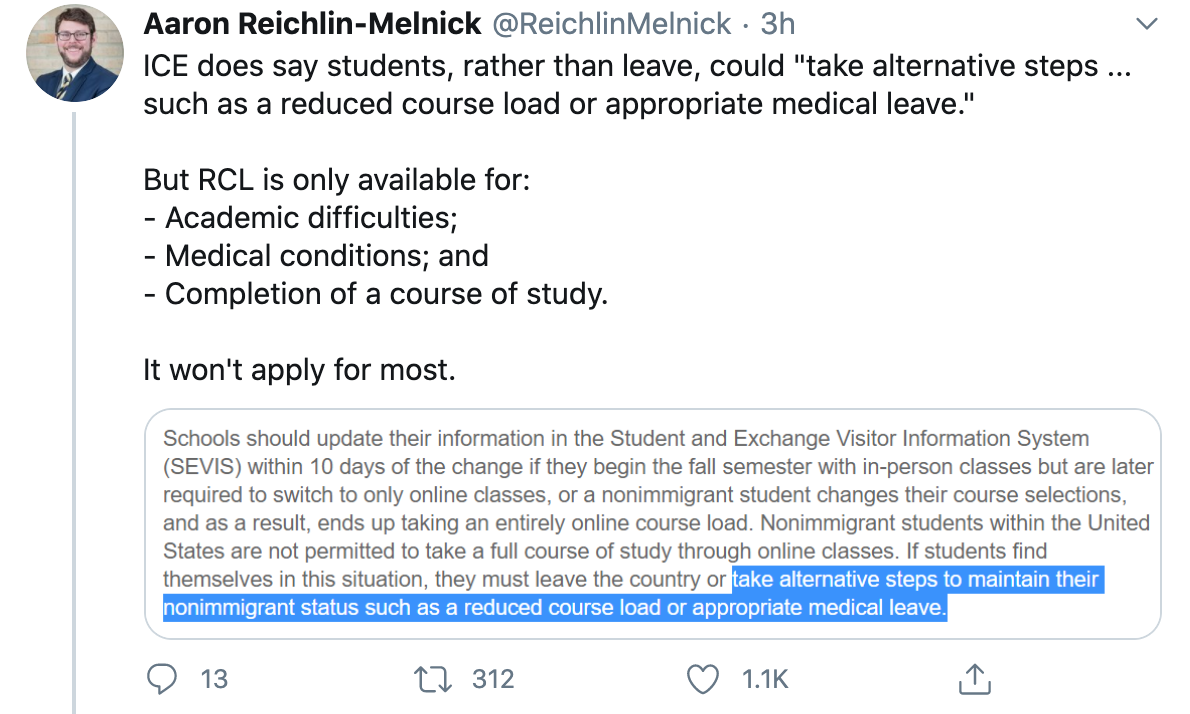 To make matters worse, some countries may not even allow their citizens to reenter due to coronavirus-related travel restrictions on flights coming in from the U.S.
"It's unclear how many countries applies those rules to their own citizens, but some definitely do," Reichlin-Melnick said. "What are those students suppose to do?"
But students shouldn't prepare to leave just yet. Reichlin-Melnick says the new rules will almost certainly be met with a flurry of lawsuits.
"I can't give anyone specific legal advice on their cases (especially because I am not an expert on student visas), but I wouldn't encourage anyone to book a flight 'home' this exact moment," he said. "Lawsuits are inevitable."
READ MORE: