Under the threat of flooding, electrical outages, and property damage resulting from Hurricane Harvey's weekend downpour, Texans across Corpus Christi and Houston are wondering—why the hell did Snapchat think it was a keen idea to roll out a Hurricane Harvey geofilter?
UPDATE: THERE IS A SNAPCHAT FILTER YALL #harvey pic.twitter.com/ILowsJn7pX

— Maheen (@virannii) August 25, 2017
And Texans aren't feeling Snapchat's moves:
Hurricane Harvey over here with life threats and Snapchat over here making a filter like it's a joke??? #Harvey2017 #HurricaneHarvey pic.twitter.com/u1uxcKpn4P

— M✨ (@mmiikaeellaa) August 25, 2017
Yes, Snapchat geofilters can be a fun and expressive way to share your location with your friends, but amid a natural disaster bringing 40 inches of rain that may leave the most severe areas of the state inhabitable for weeks—and possibly even months—the filter comes off as careless and crass.
Houston has a hurricane harvey snapchat filter, I'm glad to see our life a joke to y'all

— John Rogers (@DaddyJohno) August 25, 2017
I bet Snapchat makes a Hurricane Harvey filter so we can live cam drowning alive walking to class

— Clay Williams (@clay22w) August 25, 2017
https://twitter.com/megannge/status/901137060471472130
Which headass at Snapchat was like "yo let's give this hurricane a filter lol"

— Arbaz (@Arbazmomin123) August 25, 2017
https://twitter.com/TosinKoleoso_/status/901145859907301381
Snapchat childish for giving the hurricane it's own damn filter lmfaooo

— samantha (@samanthaccc_) August 25, 2017
Really? While the state faces destruction and possibly even death, Snapchat thought the best way to approach the storm would be to hand Texas a geofilter? It comes off as an extremely capitalistic, disingenuous bone thrown to the storm's targets, especially given the political overtones of the storm crashing during an unprepared administration with several vacancies, in a state where its most vulnerable people initially had to choose between staying during the hurricane or risking detention by U.S. Border Patrol.
Alas, not everyone has taken issue with the filter, as evidenced by the natural disaster's Snapstory, and some seem to be making the best of a bad situation.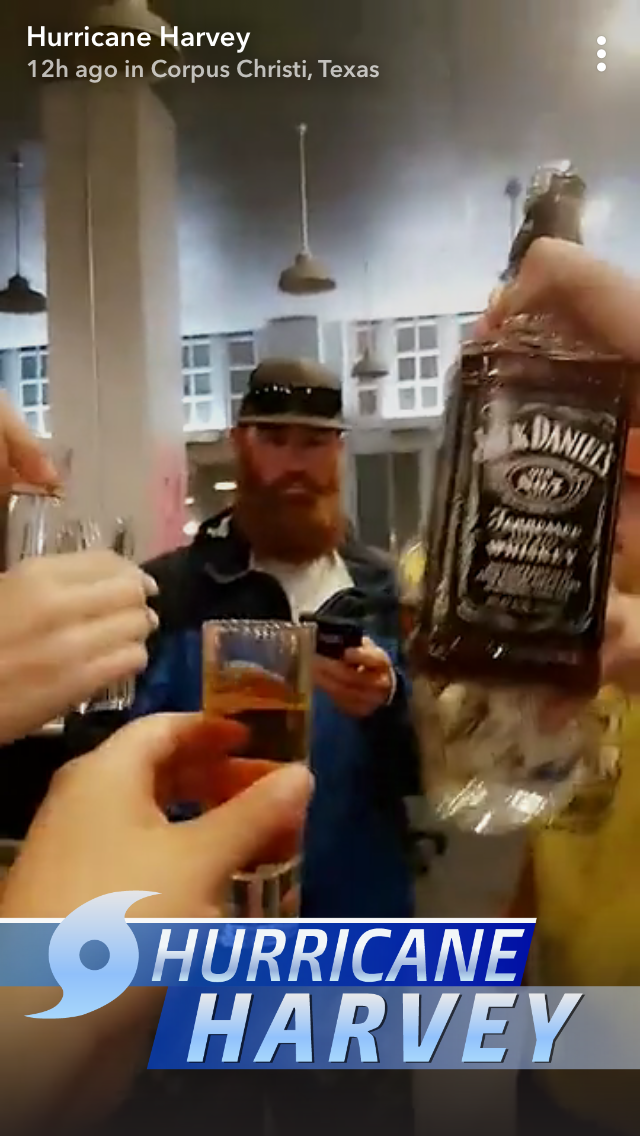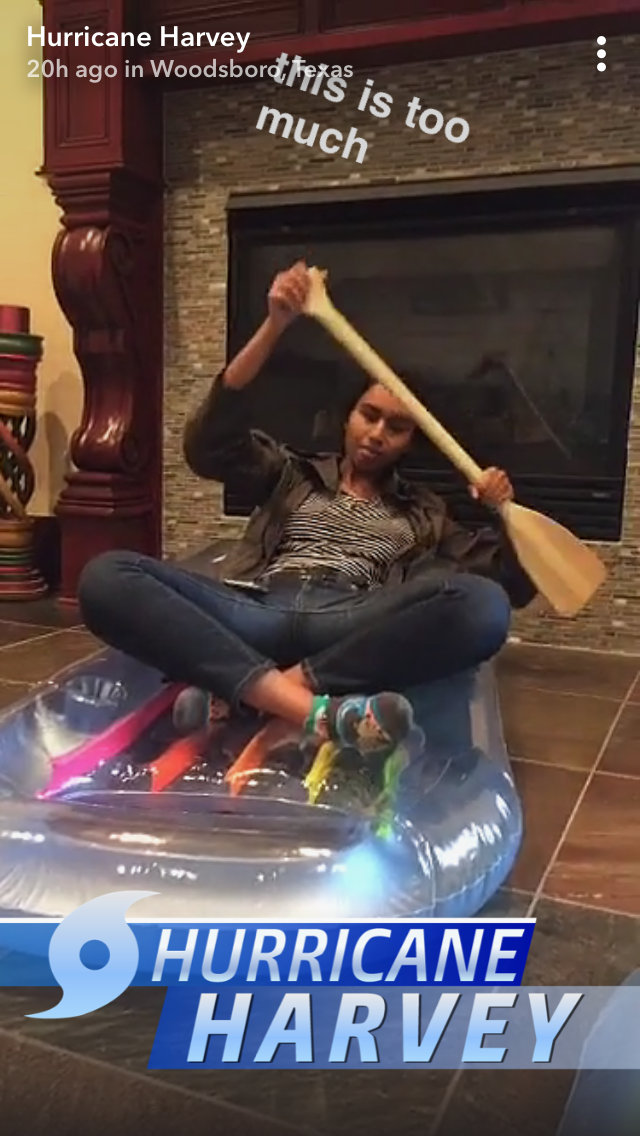 Cheers, folks. And try to keep that Snapchat geofilter usage limited to indoors, where it's safe.