A California man is being dragged online after a video went viral showing him spewing anti-Asian racist comments at an Asian woman and briefly threatening her with violence. 
The video was posted on YouTube by user "YamaBread CreamPan" on Sunday, who claimed that their video on Nextdoor was removed.
"This racist man ambushed me in the parking lot, chanting racial slurs and threatening to punch me in the face after he refused to practice social distancing," the user wrote in the post.
The man has since reportedly been identified as Brian Kranz, a fitness instructor in Irvine, California who runs Red Fitness. His female partner—who is seen smirking throughout the incident and even smugly taunts the victim with a "bye"—has been identified as Janelle Hinshaw. The Daily Dot was not able to independently verify their identities. 
We have reached out to Kranz.
The less-than-a-minute-long video shows Kranz yelling at the woman, allegedly asking her to go back to China. 
"Why don't you do that? Just stay at home!" he says.
"Keep going," the woman says from behind the camera.
Kranz takes off his seatbelt, as Hinshaw smirks at the victim, and waves her a "bye."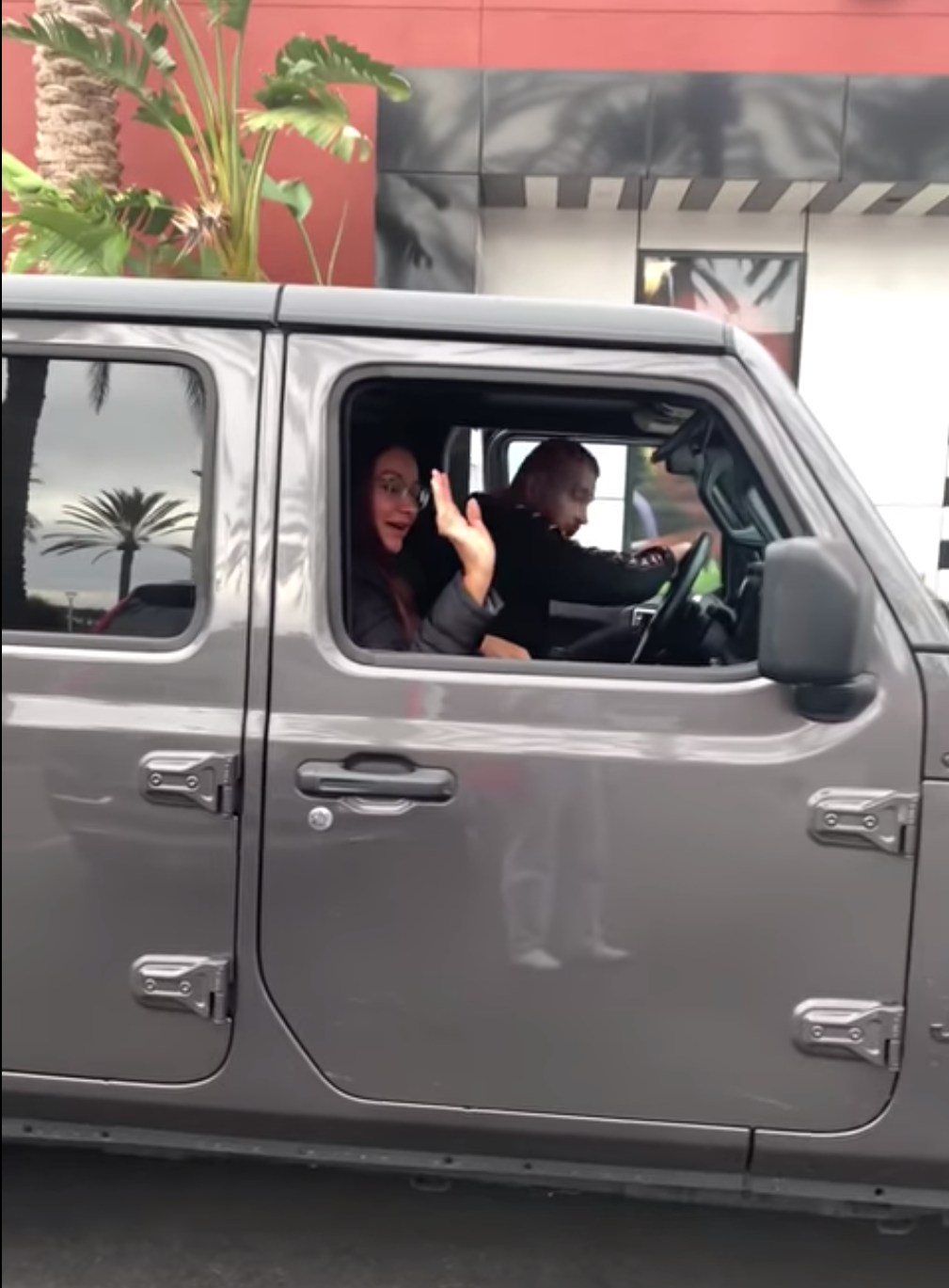 "You wanna photograph me?" Kranz says, getting out of the car. "Are you that [inaudible] that you wanna photograph me?"
He walks toward her threateningly, his fists clenched, when the woman retreats back into her car, closing the door. 
"Exactly," he says. "Get in your car stupid g**k."
He gets back in the car and mocks the victim for recording the incident.
"Are you really that stupid? You know that recording doesn't do anything," he says.
Before driving away, he waves her goodbye and says, "Thanks for giving my country COVID, have a great day."
The video has since been shared on popular social media accounts such as @davenewworld_2 on Twitter, and @asianswithattitudes on Instagram, garnering hundreds of thousands of views in a day.
Many, including the account of @davenewworld_2, were quick to identify Kranz through his photos and license plate, as screengrabbed from the video. 
The Instagram account of Kranz's business "Red Fit" was unavailable on Tuesday morning when the Daily Dot ran a search. Hinshaw's LinkedIn page, through which she was reportedly identified, was also unavailable. 
Kranz is a trainer licensed by the National Academy of Sports Medicine (NASM), and many on social media called for his license to be revoked. Many also tagged Hinshaw's current masters' program at Azusa Pacific University to revoke her license as a psychologist working with teens.
Given both Kranz and Hinshaw's work requires working with the public at large, it was of concern to many how they would treat their clients of Asian descent. 
The backlash has been immense. After reportedly deactivating their LinkedIn and Instagram pages, they faced backlash on other platforms. 
Many users flooded the Yelp page of the business with reviews about Kranz's racism, enough for Yelp to lock the account's review section and issue a disclaimer that Yelp is currently monitoring the page. 
"This business recently received increased public attention resulting in an influx of people posting their views to this page, so we have temporarily disabled the ability to post here as we work to investigate the content," read the disclaimer. "While racism has no place on Yelp and we unequivocally reject racism in any form, all reviews on Yelp must reflect an actual first-hand consumer experience."
A fake LinkedIn account was made in Kranz's name, describing him as "Personal Trainer at Red fitness racist ginger."
A Facebook page for "Red Fitness" showing only one photo of Kranz also received a barrage of "reviews" calling him racist; it's unclear if this page is actually his or was created in response to the incident. The reviews on the page go back to only one day ago, and it has only one follower. 
A 2018 profile of Kranz by Voyage LA, which features L.A.'s "most inspiring stories" has been taken down, after many shared links of the article in response to the original tweet.   
An interview of one Janelle Hinshaw by "Artists For Trauma" about how she survived trauma and used art to process it has also been getting spammed with comments from many. The Instagram account linked to the interview was unavailable on Tuesday when the Daily Dot ran a search.
Irvine Rep. Katie Porter (D) also shared a link of the incident and condemned it. 
"Seeing this racist behavior in our community is saddening and infuriating," she wrote. "Hate has no place here, and I'll always stand with our Asian-American neighbors."
For many, it wasn't his blatant racism alone that was infuriating, but also the fact that he taunted the woman about recording not having any consequences.
The Daily Dot has reached out to NASM and the Azusa Pacific University regarding their work with Kranz and Hinshaw, and will update the report if they respond.
---
Today's top stories