A video released by the New York City Police Department (NYPD) shows a man and woman attacking a 60-year-old woman because she reportedly asked them to wear face masks as they were entering an elevator. 
According to a video released by NYPD News on Wednesday, the man and the woman, who were together, attacked the woman outside the elevator at a subway station in Brooklyn.
The video shows the 60-year-old in a blue face mask entering the elevator with the man and the woman following behind her. She stops them, and the three engage in a brief conversation. There is no audio in the video. 
After a few seconds, the man pushes her aside in an attempt to get inside the elevator. When the 60-year-old tries to resist, the woman hits her. 
The 60-year-old strikes back briefly, at which point the two start hitting and punching the woman to the ground.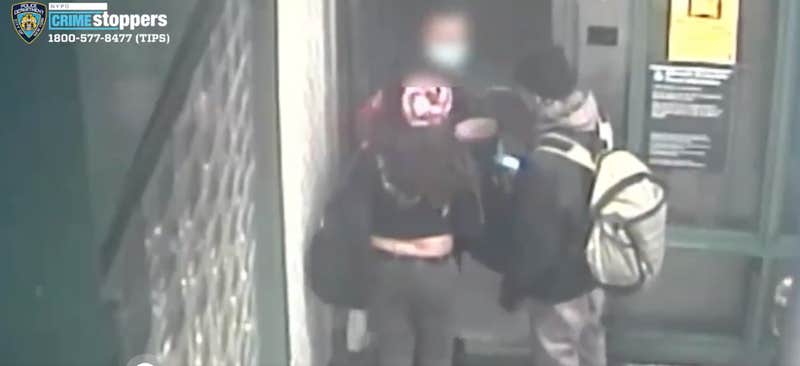 The man repeatedly punches her, even after she is on the ground. At one point, the woman kicks her. The two knock her back down to the ground every time she tries to get up.
According to the tweet, the incident took place last Friday, and NYPD is looking for the duo.
The woman sustained injuries on her face and her legs, according to PIX11. She was taken to a nearby medical center and has since been released.
The attackers, who are thought to be between 16 and 20 years old, fled the scene after the attack.
People are angry that the couple attacked a 60-year-old woman seemingly all because she advocated for mask-wearing, with some blaming the NYPD.
"Thank the guy you guys endorsed," wrote one user in response to the NYPD tweet.
"This is messed up but NYPD doesn't wear masks. What kind of response would I get if I told some maskless officers to put theirs on?" wrote another.
The incident took place as coronavirus across the nation surge, with as many as 170,000 new cases and close to 2,000 deaths a day. In New York, the numbers are also rising, prompting schools to shut down again in order to contain the virus.
---
Today's top stories