RuPaul's Drag Race star Trinity the Tuck appears to have been exposed for having a dark social media past.
Trinity the Tuck was recently discovered by fans to have had a Reddit account after being questioned by a user on Twitter about it.
"This u?" was the simple question posed to Trinity the Tuck by Twitter user @kandacemusical on Jan. 6. The user included a screenshot of the drag queen's Reddit username, to which the star responded, "Oh yes, I'm still on Reddit!" 

The revelation prompted fans to peruse the account, which goes by u/SHEdevilBYnight. They are now accusing Trinity the Tuck of making racist and transphobic comments on the account.
Many users are pointing to several comments in which the account repeatedly diminished the talents of RuPaul's Drag Race All Stars Monét X Change and Monique Heart, with one comment stating that Monique "didn't deserve to win" after winning a pageant on the show.
There is one drag queen, however, who the account consistently defended.
"She is the most famous queen in the world and that people look up to her and she is mother," the account wrote in one post about Trinity the Tuck.
The account, which has since been deleted, responded in 2020 to allegations that Trinity the Tuck made transphobic comments, saying that Trinity the Tuck "was never transphobic" and that people accusing her of such "jumped on a bandwagon." 
"I'm trans and I wasn't offended. What she said could have been worded much better but was not transphobic," the account added.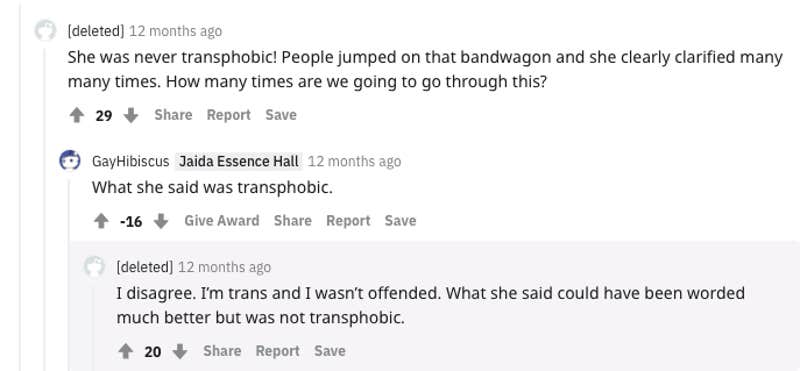 Users began accusing her of impersonating a Black trans woman after it was also discovered the account used a Black woman shrugging emoji in one post.
"So trinity the tuck was pretending to be a black trans woman on reddit and used that account to argue with rpdr stans that said anything negative about her lmao ? i'm going back to sleep," one user wrote.
The drag queen seemingly denied that she owned the Reddit account, stating that "people will make up and believe anything" in response to one Twitter user who said, "I can't believe @TrinityTheTuck Did you really do all of this?"

Fans don't seem completely convinced. They are pointing out that she initially claimed it was her account and that the account was deleted following the allegations. 
Nevertheless, though the account has been deleted, the comments are still up and available for all to see.
---
Today's top stories