Each year, the Day of the Dead grows more visible to people in the United States. On Halloween, more Americans paint their faces to look like traditional Mexican sugar skulls, or "calaveras." You can walk into any dollar store and find cheap sugar skull decorations, bathed in every color under the sun. Its accessibility, thanks to capitalism and cultural exploitation, is something I look forward to every year.
But, as a biracial woman whose mother is Mexican, I know that it's wrong.
OK, maybe it's not that black-and-white of an issue. But before you collect all those elaborate sugar skull setups at Target, you should probably know more about el Día de los Muertos first.
What is the Day of the Dead?
It's a bit of a misnomer. Think of it as a celebration for the continuation of life beyond the ones we all live on Earth. (We can thank the Aztecs for this optimistic view of death.) They started this tradition roughly 3,000 years ago to guide the spirits of their deceased loved ones back to them once a year, enticing them with their favorite foods and leading them with candlelight. It's a holiday aware of its own irony, where people use the brightest colors to paint their faces and adorn their homes and local cemeteries. Americans typically associate Day of the Dead with Mexico, but it's celebrated across Latin America.
The celebration lasts from Oct. 31 to Nov. 2, with family members attending church services (typically, Mass if you're Catholic) to pray over loved ones who have passed away and visiting their graves.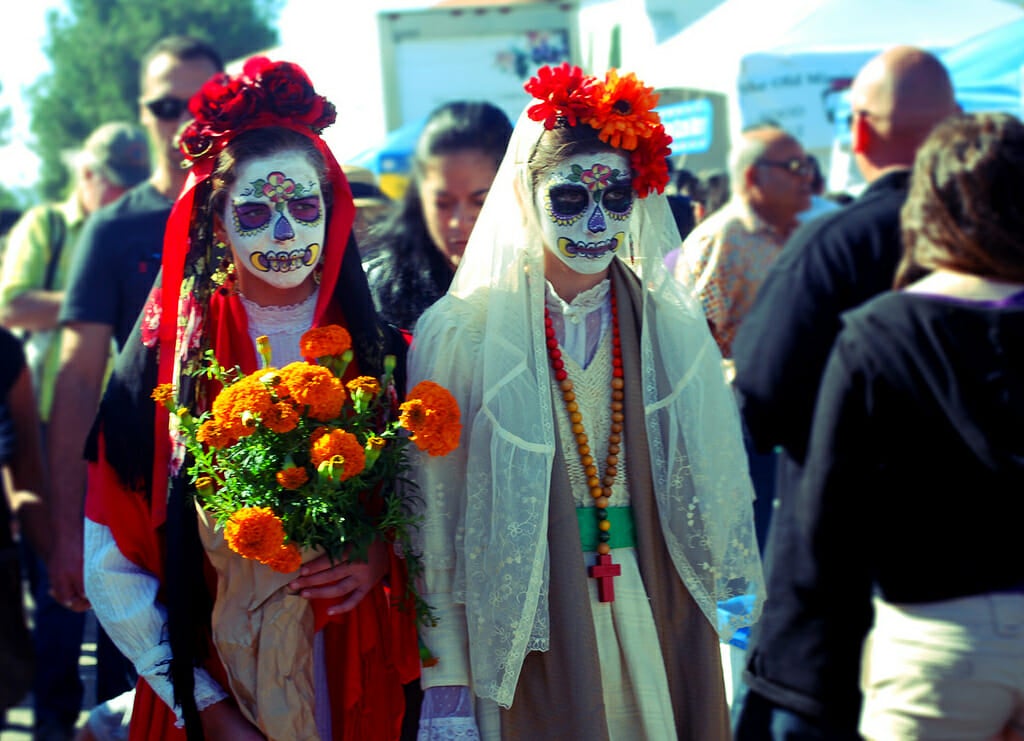 READ MORE:
How do people celebrate Dia de los Muertos?
Families bring the celebration into their own homes by making an "altar de muertos," or an altar for the dead. It's often a table covered with flowers, sugar skulls, candles of every color, and other types of "ofrendas," or offerings that each have their own significance.
If you decide to attend any Day of the Dead festivities, chances are you'll see some of these items. The centerpiece of the altar is typically one or multiple pictures of dead loved ones. These images are often surrounded by foods that are each assigned a meaning. On top of the deceased's favorite food, people place sugar skulls on the altar, representing life and individual personality, according to NPR.
"Pan de muertos," or bone-shaped sweetbreads sprinkled with sugar, represent soil. Candles used to guide spirits back to their living loved ones are pepperd between mementos and food. Under the altar, the table is often lined with "papel picado," or brightly covered tissue paper with elaborate designs. The paper is used to represent how fragile life is.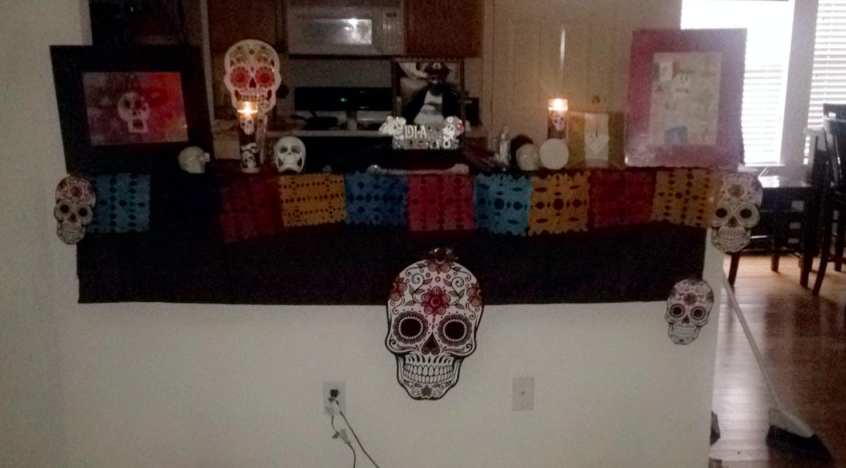 The Dia de los Muertos altar my mom made at our home this year.
Can you celebrate it even if you're not Latinx?
Tread forth, but tread lightly. It's impossible to walk into a store these days and not see sugar skull decor. (They have sugar skull pots for succulents at Trader Joes now and I'd be lying if I said I hadn't thought about buying them all.) But for sure, steer clear of the bar that's capitalizing on the celebration by selling cheap tequila shots.
Since it's a gorgeous holiday, it's no surprise as to why it's becoming increasingly visible to countries all over the world. But if you aren't Latinx (or even if you are) and you're inspired, dive in the whole way. Make sure you learn why it means so much to those whose centuries-old traditions are passed down generation to generation. Talk to your friends who have celebrated it. There's probably a local Day of the Dead celebration near you that you're more than welcome to join and support. Be proactive in seeking out these resources and spaces.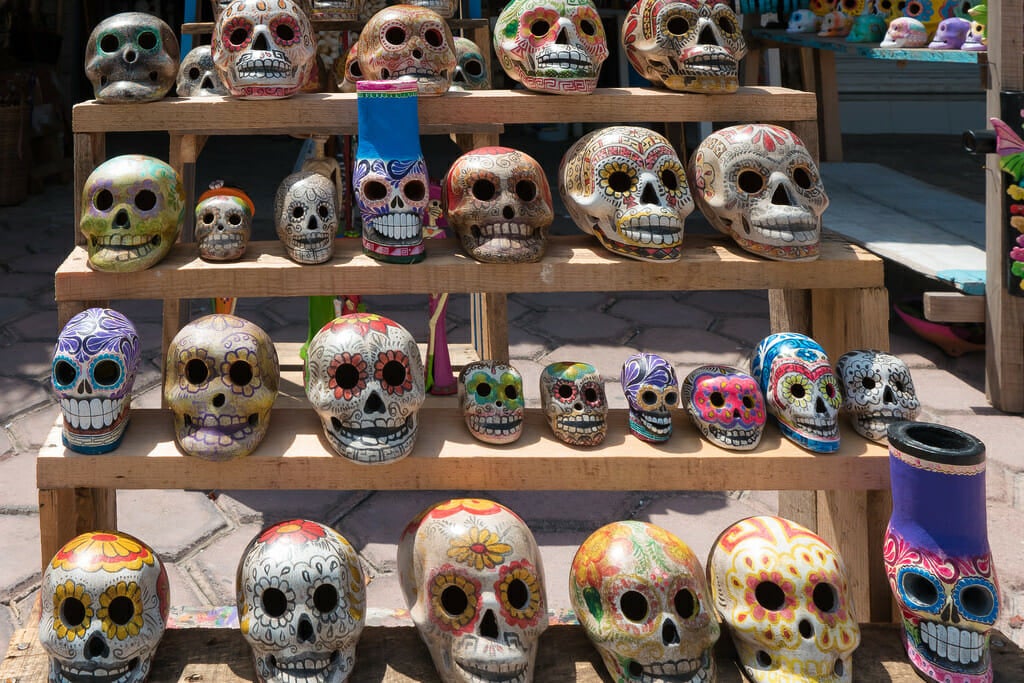 OK, I'm sold. What are the 'do's' and 'dont's'?
Don't: You may have heard that it's offensive to paint your face as a sugar skull. There's a reason for that. Sugar skulls are traditionally used as offerings to loved ones who have passed away. They're brought to graves and placed on altars in the home. They have a sacred, solemn place during the three-day celebration of el Día de los Muertos—and people who celebrate the holiday will also paint their faces as a way to participate. And here's where that gets sticky.
The Day of the Dead falls at the beginning of Halloween in the United States. Halloween has a reputation as a dark and sinister holiday that traditional Latinxs don't see as compatible with the joyful, vibrant meaning that the Day of the Dead is meant to celebrate. Conflating the two holidays is offensive. So when people use Day of the Dead imagery on Halloween, like sugar skull costumes, it's a tone-deaf move. Unless you're strictly celebrating the Day of the Dead, it's best to stay clear of skull painting on Halloween.
Do: Participate in a local festival or parade hosted by Latinx people. Allow them to paint your face if you like, but show up as a blank canvas. And don't forget to throw on your brightest clothes.
Do: Support local Latinx businesses by buying any Day of the Dead goodies from them, instead of, say, Trader Joes.
And if you so much as own a sombrero you bought in Cancún on spring break, just stay home.