A Black mother who was allegedly told her newborn daughter died at the hospital is demanding to know the truth after learning she has an open adoption with a white woman.
Damea Morris shared her story on Facebook this week, and it quickly went viral. Morris says on Sept. 6, 2017, she gave birth to a daughter, RaeLa, at her home. RaeLa's father went to fetch help and came home with another woman who helped her until paramedics arrived. The woman, who was not a doctor herself, allegedly told Morris she couldn't breastfeed RaeLa because the baby wasn't breathing.
Morris says when paramedics arrived, they cut the umbilical cord, at which point RaeLa started to cry. They transported Morris and her daughter to St. Joseph's Hospital in St. Paul, Minnesota. When they were at the hospital, doctors allegedly told Morris her baby had died but did not produce a death certificate.
At a later date, Morris said she pursued legal help to obtain a death certificate and learned she had an adoption open with a woman named Joanna Lentner.
Lentner and her husband, Jake, allegedly kept an online journal documenting their adoption journey dating back to at least 2015. On Dec. 20, 2017, they shared a new entry on their "J & J Adoption Journey" Facebook page with the caption, "That day seems like a blur. So distant, but unreal it was 15 weeks ago."
The Lentners allegedly received a call from St. Joseph's Hospital saying their maternity ward was closing, and they had one last patient. Based on the Lentners' post, the adoption would have been processed on Sept. 6, the same day Morris gave birth to RaeLa.
Twitter user @mami_manii tweeted several screenshots from Morris' Facebook post on Aug. 9. The tweet has accumulated 95,000 likes and over 49,000 retweets; in the replies, several people noted the similarities between the Lentners' adopted daughter and one of Morris' other daughters.
"They are 100000000% sisters. Holy shit," Twitter user @sugareebabie wrote.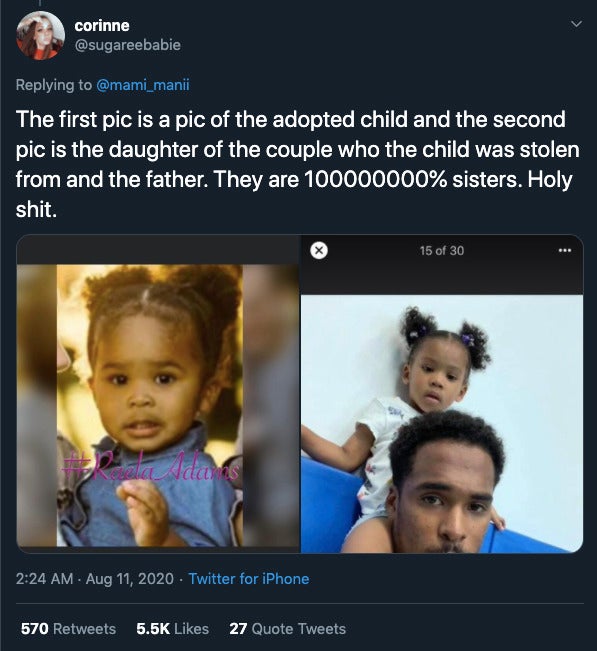 Joanna Lentner, who runs Joanna Mae Photography in Rice, Minnesota, whis is about an hour from St. Paul, appears to have deleted her website, LinkedIn, and Facebook business page. She and Jake also appear to have deleted their social media accounts and their online adoption journal, although a few entries from 2015 have been archived on the Wayback Machine. 
The Daily Dot's attempts to reach Morris and Jake and Joana Lentner were not immediately successful.
Morris has set up a GoFundMe, ostensibly for legal fees to get to the bottom of what happened to her daughter. In two days, it has raised $3,050 of its $10,000 goal.
"I just need help figuring out how to get my baby back," Morris wrote on the GoFundMe. "Through all trials and tribulations my kids are all I got through every struggle my situation is not perfect but I don't deserve any of them to be takin [sic] from me."
---
Today's top stories