A video of a dad trying to pay his daughter $2,000 to not get the COVID-19 vaccine has gone viral on TikTok.
The TikTok, posted by user @appaloosauce who's name is Brianna, had more than 120,000 views on Friday. The video starts off with the dad saying the shot is "not a vaccine."
"It is a human trial," Brianna's dad says. "It is genetic therapy. It's not a vaccine. It doesn't fall in the category of a vaccine. It's not FDA approved."
Others online have also claimed that the COVID-19 mRNA vaccines are gene therapy, but neither Pfizer/BioNTech or Moderna COVID-19 vaccines alter genes. According to the comment section of her video, Brianna's dad had been listening to "conspiracy theorists" about the vaccine.

While there is no FDA-approved coronavirus vaccine, the U.S. Food and Drug Administration has authorized the emergency use of the vaccines, meaning there is scientific evidence available that shows the product may be effective and outweighs potential risks. On May 10, the FDA expanded the emergency use for the Pfizer/BioNTech COVID-19 vaccine to include adolescents 12 to 15 years of age.
Brianna asks her dad why he is trying to prevent her from getting the vaccine by paying her money and says she doesn't want the money.
"Because I love you," her dad says. "Why do you think I want to buy you off? I don't know what else to do."
Brianna points out that he didn't try to pay off what appears to be her other siblings.
"Don't you think I know that," the dad says, his voice breaking up. "Why do you think I'm fucking crazy? Your mother got it."
---
From our friends at Nautilus
---
Her dad's voice grows louder as he begins to cry.
"My family is gone," he says. "By the end of this flu season, most of you will be dead. What the fuck do you expect me to be?"
The comment section is filled with concerns about where the dad is getting his information and empathy toward his fear.
"This is not even funny," one user commented. "He is so scared. He will only change his mind when you guys are still alive next year."
Another user replied saying they think the dad will just use another conspiracy theory to justify why they are still alive.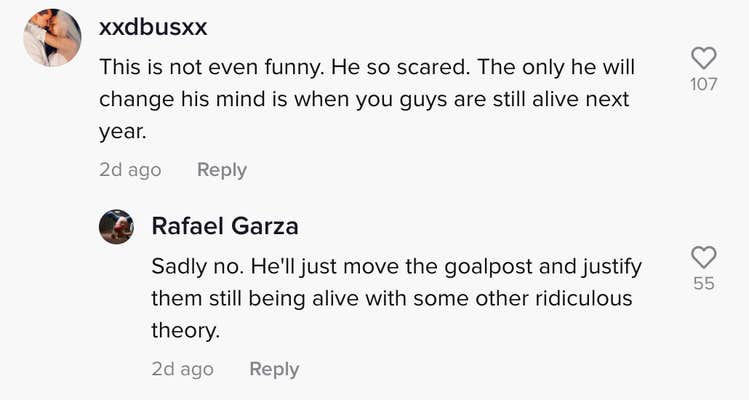 Other users commented saying the dad may need therapy to unpack some of his misinformed fears, to which Brianna replied, "Agreed."

In a follow-up video, Brianna thanks everyone for their support and says she decided to post the video in order to show what life is like living with her dad.
"He reacts that way to anything that doesn't go his way so I felt like it was time to bring light to that because I'm an adult and I can choose to do that," Brianna says.
Some users were able to relate to Brianna's experience with gaslighting and narcissism.
"I am so sorry," one user commented. "I live this same thing with my mom."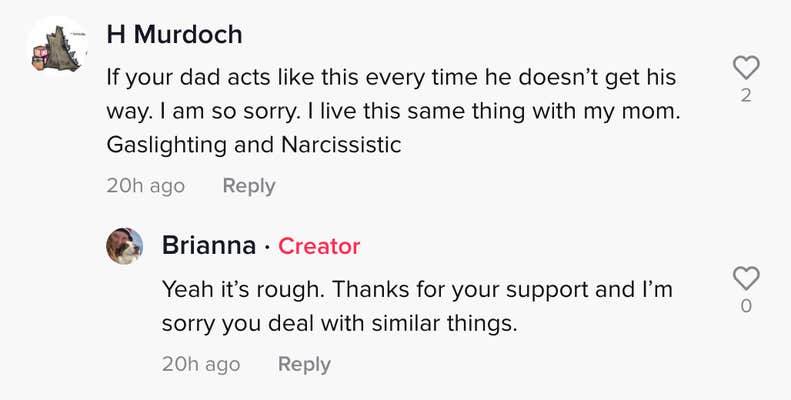 In response to comments saying she should move out if she's an adult as she claims, Brianna says she is disabled and is unable to work.
"Don't judge before knowing the full story," she wrote.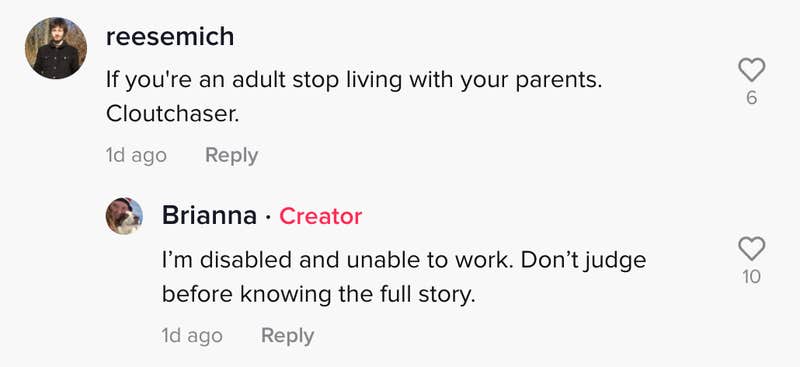 In the followup video, Brianna shared that she received the first dose of the vaccine and doesn't plan on telling her dad. She says because she's severely asthmatic, she is thankful for people supporting her decision to get the vaccine.
The Daily Dot was unable to reach Brianna for comment.