A video surfaced showing a Colorado woman slapping an employee at a grocery store, reportedly after the worker told her to wear a face mask.
The incident took place in early February at a King Soopers in Parker, according to KDVR. The store's surveillance footage shows the woman walking down an aisle with her shopping cart.
She then turns around and yells at someone out of the frame.
Then, she begins walking in the direction of the camera, leaving her cart behind, and an employee enters the frame. The two appear to be talking.
As she walks toward the employee, the woman slaps her across the face. They then walk in the direction the employee came from.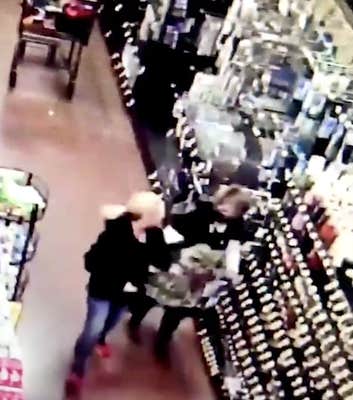 The employee later alleged the woman called her a crude name during the encounter.
---
From our friends at Nautilus
---
According to KDVR, the suspect cited a medical exemption to get out of having to wear a mask, and the employee tried to help her by offering her alternative options.
Police are now looking for the woman, who is said to be a regular at the store. Employees have reportedly had similar issues with her in the past.
The employee, who did not want to be quoted, reportedly said she plans to press charges against the customer.
---
Today's Top Stories