Police stopped a TikToker and his friend as they were filming a video, eventually making one of them "crawl" toward them.
TikTok user @riskie_e, who identified himself as Ian Adams in one of the videos, shared a series of videos featuring the incident on Tuesday. He claimed the incident took place on Monday. While it's unclear where the incident took place, some of his YouTube videos are located in Florida.
In one video, Adams is seen biking on the sidewalk with his friend toward two police cars that have their sirens on. The officers start yelling at them.
"Woah, what? What happened?" Adams can be heard asking the officer from behind his GoPro camera. "We ain't do nothing."
The officers then yell at them to get on the ground, and Adams' friend gets off his bike, gets on the ground, and raises his hands.
"Bro, what the fuck happened?" Adams says, in plain shock. "I didn't do nothing."
While it is unclear if the officers draw their weapons at any point in the footage, Adams says to them, "You've got your gun drawn, and I didn't do nothing."
The officers continue yelling, and their radio can be heard playing.
Adam tells them he has headphones in and needs to take them out to be able to hear the officers' orders.
The officers then direct the Adams' friend to "crawl" toward them, and so he begins to crawl.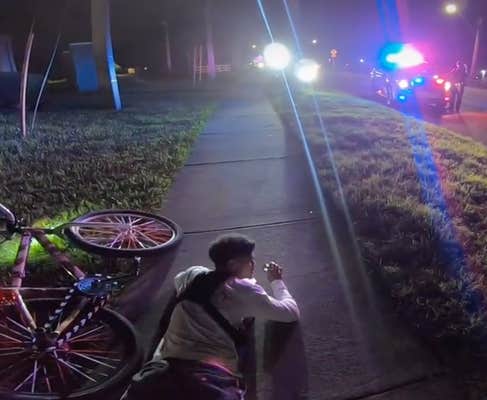 In a second video, Adams is seen on the ground while the officers tell him—after he says he'd "like to know what's going on"—that they were apprehended because they "matched the description of two suspects."
One of the officers gives him directions to cross his legs, and Adams, who is apparently now in handcuffs, says he does not consent to a search or seizure of his property.
"I didn't commit no crime," he says, "I just left 7-Eleven."
"I don't know what description you guys talking about, but I feel violated right now," he says.
"We'll let you know in a second. We ain't tryna violate nobody's rights, OK?" says one officer.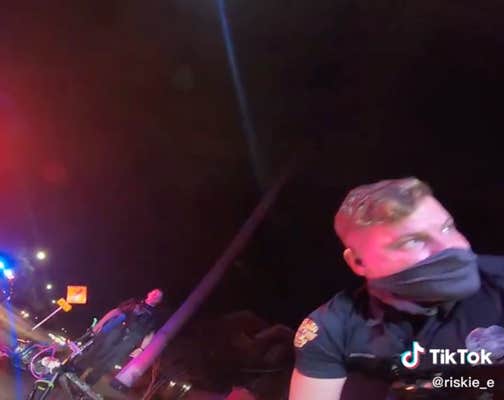 In a followup video, Adams says they were made to wait on the sidewalk for two to three hours.
There were mixed reactions to the video. Many empathized with Adams.
"How could they match description in the dark 20 feet away?" wrote one user.
"Literally riding your bikes TOWARD the police. what guilty perp would do that?" wrote another.
"They just bored at this point," a third added, with another saying, "So aggressive for nothing. They love abusing their power."
But others defended the officers' actions.
"Y'all shouldn't get mad at the cops we don't know the backstory they could've been looking for someone and people can match descriptions of people," one wrote.
Adams also shared what his bike and shoes look like in other videos to prove that he did not match the description of the robbery suspects.
The Daily Dot has reached out to Adams.
---
Today's top stories