A police department in Loveland, Colorado, is facing a lawsuit after body camera footage showed two officers mocking and allegedly breaking the arm of a 73-year-old woman with dementia who allegedly mistakenly walked out of a Walmart without paying.
The lawsuit was filed on Wednesday on behalf of Karen Garner of Jefferson County, Colorado. Garner was arrested in June of 2019 after she tried to leave Walmart with goods worth less than $14, according to the lawsuit, which was reviewed by the Daily Dot.
Garner's lawyer Sarah Schielke told the Daily Dot that Garner's family reached out to her team in June when she was working on another case of alleged police brutality by the Loveland Police Department (LPD).
The bodycam video of Garner's arrest was released on Wednesday with the lawsuit, and it has since gone viral on social media.
The personnel involved were identified as Officers Austin Hopp and Daria Jalali as well as Sergeant Philip Metzler.
The video starts with security camera footage outside a Walmart. It shows an employee approaching Garner as she leaves the store. The employee is seen talking with Garner and escorting her back into the store before reportedly calling the police on her. According to the lawsuit, Garner offered to pay once she was taken back inside the store, but the employees refused to let her.
The video then cuts to bodycam footage of Hopp. Hopp gets out of a car and approaches Garner, who is walking along a highway. He asks her to stop and says, "Ma'am, I don't think you wanna play it this way."
She turns around and shrugs. "You just left Walmart. Do you need to be arrested right now?" he asks.
Garner turns around and continues walking. Hopp grabs her arms, twists them behind her back while saying, "Let's stop! Get in line!"
She screams, "I'm going home! Stop!"
He pushes her down, screaming, "On the ground!"
The video then cuts to another part of the bodycam footage, which shows Jalali alongside Hopp, who is pushing Garner against a car.
"Quit!" Jalali says, as she pushes Garner and twists her arms.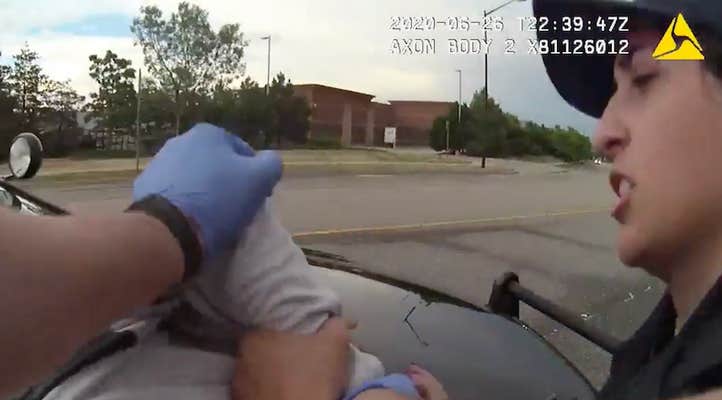 At one point, she lets go of Garner, who stumbles and is seemingly injured.
"Stand up. We're not going to hold you!" Jalali says.
In another part of the footage, which, according to Schielke, is from Metzler's bodycam, the sergeant is seen dismissing a bystander who tries to intervene.
"Do you have to use that much aggression?" a person is heard asking.
"What're you doing? Get outta here!" Metzler says. "This is not your business."
The video then cuts to another portion in which Metzler is seen asking Hopp and Jalali if they are "all good." Dalali shows her palms, laughs, and says, "A little bloody, a little muddy. That's how it works."
She then confirms that it's Garner's blood.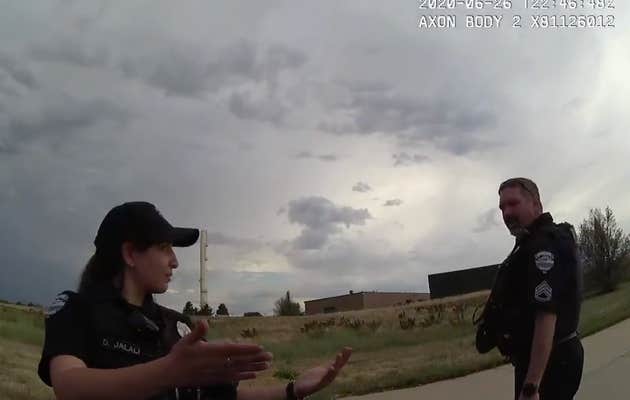 The lawsuit alleged that Garner was kept in jail for six hours and provided medical attention after the first two-and-a-half hours. Garner, according to the lawsuit, "fractured and dislocated her shoulder in addition to other injuries (scrapes to face, bloody nose, contusions to knees)" during the arrest.
The lawsuit further alleged that Metzler said he didn't care whether or not Garner was prosecuted. "And if they decide not to prosecute, I don't care," he allegedly said.
Schielke told the Daily Dot she wanted to highlight his remark in the complaint.
"I think a lot of people will want Hopp to be the bad guy of this incident, and I wanted to be very clear that I think the absolute worst actor in this was the sergeant who showed up to these two subordinates, who he is supposed to be training, supervising and modeling good police work to," Schielke said. "And [he] told them to keep treating Karen like an animal, he mistreated the by-standing citizen and gaslit him."
"I think how flippant that statement is — when there's a disabled elderly injured woman hogtied in the back of one of their petrol cars — is one of the most disgusting parts of this event," she added.
The Loveland Police Department did not respond to the Daily Dot's request for comment.
Update 4:29pm CT, April 16: In an additional statement to the Daily Dot, Walmart said employees contacted police after Karen Garner "became physical" with an employee.
"We stopped Ms. Garner after noticing her attempt to take merchandise from the store without paying for it," the statement said. "When we addressed this issue directly with her the situation escalated when she forcibly removed an associate's facemask and fled the store."
Update 10:50am CT, April 16: In a statement to the Daily Dot, Walmart said it is at store employees' discretion to contact police.
"When we addressed this issue with the customer, she became unreasonable and escalated the situation by ripping the facemask off one of our associates and fleeing the store," the statement said.
---
Today's top stories