A Chinese YouTuber has reportedly apologized for eating bat soup in 2016 after receiving a slew of hate emails amid the outbreak of the deadly coronavirus. 
By Wednesday, China had reported 106 deaths from the disease, which is so far uncontainable and has affected people in 16 countries around the world. It is also fast spreading: The BBC reported on Wednesday that the number of those infected doubled overnight to 4,500. It originated from the Wuhan province, China's ninth-largest city.
In a clip of her 2016 video shared by LADbible, Wang Mengyun is seen eating bat soup with a friend. She enthusiastically plays around with the bat at the dining table where she's seated and at one point, breaks off its wings, dips it in a clear liquid in a bowl, and eats it.
"The soup we just had was very delicious and had a fruity flavor," she says, according to LADbible. "Doesn't it look like a mini wolfdog?"
Scientists have suggested that the disease originated from bats, tracing the outbreak to the seafood market in Wuhan where wild animals are sold and live animals slaughtered.
Wang's video was filmed in the island country of Palau, not in China, but she said she's receiving hate emails for eating the bat soup. She read some in an apology video published on the Chinese social media website Weibo. 
"You should go to hell. You should be killed in the evening. You're abnormal. You're disgusting. Why haven't you died," she read in the video, which has since been taken down, LADbible reported. 
Before sharing the slew of hateful comments, she apologized to the public for eating a bat almost four years ago. 
"Sorry everyone, I shouldn't eat bats," she said, adding that she only wanted to introduce her viewers to the local culture. 
Wang isn't alone to be facing this massive backlash against an entire culture for the disease. Many Asian-Americans have expressed their frustration with xenophobic and racist comments made about the coronavirus.
What spreads faster and more dangerously than coronavirus is individuals normalizing prejudice against racialized groups purely based on stereotyping and loose geographic associations…

Be better humans. https://t.co/vxIHXTrUgf

— Luisa Ji (@LuisalyJi) January 29, 2020
Today a student emailed me to say s/he couldn't come to class because of a fever. S/he is of Asian heritage and mentioned in the email not to worry, it's not coronavirus. It is horrible how quickly this epidemic was racialized and how fast stigma developed. Let's stop. Now.

— JP Pardo-Guerra (@pardoguerra) January 29, 2020
One Twitter user tweeted a screenshot from a teacher's assistant whose students asked her to wear a mask.
"Y'all are so fuckin xenophobic it reeks," the Twitter user wrote. "Asking someone to put a mask on when you don't even know their situation is ridiculous. I hope you know the TA probably feels like shit now. Unbelievable."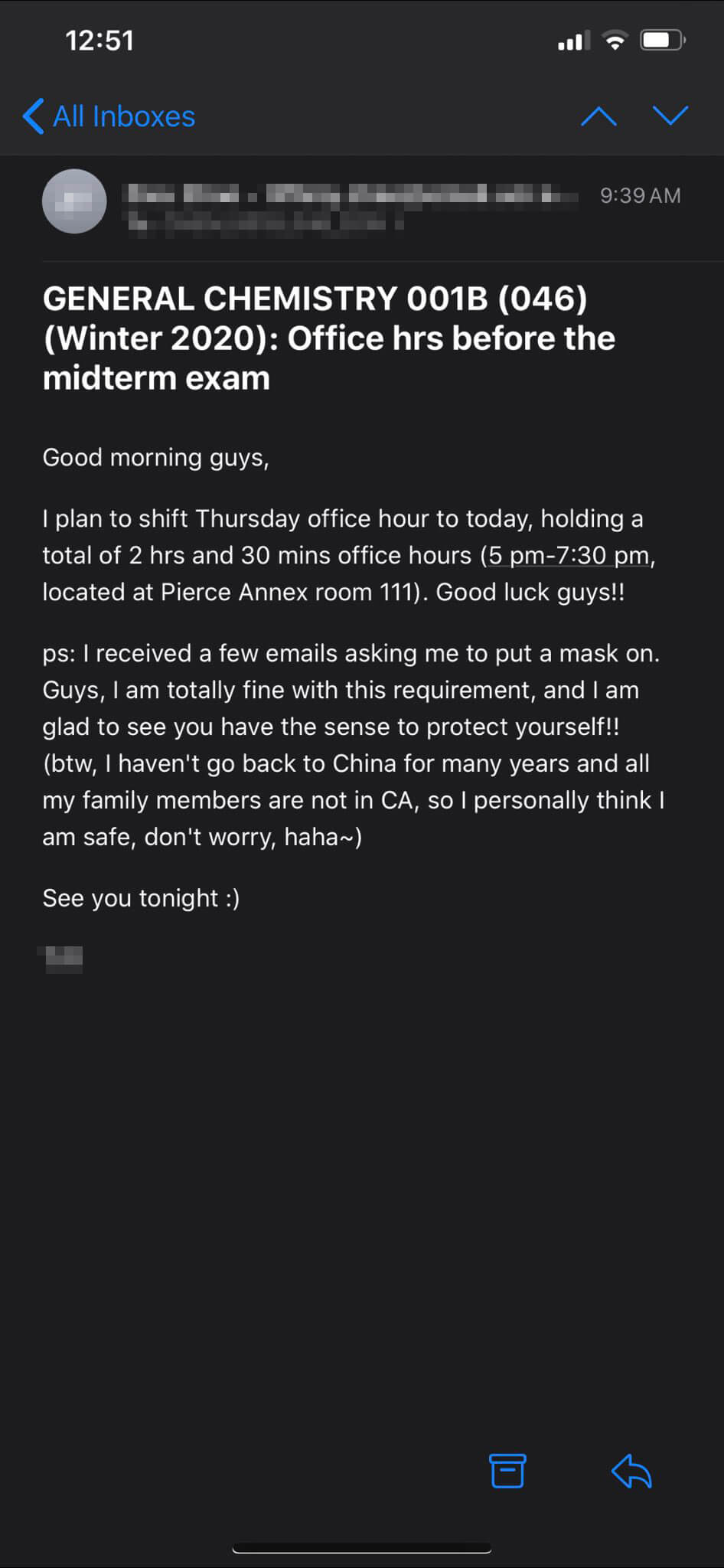 In the email screenshotted in the tweet, the TA agrees to students' demands for a mask: "I am totally fine with this requirement, and I am glad to see you have the sense to protect yourself!! (btw, I haven't go back to China for many years and all my family members are not in CA, so I personally think I am safe, don't worry, haha)." 
But as one user aptly put in their response, "Do people think that Chinese people worldwide just automatically get the virus without being exposed to it?"
One professor in our comp sci department is stuck in China because of the quarantine. It's week 2 of school and he's had to teach via zoom video calls.

— semaj (@mrjamesalexandr) January 29, 2020
READ MORE:
H/T LADbible