A California boba tea store owner says she is receiving harassment over the phone and through her Yelp page after a customer falsely claimed her husband, Tony Ly, threw tea at her and her child.
Michelle Thuy, owner of Cafe Tapioca in Hercules, California, told the Daily Dot that she has been receiving phone calls from people who are calling her store racist after a woman named Jessica Breaux claimed on Facebook that the owner threw a drink at her and made anti-Black racist remarks.
But surveillance footage reveals that no such attack occurred.
Thuy said the dispute happened on Monday over a strawberry slushy that Breaux ordered. "My husband made a mistake because he doesn't understand the difference between a slushy and a milkshake and he put milk for her," Thuy said. "We tried to fix it for her but she kind of had an attitude."
According to screenshots reposted online, Jessica Breaux claimed the owner attacked her and said something about her being Black.
"Never in a million years did i think i would have a drink thrown at me with my child in my arms by the OWNER of this place," she wrote, according to a screenshot shared by Instagram user @nottrrx, who is also supporting a GoFundMe for the owners of the store and did not respond to the Daily Dot's request for comments.
"…im sharing because i dont know if anyone has had a bad experience here and dont want you to," she continued.
The post was unavailable on Breaux's Facebook on Sunday.
The next post in the Instagram slide features Breaux accusing Ly of yelling and throwing a drink at her.
Surveillance footage has since emerged that seemingly exonerates the shop.
In a series of videos posted by Instagram users @jjaylen.reyes and @nottrrx, Breaux is seen inside the store speaking with Ly, who's behind the counter. Breaux does not appear to be holding a child, and there is no child nearby.
There is no audio, so it's unclear what the tone of the conversation was. She gets ready to pay, opening her pouch, while seemingly expressing her disappointment. Ly nods at her and is seen explaining something to her as she shakes her head.
Ly then disappears from the frame, and Breaux is seen looking around the store. She then walks to the door, disappearing from the frame. She is not holding a drink.
In another video shared by the same user, Ly gives her the drink, and she looks at it with her eyebrows raised. Ly defensively tries to explain something. She points to a menu board, shakes the drink, and after what seems to be an argument, she drops her money and walks out.
In the following video in the same post, she's seen walking back in, and Ly points to her with his finger raised. She slams her receipt on the counter, and the two seem to have another argument.
The same instance was captured by another camera, which shows Ly throwing the drink in the trash can behind him after Breaux leaves, contradicting her accusations entirely.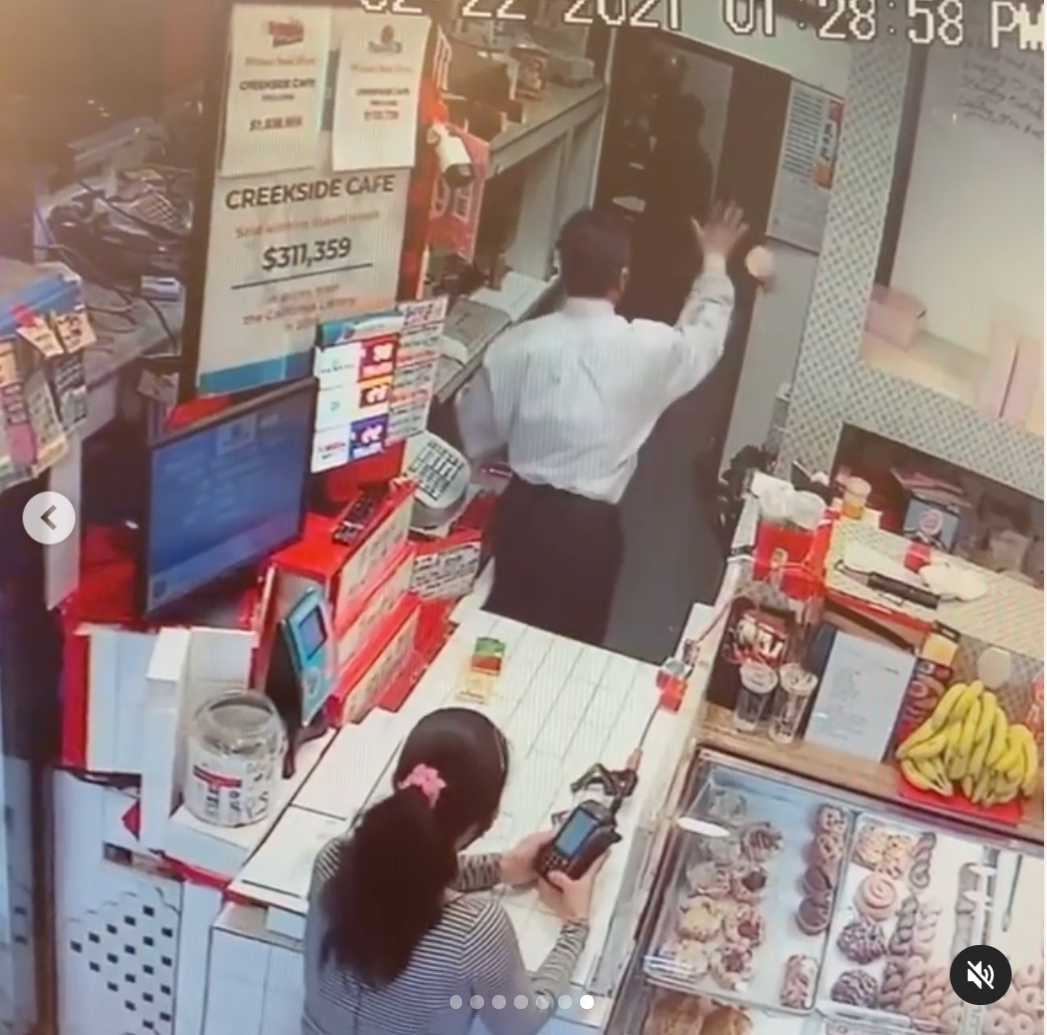 The videos do not show Ly throwing a drink at her nor does it show a child with her. The accusation regarding racist comments made toward her could not be independently verified by the Daily Dot.
Thuy, however, denied the accusations. "We did not talk about racism that she put on social media. Tony did not say any word about Black or Asian, no nothing," she said. "We have a business we open for everyone, we're not like that."
Thuy said they refunded her for the order.
Since Breaux's Facebook post, Thuy said the business is getting bombarded with angry phone calls. "A lot of people call my store and yelled to me 'why you guys doing that'? It really really affected my business," she said. "The incident that put on social media has affected my business very much."
The business was also getting review-bombed on Yelp. Thuy said in 24 hours, she received 30 negative reviews on the page.
"Very rude owner! He threw a drink on a customer because he refused to make her the correct drink. She asked for a refund and he threw her drink at her. Please think twice before visiting this place," wrote one user, Elle D.
When reached for comment on Sunday, the user defended penning the review but did not answer whether they had been to the store themselves. "Everyone can not be lying," they told the Daily Dot, pointing to screenshots of other negative reviews—most of which were no longer available on Yelp on Sunday.
Yelp has since begun monitoring the page and issued a block on posting reviews due to "increased public attention in the news." The measure was recently rolled out by Yelp to prevent review bombing.
Patrons of the store have since banded together to raise funds for it and are sharing their positive experiences at the store online.
A GoFundMe was also set up to raise money for the store, and it has since surpassed its intended $1,500 goal. A petition was also created in support of the store with the intent to garner 2,500 signatures. It's already received 22,000 signatures.
Breaux did not respond to the Daily Dot's request for comments.
While Thuy said she was worried because "a lot of people called saying we are doing bad," she said the videos being publicized have made things a bit better.
Update 8:46pm CT, March 4: When reached for comment, Jessica Breaux told the Daily Dot her Facebook post was taken down twice for violating community standards. She said the drink in the footage was the "second" drink and that her child was in the car for part of the altercation.
Breaux claimed the footage posted on Instagram doesn't tell the whole story. In newly provided footage, another customer can be seen arguing with the store owner on behalf of Breaux, which is consistent with Breaux's claim that a stranger at the store took her side.
When asked about the absence of a child in the footage, Breaux referred the Daily Dot to an article in which she maintained her claim that the owner "pushed the drink across the counter towards me and my child, the drink burst when it hit the floor."
---
Today's top stories