Former employees of clothing retail chain Buffalo Exchange say they were terminated without notice after their Colorado franchise managing partner was accused of sexual abuse.
Twitter user @trintrick posted a GoFundMe on Tuesday to raise money for the 37 employees who lost their jobs after Buffalo Exchange decided to cut ties with its Colorado franchises following the allegations against Todd Colletti. 
The user, who said she was an employee at the store's Denver location, said she found out through a Facebook post that she lost her job. 
"We were not told directly," she told the Daily Dot. The former employee did not want to share her name with the Daily Dot, citing privacy concerns. 
In a statement, published on the company's website Thursday, Rebecca Block, vice president of Buffalo Exchange Corporate, said the company's "relationship with the Buffalo Exchange Colorado franchise stores is terminated. We have revoked any rights to the Buffalo Exchange brand and name."
She also said in the statement that the company will assist in any investigations if needed. 
"I want you to know that under no scenario will Colletti have a place anywhere in Buffalo Exchange ever again," she wrote. "The same goes for anyone who was in a position of authority who knew what he was doing and did not act."   
Buffalo Exchange's decision followed a slew of allegations posted to an Instagram account, @buffalo.in.the.room, beginning on July 25. The accusations against Colletti include sexual assault; coercion of alcohol and cocaine use; and bullying, humiliation, and slut-shaming of employees in front of others. One former employee said when they were on the brink of quitting due to the workplace toxicity, Colletti, along with other employees, laughed at them and said it wouldn't even be a loss if they did.
Another employee alleged that Colletti once introduced her to his friend as a "slut" who would "fuck anybody with an accent." The employee said she later felt coerced to make out with the said friend because she thought it was the only way to salvage her job.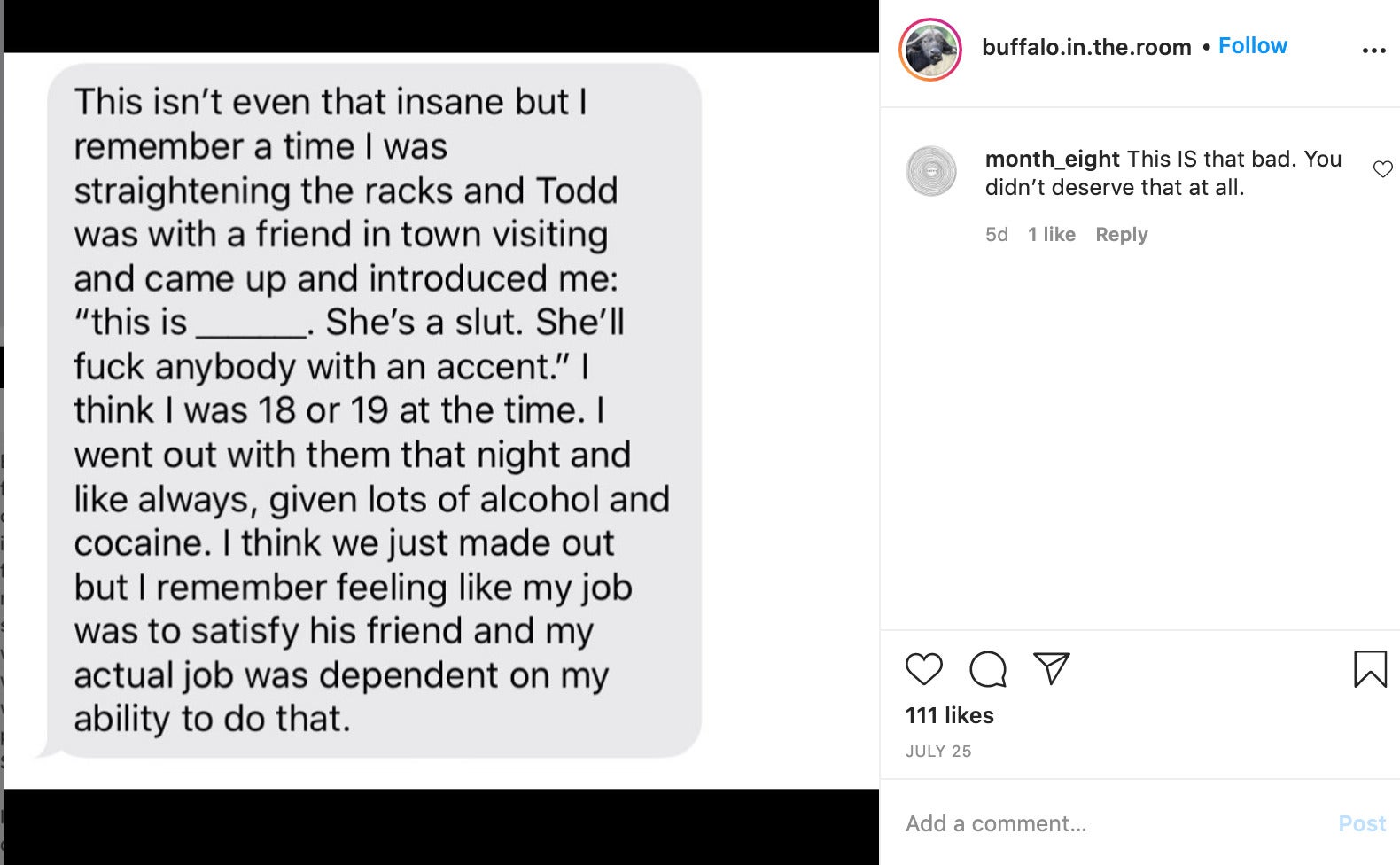 Other accounts include Colletti openly stealing from the cash register.
@trintrick said she was never on the receiving end of Colletti's alleged abuse but that he was always "off-putting." 
"I will say that I was not aware of ANY of these stories that were shared," she said. "I heard the occasional weird todd story but nothing to the magnitude of what was brought out. When I heard all of it I was disgusted."
Colletti was also accused of racism.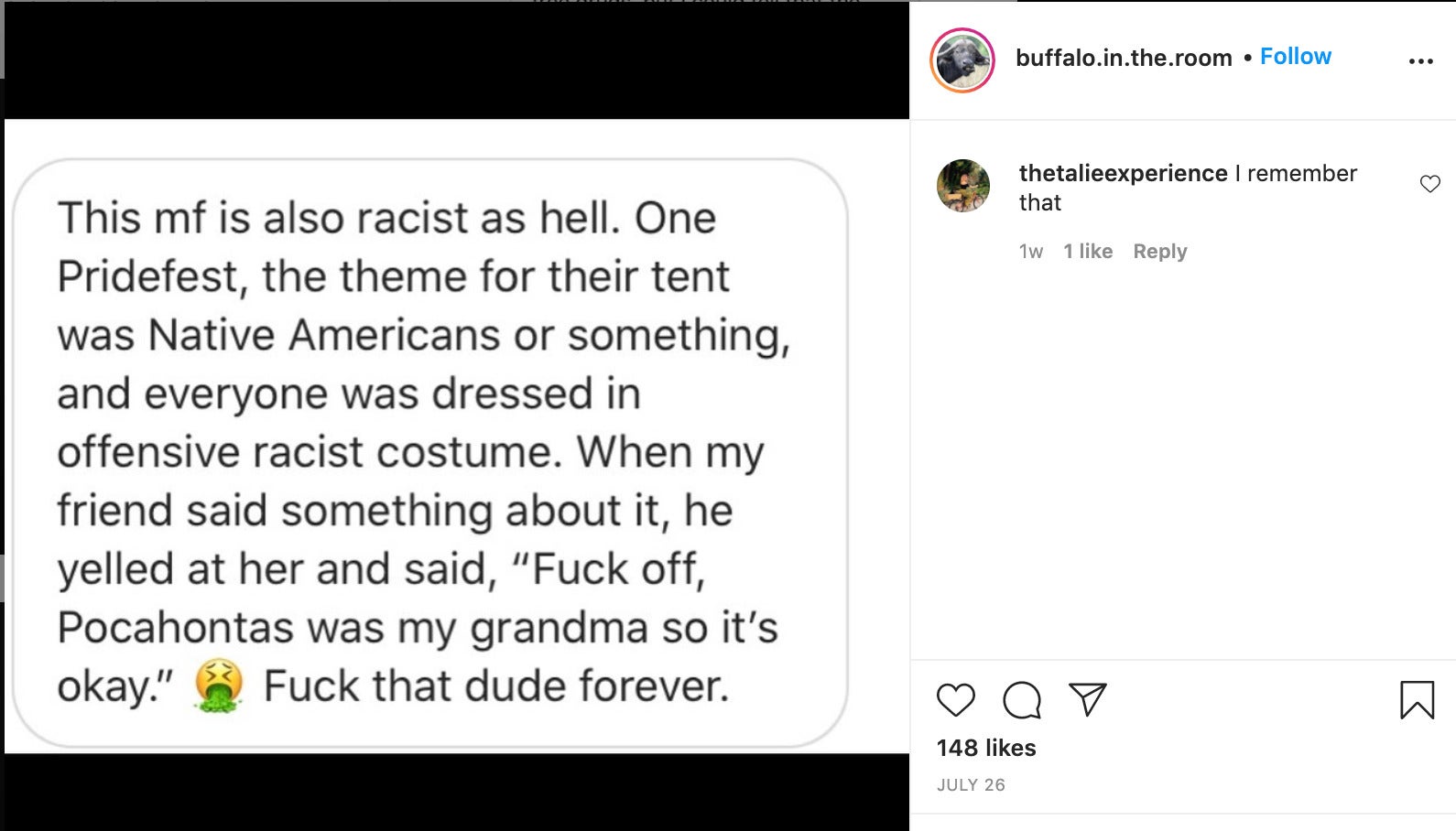 According to the GoFundMe, the terminations happened on July 29 and were "saddening, overwhelming, disgusting and painful" for the employees, who were also victims of Colletti's alleged abuse. The fundraiser also claims one former employee died by suicide. The Daily Dot wasn't able to independently verify that claim. 
"Terminated employees who had health insurance through the Colorado franchises will have coverage through August 2020, while Buffalo Exchange Corporate has provided access to a counseling and emergency line and offered relocation, an unrealistic option for many during a pandemic and with no stipend for moving expenses," the campaign reads.
Some of the employees affected include a trans woman, who now risks losing her health benefits; a Black woman, who is a student while also raising her two siblings; and others, who are "at risk of eviction and loss of housing."
The fundraiser aims to help the employees pay for rent and groceries, among other living expenses. Since launching two days ago, the campaign has raised nearly $11,000 of its targeted $100,000.
The Denver Police Department, with assistance from the FBI, is now investigating the case, the Denver Post reported.
---
Today's top stories