Sadia Mohamed, a teen from Melbourne, is claiming that a racist host wouldn't let her book an Airbnb because she is Black. Mohamed is now considering taking legal action.
Mohamed attempted to book an Airbnb to celebrate her upcoming 19th birthday, according to the Feed, which spoke with the teen.  
Mohamed told the outlet that she paid half of the total fee as a deposit and then heard back from the host two days later. "If you are black, please forgive us for not receiving you," the host, "Helen," wrote to Mohamed on the Airbnb app.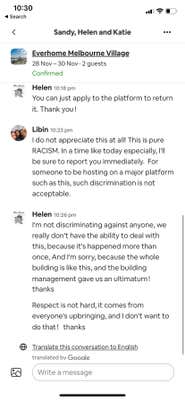 According to the messages shared to Twitter on Nov. 5, Mohamed then told Helen she is Black and asked for her money back right away. "I don't appreciate this at all!! This is pure RACISM. In a time like today especially, I'll be sure to report you immediately," Mohamed told Helen.
Helen claimed she wasn't "discriminating against anyone" and blamed her building's management.
"We don't really have the ability to deal with this, because it's happened more than once, And I'm sorry, because the whole building is like this, and the building management gave us an ultimatum," Helen wrote in an incoherent message. "Respect is not hard, it comes from everyone's upbringing, and I don't want to do that."
In response to Mohamed's post, others are now sharing their own alleged interactions with the same host. "I'm sorry we don't take blacks," she wrote to one prospective guest, according to one screenshot.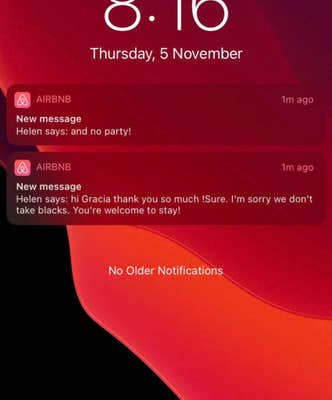 Mohamed told the Feed that after she shared the interaction to Twitter, Airbnb contacted her to tell her that it froze Helen's account and that it is investigating the incident.
Derek Nolan, Airbnb's head of public policy for Australia, told the Daily Dot in a statement that Airbnb removed the host and listing in question and that it will continue to investigate. Nolan added that after hearing about the incident, Airbnb immediately issued a full refund to Mohamed and offered her "rebooking assistance."
"We were shocked and saddened to hear about this incident," Nolan said. "Discrimination is unacceptable and has no place in our community. … If a guest feels they have been discriminated against, we will provide personalised support to ensure they find a place to stay."
Nolan said that Airbnb also "contacted all other Hosts on Airbnb with listings in the same building to communicate our ongoing commitment to our non-discrimination policy and reiterate that anyone who fails to adhere to this policy faces removal from Airbnb."
Mohamed said that she is now considering taking legal action.
"[I'm] really hurt that someone would not allow me to do something just based on the colour of my skin," she told the Feed. "And I'm currently talking to my uncle and I've been advised by legal aid to press charges."
---
Must-reads on the Daily Dot
H/T the Feed