Apex Legends became a major search term on Pornhub this year after the video game was released in February of 2019.
Pornhub revealed in its annual "year in review" report on Wednesday how the popular title became a major contender among video game-related searches.
After the game's release on Feb. 4, searches began to quickly rise as the first-person shooter's popularity surged.
"On February 6th we found just 800 searches for Apex Legends," Pornhub writes. "A week later searches exceeded 10,000 per day…"
By Feb. 18, the battle royale game peaked with a massive 357,701 searches in a single day. The searches were twice as high as those for Fortnite, one of the most popular games of the year.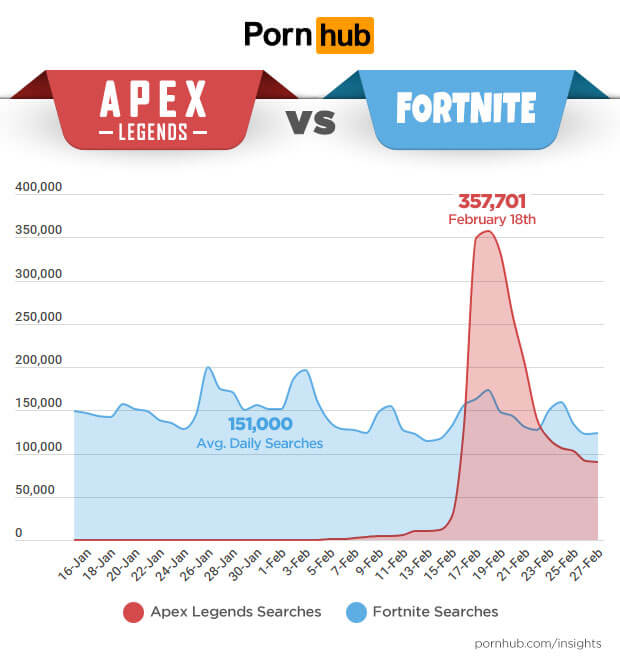 Pornhub also notes that some of the more frequent searches related to Apex Legends include "Apex Legends porn," "Apex Legends hentai," and "Apex legends Wraith."
Although Apex Legends was 2019's big newcomer on Pornhub, it did not come out on top.
Overwatch was crowned the most popular game, with an 8% increase in searches from 2018, while Fornite came in at second.
Other popular games that were frequently searched for on the porn site include Pokémon, Minecraft, Resident Evil, and Mortal Kombat.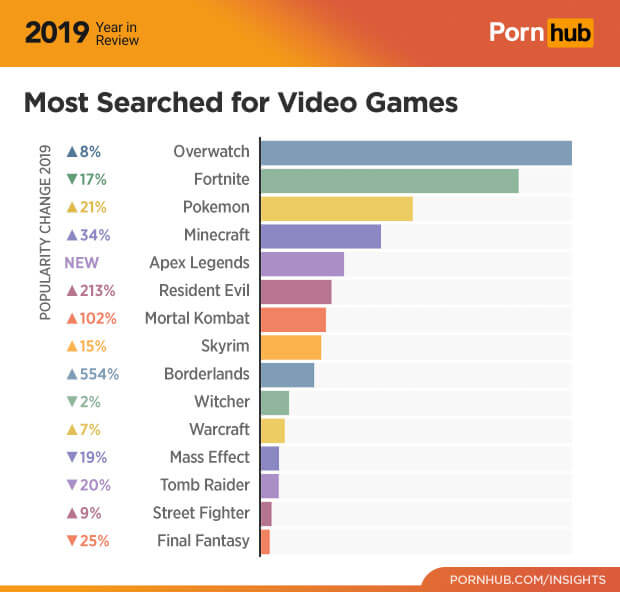 Pornhub's report also states that it received more than 42 billion visits over the last year with a total of over 39 billion searches performed.
Other notable stats from the year include online personality Belle Delphine becoming the most popular celebrity figure on the platform, beating out Kim Kardashian, Cardi B, and Ariana Grande.
READ MORE: