Have you ever played Fortnite or Playerunknown's Battlegrounds and thought, "yeah, this is cool, but it's not horny enough?"
The internet certainly did. Which is why there's now GIRLS BATTLEGROUNDS | 性感大逃杀, an upcoming Steam Early Access game that features girls fighting girls in battle royale matches.
The game, which is slated for an Oct. 28 release date, has only one sentence in its front page description: "Survive this massive girls' battle royale." Early screenshots show a thin, conventionally attractive woman wandering around a battlefield and wearing a bunny suit.
Based on the title's screenshots, it's unclear if weapons are even programmed into the game yet: one image, for example, shows the player character posing as if she was aiming an assault rifle, yet no model exists in her hands. Multiplayer isn't ready either. But don't worry, the game will host stunning features such as a "nicely sized playable map and battle zone," "wardrobe customization," and best of all, "realistic close-up combat mode."
The gameplay might be bad, but the girls? They will be hot.
Developer OOO, also known as Rebotyage-Games (Работяги-Геймс, or "Hard Workers-Games" in Russian), is the company behind GIRLS BATTLEGROUNDS. While the game's developers seem to be Russian, GIRLS BATTLEGROUNDS' Chinese characters "性感大逃杀" seemingly translate to "sexy battle royale". After Early Access launch, OOO hopes to add "more girls-characters [sic]" and additional "girls' customization," along with "other ideas in the community."
Working multiplayer is barely discussed within its Steam Early Access plan.
"The game has violent scenes as [sic] shooting and fighting," OOO warns. "The game has women characters in underwear." Hence the sexy battle royale.
GIRLS BATTLEGROUNDS might sound like a quick cash grab—and that's because it is. One of OOO's previous games, BEARS, VODKA, BALALAIKA! 🐻, bills itself as a "realistic shooting game in a historic period of World War II." In reality, the player shoots generic Nazis, drinks vodka, and plays a balalaika as a Soviet bear in a slapdash 3D world. GIRLS BATTLEGROUNDS is no different, except this time, OOO is taking PUBG's formula and throwing attractive women into the mix.
But GIRLS BATTLEGROUNDS isn't the only battle royale game banking off busty women and sexy scenarios to earn some cash. Over on Kickstarter, Ukrainian developer AmagSwag Games is asking for $7,200 to launch HENTAI Battle Royale. The game offers multiplayer battle royale combat "with some elements of classic survival" and "open-like anime world exploration."
It's based on a previous single-player battle royale title published by AmagSwag, Hentai Arena | Battle Royale, in which players "battle to become the last waifu standing."
"Yep, that means a whole classic game pack with you randomly appearing somewhere around the quite extensive map and running towards the center of a famous shrining zone [sic]. You'll have to work hard for your beautiful and colorful anime life!" AmagSwag writes on its Kickstarter.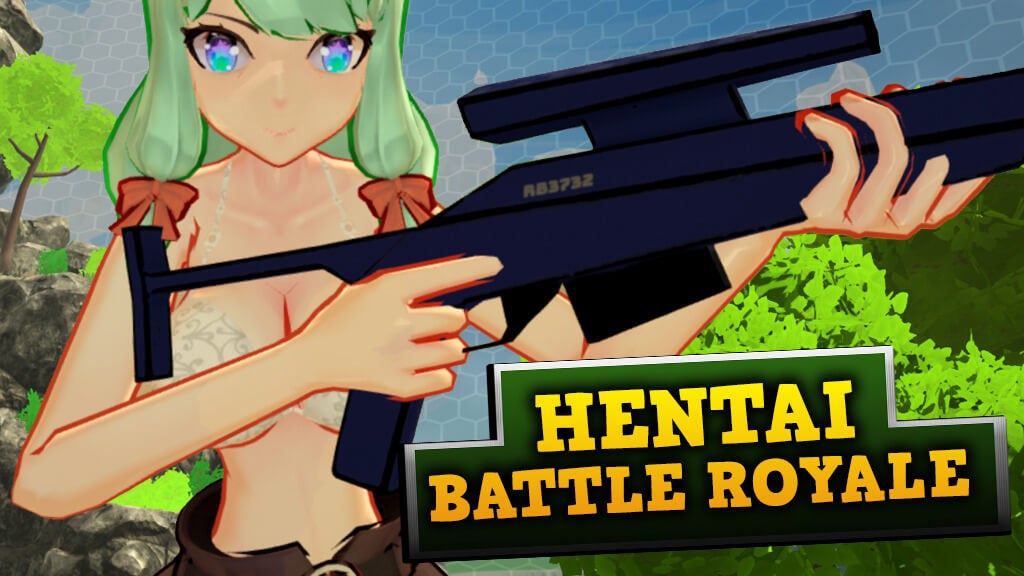 Like GIRLS BATTLEGROUNDS, Hentai Battle Royale promises plenty of features to make horny gamers part with their cash. At $10,000, HENTAI Battle Royale will get "extended character customization" for skin, hair, and body type ("make an anime girls [sic] you are playing YOUR OWN!" the company teases). But don't worry, AmagSwag stresses its game is serious.
"HENTAI Battle Royale is not just a massive anime battle royale fight in colorful bikinis. It is a never-ending battle of luck, courage and cunningness," AmagSwag writes above an upskirt shot of one of the game's characters. "To the Last Girl Standing!"
Nearly three weeks into the game's campaign, HENTAI Battle Royale has raised $371 out of its $7,200 goal (or five percent funding). The hentai survive-'em-up only has 13 backers with just over a dozen days to go. The Daily Dot reached out to AmagSwag and OOO for comment.
Hentai Arena and GIRLS BATTLEGROUNDS raise larger questions about how Steam curates its content. While classic adult visual novels like Taimanin Asagi are not allowed on the platform, low quality 18+ material seems to be given a fair pass.
It's a sign that Steam's rules are built to remove questionable content, but not poorly created content. The latter falls on the consumer to pick and choose what's best. And in this case, it could end up being a PUBG porn clone. Or an anime PUBG porn clone.
READ MORE: