The internet was thirsty for streamers in 2019.
Thanks to Pornhub's end-of-year stats, we got a glimpse of exactly what people were looking for during their alone time this year. Common celebrities searches like Kim Kardashian and Cardi B were, unsurprisingly, near the top of the list, but a few new names were among the site's prominent searches.
Streamer Belle Delphine was the most-searched on the platform, a surprising change from the site's usual favorites. A number of other prominent streamers also found a very different kind of audience this year, revealing exactly how much impact streamers have had in 2019.
The internet is serious about its porn. It shouldn't be surprising, therefore, that data from porn sites can be very revealing when it comes to our collective interests. According to Pornhub, international attention has shifted from film and television stars to YouTubers and other social media influencers.
Delphine is a prominent YouTuber who made headlines earlier this year for selling her bathwater. She beat out Kardashian, Ariana Grande, and even Kylie Jenner for the top search spot. Her position on top—no pun intended—comes thanks, at least in part, to a deal she made with Pornhub. According to the site's year-end review, Delphine announced plans to launch her own Pornhub channel earlier this year. While videos like "Belle Delphine Gets a Huge Dripping Creampie" turned out to be trolls, the streamer's name skyrocketed to the top of Pornhub's searches. She was so popular that Pornhub published a separate set of data breaking down her searches.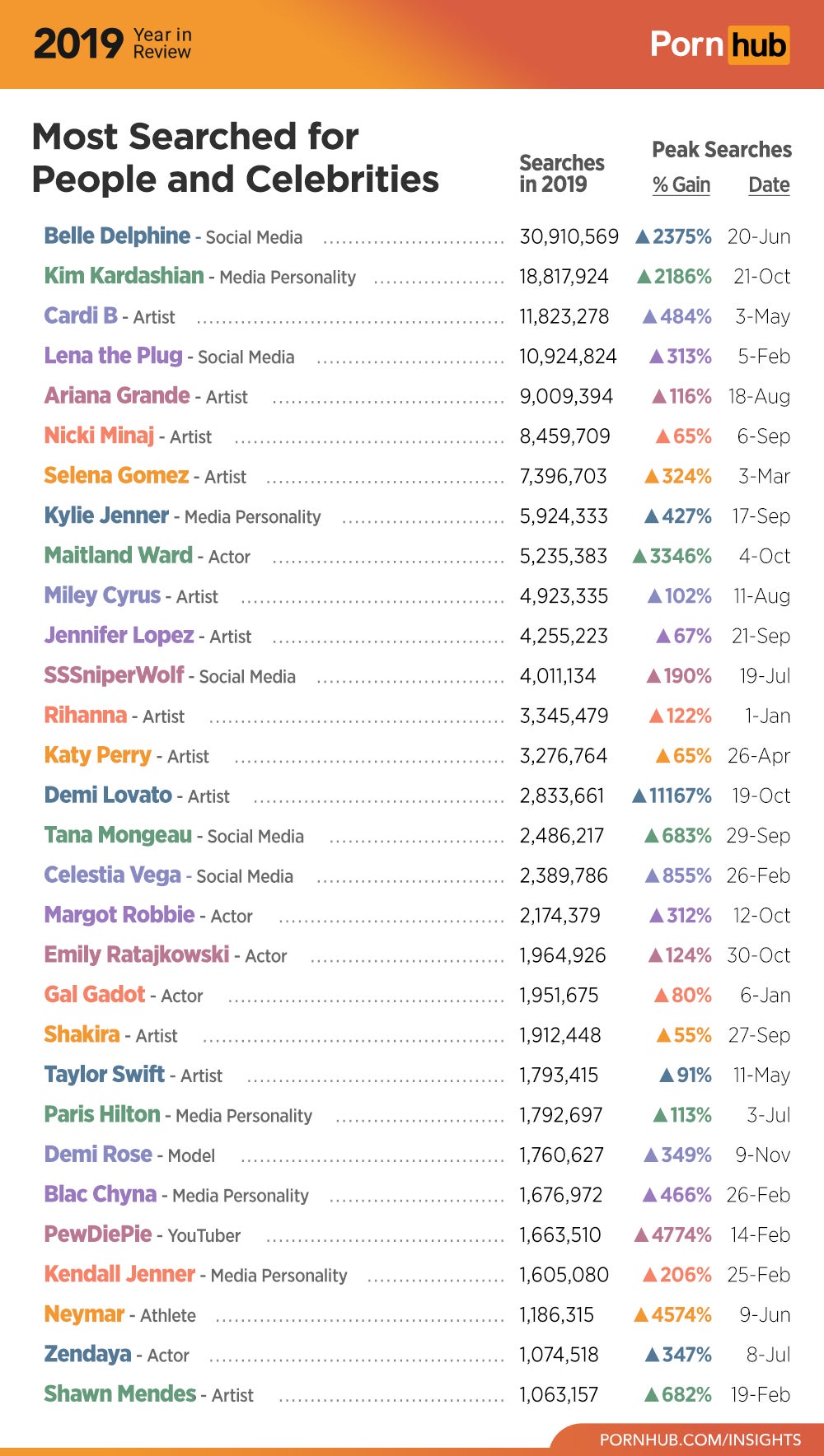 According to Pornhub's data, "watching Belle consume an actual cream pie was still sexy enough to gain her millions of views and 30.9 million searches." Searches for Delphine came close to 31 million, while Kardashian only racked up 18 million searches. Cardi B, who came in third, had nearly 12 million searches.
Delphine wasn't the only streamer users were searching on Pornhub. Popular social media personalities Lena the Plug, SSSniperWolf, Tana Mongeau, and even PewDiePie were prominently featured. Popular actors and musicians like Taylor Swift and Gal Gadot tended to be far less popular.
Amusingly, much of Delphine's top competition came in the form of television and movie characters. Thanks to the release of Avengers: Endgame over the summer, "avengers" was a heavily searched Pornhub keyword. Alongside Earth's mightiest heroes were Harley Quinn, the Teen Titans, and The Incredibles. Avengers came out on top with a search volume over 13 million—still less than half of Delphine's. It all goes to show that in 2019, the internet loved its streamers.
READ MORE: