"Gushing Granny," "Fapple," and "Hitler did nothing wrong" were just three of the names 4chan came up with last fall for a new Mountain Dew drink. To no one's surprise, none of them became an actual soda flavor.
Undeterred by that failure, the 4chan community has turned its attention to Neuro Drinks' create-a-SONIC contest.
And with $10,000 and a year's supply of drinks at stake for founder Christopher "moot" Poole, 4chan's random imageboard /b/, home to all things ghoulish and obscene, is taking this one seriously. 
Well, sort of.
Since 9:20am ET, /b/'s racist entry, "Nig Nogs Tears," has jumped five spots, collecting more than 400 votes in 90 minutes. As of 11am, it is in first place.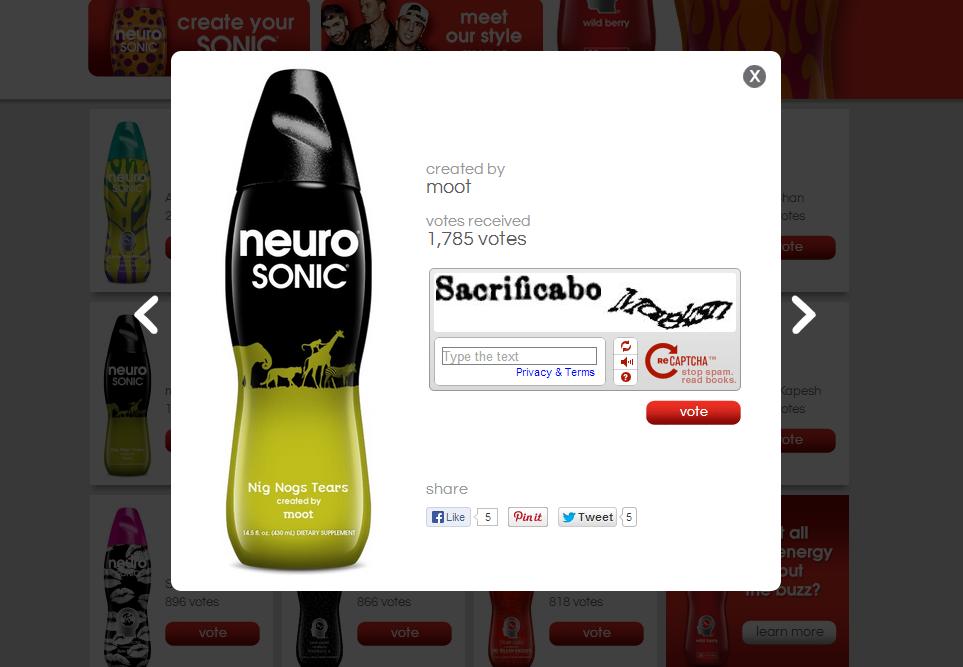 The race to get "Nig Nogs Tears" to the top began late Thursday night. Since then, /b/ has entered at least five other horses into the race.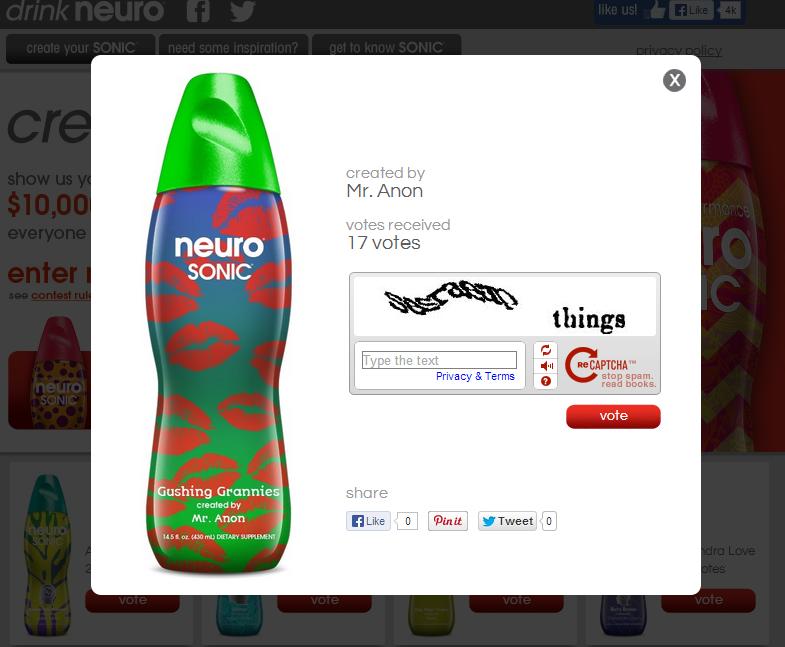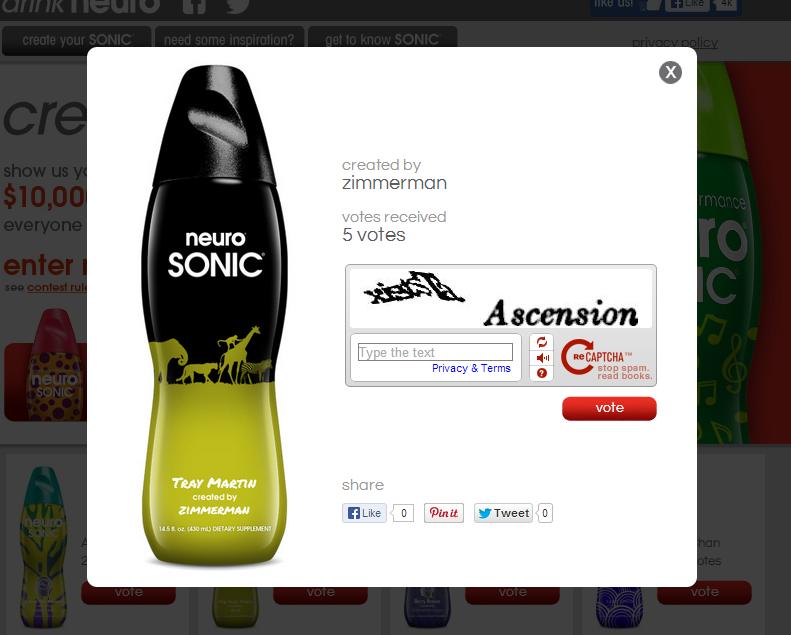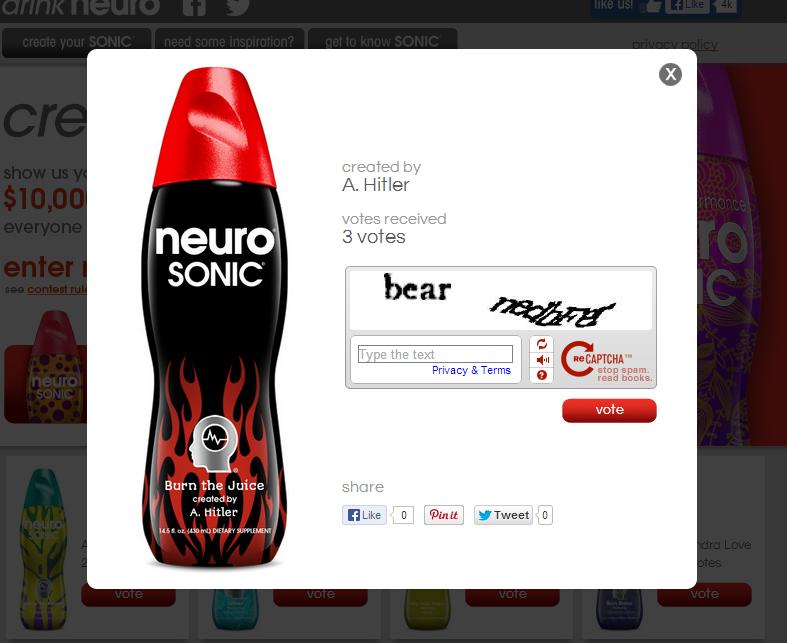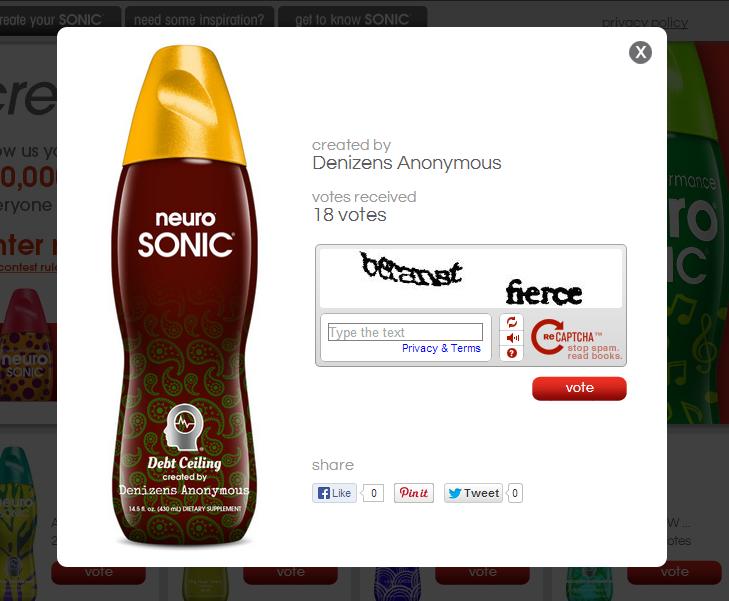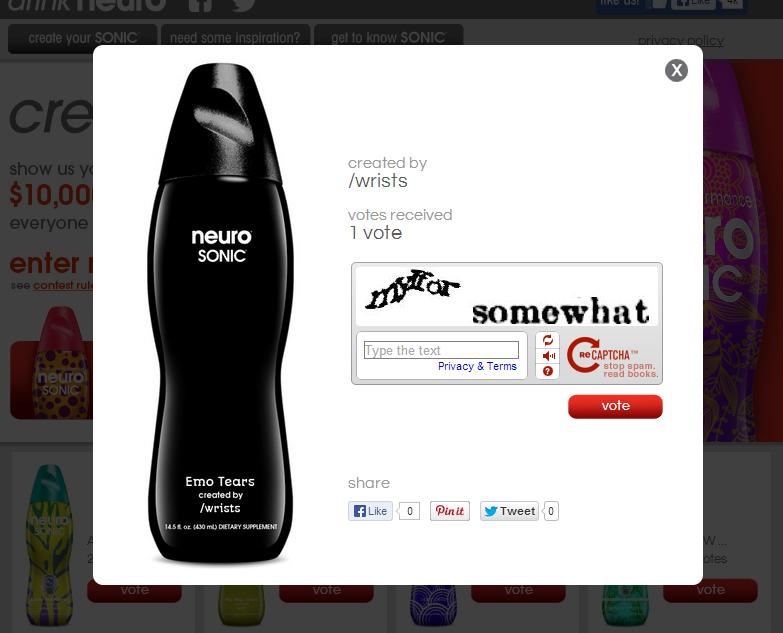 Despite /b/'s fervor, "Nig Nogs Tears" and the rest of its submissions will likely fail to win unless the community can pull off a Time Magazine-like maneuver.
"The judges select one out of the top 10," one /b/ user wrote. "You're going to need to think of nine others, or help /v/ [4chan's video game board] with their choices."
In April 2009 4chan decided to pay their respects to Poole by gaming Time's annual Time 100 poll to have him take the top spot. Not only were they successful in this endeavor, they rigged the rest of the contest to spell the phrase "Marblecake, also the game" with the first letter of each contender's first name. In the end, Poole was voted "Most Influential Person of 2009." 
4chan followed up on this success in 2012 by voting North Korean leader Kim Jong-un as Person of the Year. The community also spelled "KJU GAS CHAMBERS" by voting candidates such as Secretary of State Hillary Clinton and New Jersey governor Chris Christie to the top. 
Voting for the Neuro contest will close on Halloween. Chances are, it will be a scary finish.
Photo via Neuro (Remix by Fernando Alfonso III)