Every year it feels like the holidays get a little more stressful. Normally, around this time is when last-minute shoppers start to feel the adrenaline rush of a nearly missed deadline. Thankfully, 2020 is here to show us that we never really knew what stress was before now.
If you haven't ordered your gifts yet to be shipped by mail, you might be out of luck for standard delivery before Santa visits. Fortunately, we can help you save Christmas and you can continue to wait until the absolute last minute just like you would any other holiday season. So don't panic just yet!
What could go wrong? Ordering and shipping gifts this year
Whether you use USPS or a shipping company, everyone is running slower this year. The United States Postal Service isn't running at full strength due to COVID. Private companies like UPS and FedEx are also facing delays thanks to the exponentially high volume of packages being shipped this year.
Waiting isn't the only issue. Due to the increased volume, more packages are bound to get lost. Shipping delays lead to pile-ups. Overworked drivers mean packages are more likely to be delivered to the wrong house. Delivery workers are human (so be kind!) and mistakes are bound to happen. And this is all without considering other less 2020-specific factors, like gifts being stolen off the porch or thinking about the weather.
What we're saying is it's important to have options outside of relying on standard shipping. And thankfully, everyone does!
If, like me and millions of others, you've waited until now to finish your shopping, you do not have to risk your (or others) health to browse the aisles. Here are some helpful holiday tips for last-minute gifts. There's a golden solution waiting for you at the curb of major retailers everywhere.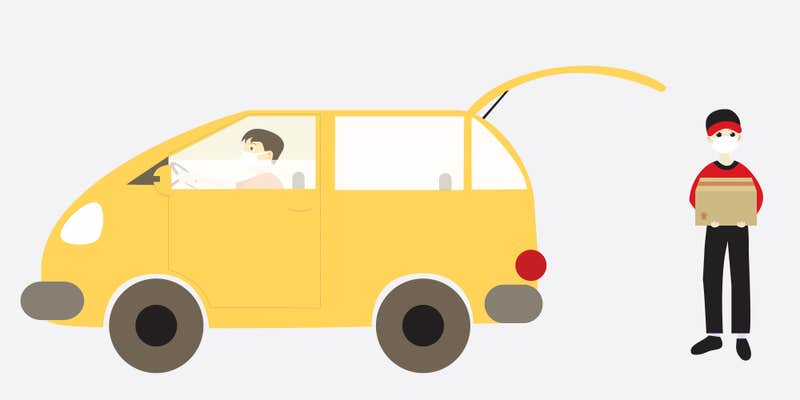 Use curbside pickup for last-minute shopping
What was once an added luxury is now an included service at most megastores. Curbside Pickup doesn't even require a new set of skills. Simply fill your cart online like you would if you were ordering from any website. (Be sure to look for items available in-store though.)
Instead of waiting 2 days or weeks for your order to arrive, most stores pack your order in 24 hours or less. Just arrive for your appointment, pop your trunk, and a customer service rep will load up your car. Boom. Holiday shopping is done.
This option is not only safer for you, but also for retail workers. And you still get to leave the house to run an errand. Roll down the windows. Play some Mariah Carey. Taste freedom before going back inside.
One store that's taken curbside Pickup to new levels during COVID is Sam's Club. Normally Pickup is only available to its Sam's Club Plus members, but the service is now available to anyone with a Sam's Club card. From video games to gym equipment, Sam's Club delivers the holidays directly to your vehicle.
If you're looking for last-minute gift ideas this season, let Sam's Club do the shopping for you.  Shoppers can use Sam's Club's Pickup service through Dec 23 for last-minute gifts. 
Plan your trips to minimize contact
The only downside of shopping online is not having a visual representation of your cart. Filling up a shopping cart in person lets you know when you have a full load. Sometimes when you're shopping digitally, space limitations can be a distant thought.
To minimize contact with workers, pay attention to item specs and plan your shopping trips in advance. Are batteries included? The cues you'd normally get while browsing in-store aren't available, so it's good to read the product details so you know exactly what you're getting.
If you're buying larger items, like a desk chair or TV, it might be wise to set aside time for a second trip if it's not all going to fit. That way your trunk won't already be filled with smaller gifts, and you avoid the risk of prolonged exposure trying to force it all in the cab of your car. By planning in advance, you can help keep workers and yourself safer.
How to safely distribute gifts this holiday season
Curbside Pickup is only the beginning of your holiday journey this season. Large gatherings are still discouraged due to the threat they pose of mass COVID infection. That doesn't mean you can't give people gifts.
Wipe down and wrap your gifts in advance and schedule a time to drop them off at friend's houses. Leave them on the front porch and practice the art of doorbell ditch for a holiday surprise. Or if you prefer the look of glee when they open gifts, place them on the porch and call your friends to let them know you're there. You can enjoy a quick, properly distanced visit and they can open an early Christmas gift if you're both in the mood.
If you still decide to mail your gifts, consider writing the recipient an email letting them know the post office warned you they were experiencing longer shipping times. Maybe even drop a hint to keep them guessing about what's inside the package. This is a small gesture that can take some of the pressure off you while your gift is in transit. It also assures you won't accidentally make a beloved Aunt think you forgot to give them a Christmas gift.
Sponsored: The Daily Dot receives payment for sponsored content. Interested in promoting your brand or product? Email us at [email protected] to learn more.