Any chef will tell you that before they learned how to cook, they learned how to wash a dish. But some take that lesson more seriously than others, placing cleanliness and kitchen organization on a pedestal.
Keeping your kitchen clean and organized isn't as time consuming as you think it is. There's a world of wacky gadgets out there to help make your job easier. So if messes make you cringe, continue perusing. These 12 gadgets will not only bring you peace of mind, but they'll add some charm to your kitchen. You know, the one that looks like it's never been used.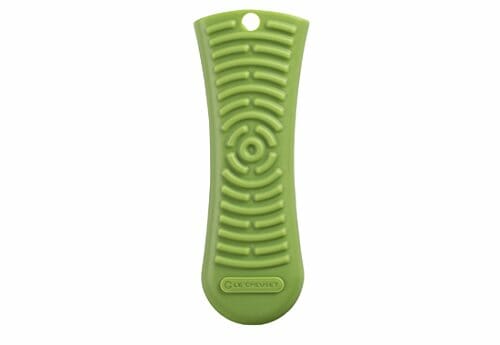 Stop spilling and splattering your meal because the handle of a pan is too hot. This heat-resistant silicone sleeve will keep you from getting burned. Which means you'll no longer be dropping dishes like they're beats from your new mixtape.
Price on Amazon: $15.95+ (regularly $20.00)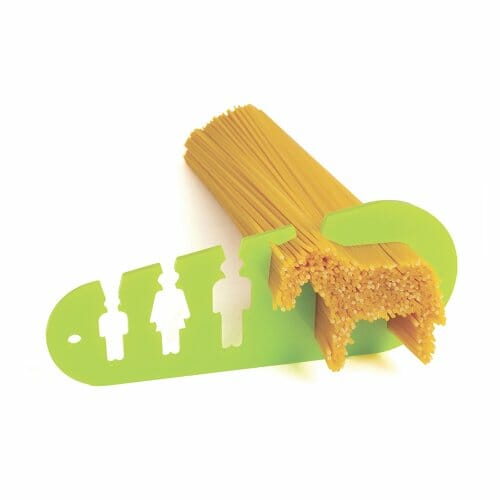 Making too much spaghetti doesn't sound like an issue, until you make that mistake one too many times. Then loading it into tupperware containers gets a bit tedious. Plus, you could really use that extra space in your fridge. This spaghetti measuring tool will help you decide whether or not you're hungry enough to feed a horse, or if you should put some of that pasta back in the box.
Price on Amazon: $9.95 (regularly $14.99)
Yeah spoon rests are great, but not if you want to wash another dish or happen to be cooking a few dishes at once. That's what makes this heat-resistant silicone spoon holder so great. Whether you don't want to cross-contaminate entrees or just don't feel like washing your spoon rest every night, this little tool will save you from some serious scrubbing.
Price on Amazon: $5.31+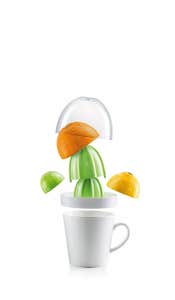 Fruit juicers are a pretty phenomenal kitchen tool. But not if most of the juice lands on your counter and not in the cup. That's why this multi-piece juicer is so handy. It offers a variety of size pulp inserts so you can find one that won't cause a giant mess. Plus, it even comes with a lid if you have some extra juice to store.
Price on Amazon: $40.92
Cocktails can be super yummy, if made right. And some people just can't stand pulp or other invaders floating around in their mixed beverage. That makes this dishwasher safe strainer a go-to for picky hostesses.
Price on Amazon:$9.99
No, it's not a fancy paperweight. This magnetic rock looks classy while holding up to eight pages of recipes for you. So you'll never have to worry about accidentally discarding the secret family recipe ever again.
Price on Amazon: $8.70+ (regularly $9.99)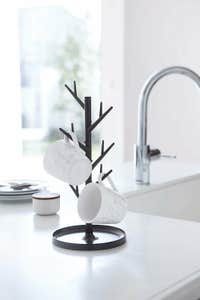 Whether you're looking to make more cabinet space or just want a place for your mugs and glasses to dry without breaking, this tree-shaped stand does it all. So if you don't feel like putting away your clean mugs, nobody will know the difference. Keep the tree decorated or take it down for simple storage.
Price on Amazon: $26.17+
Now you can store your herbs all in one place and keep them fresh longer. These BPA-free containers are designed to keep your herbs in tip-top shape three times longer than just refrigeration alone. This container protects your herbs from being smothered, allows you to see what's inside and even keeps them hydrated for you.
Price on Amazon: $22.34 (regularly $29.99)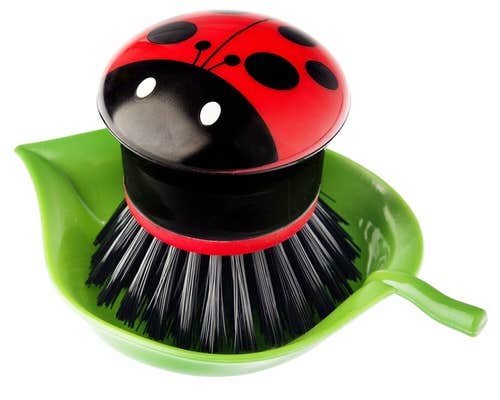 This scrub brush and tray set keeps excess water where it belongs: off your counters. The adorable set comes in three varieties and is guaranteed to keep your kitchen sink more organized. Never use a stinky sponge or clean up water dribble ever again!
Price on Amazon: $9.99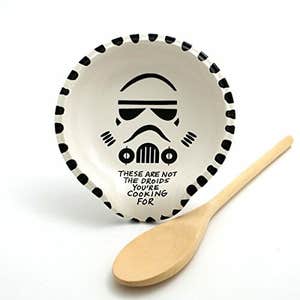 May the force be with you … and your sauces. Keep your entrees, sauces and whatever else you're stirring up in the pot and off your surfaces.
Price on Amazon: $15.00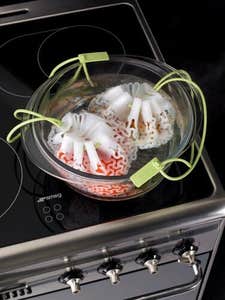 Blanching and cooking in water is easier than ever. This dishwasher-safe cooking mesh protects your dishes and makes for effortless steamed seafood. Now you can control the cook time of your veggies and have a perfect meal every time.
Price on Amazon: $13.07 (regularly $14.99)
MORE BAZAAR DEALS:
The Daily Dot may receive a payment in connection with purchases of products or services featured in this article. Click here to learn more.