Yahoo CEO Marissa Meyer unveiled a new à la carte way for advertisers to reach users across Yahoo platforms on Tuesday during a keynote talk at the 2014 Consumer Electronics Show.
The new move puts the company a step closer to a goal set last year with the $1 billion acquisition of Tumblr: comprehensive targeted advertising.
Yahoo Advertising will rope in Tumblr's successful native ads, sponsored posts, and offer Tumblr advertisers more ways to participate in the site, as part of an across-the-board effort to deliver targeted marketing and unified but flexible options on all its platforms.
Even better for advertisers, the new ads allow them to target Tumblr users by gender and location, a highly specific method that moves Yahoo and Tumblr a step further along the route toward developing a full array of targeting that includes "the interest graph."
Scott Burke, Yahoo's senior vice president of advertising technology, described the change as a streamlined approach, moving from different advertising methods across Yahoo's platforms to four core modes of advertising: native, audience, premium, and search. Though the new ad service doesn't appear to be live yet, it promises an array of customization and flexibility.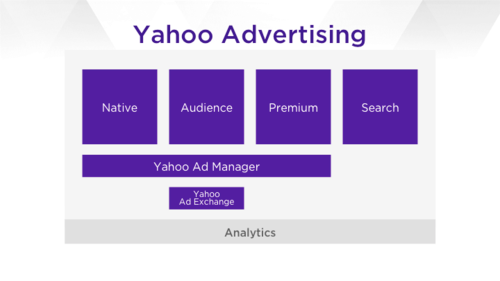 Image via Yahoo
Yahoo described its old ad model as being diversified across its many platforms, but it was clunky and required a host of third-party ad suites and multiple analytics programs to utilize: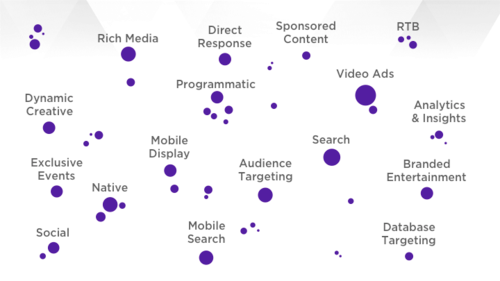 Image via Yahoo
For Tumblr users, this means that not much will change except the source of the advertisements that show up in sponsored posts. But for Yahoo advertisers, Tumblr now occupies a central position in Yahoo's new suite of unified services. Bringing Tumblr into the Yahoo ad fold should also allow it to move toward self-serve advertising—something Burke's presentation hinted at but which doesn't quite exist yet. Tumblr has nearly self-serve advertising through its "Spotlight" program, but it undergoes a quality assurance and curated placement process.
Marketer and Tumblr expert Andrea Lopez told the Daily Dot via email that she's "enthusiastic" about the new advertising suite, noting that ads becoming more à la carte and more targeted can only serve Tumblr well. She also pointed out that it behooves Tumblr to move away from the days when "buying a big-ass $25K Radar spot was your only option."
The tool with the most potential — the interest graph — wasn't addressed in the keynote, but it's worth noting.
Many marketing experts have speculated that the interest graph is where Tumblr's key value lies for Yahoo: the ability to target users based on what they like. Given the prevalence of fandom on the website, interest graphing on Tumblr could easily be Yahoo's trump card, provided it learns from other successful (and less successful) attempts to tap into fandom culture. Lopez told the Daily Dot that while it wasn't present in yesterday's address, it's almost certainly on the way:
This is the kind of thing Tumblr is equally qualified to tackle, but hasn't integrated with its ad products. Marissa Mayer has specifically addressed the potential of Tumblr's interest graph (right after Yahoo! bought Tumblr), so we know they're not sleeping on it. Some marketers already leverage Tumblr's interest graph, but we have to do it ourselves, outside of Tumblr's ad products.
When fully implemented, interest targeting on Tumblr might look a bit like Netflix's dizzyingly specific recommendations, but with advertising attached. If Yahoo can leverage that advantage, and further it with the ease and convenience of self-serve marketing, Tumblr might start looking much more appealing to a business industry that's largely written it off as irrelevant.
After all, 250 million active Tumblr users whose interests have been carefully datamined is nothing to sneeze at—especially when they're all at Yahoo advertisers' fingertips.
Photo via bluechoochoo/Twitter