You may not have to worry about Samsung Galaxy Note 7's catching fire on flights anymore, but they're not the only battery explosion nightmare out there. On a recent flight to Melbourne, a woman's battery-powered headphones caught fire, burning her face.
According to the Australian Transport Safety Bureau, the headphones began sparking with a small amount of flames present two hours into the woman's flight.
"As I went to turn around I felt burning on my face," the woman said. "I just grabbed my face, which caused the headphones to go around my neck. I continued to feel burning so I grabbed them off and threw them on the floor."
Flight attendants came to her aid immediately with a bucket of water, but the battery and its cover had melted, and were now stuck to the aircraft floor.
The ATSB released photos of the aftermath, which show the woman with black soot on her face and neck, and blisters on her hand. The ATSB is keeping both the woman's identity and the make and model of her headphones private, for now.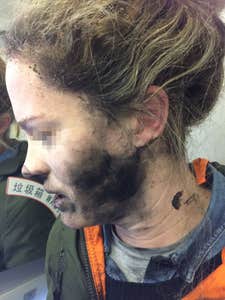 As with the Galaxy Note 7 debacle of late last year, it appears that the battery was to blame. While the ATSB issued some guidance on the proper handling of spare batteries and battery-powered devices following this incident, none of its advice would have helped the woman in this case.
The safety agency has yet to announce if this was a freak, one-off issue or a recurring flaw in the headphones. Lithium-ion batteries do (very rarely) explode from time to time for various reasons—just last month, a teen's laptop burst into flames in his living room.
To minimize your risk, keep your battery-powered gadgets (such as your smartphone, noise-cancelling headphones, and laptop) away from heat and flame, and pay attention if charging cables become frayed, or exhibit any sparking. Chances are you, and your gadgets, are fine. Lithium-ion battery fires like this are the very rare exception, not the norm.
H/T Yahoo! News