If you watched CNN's town hall on Wednesday with the victims of the Parkland school shooting and weren't previously dialed into the gun debate, you were probably surprised to see who the National Rifle Association trotted out: Dana Loesch. While Executive Vice President Wayne LaPierre has had a national profile for a long time, the NRA's newest face was a relative unknown until recently. 
Who is Dana Loesch?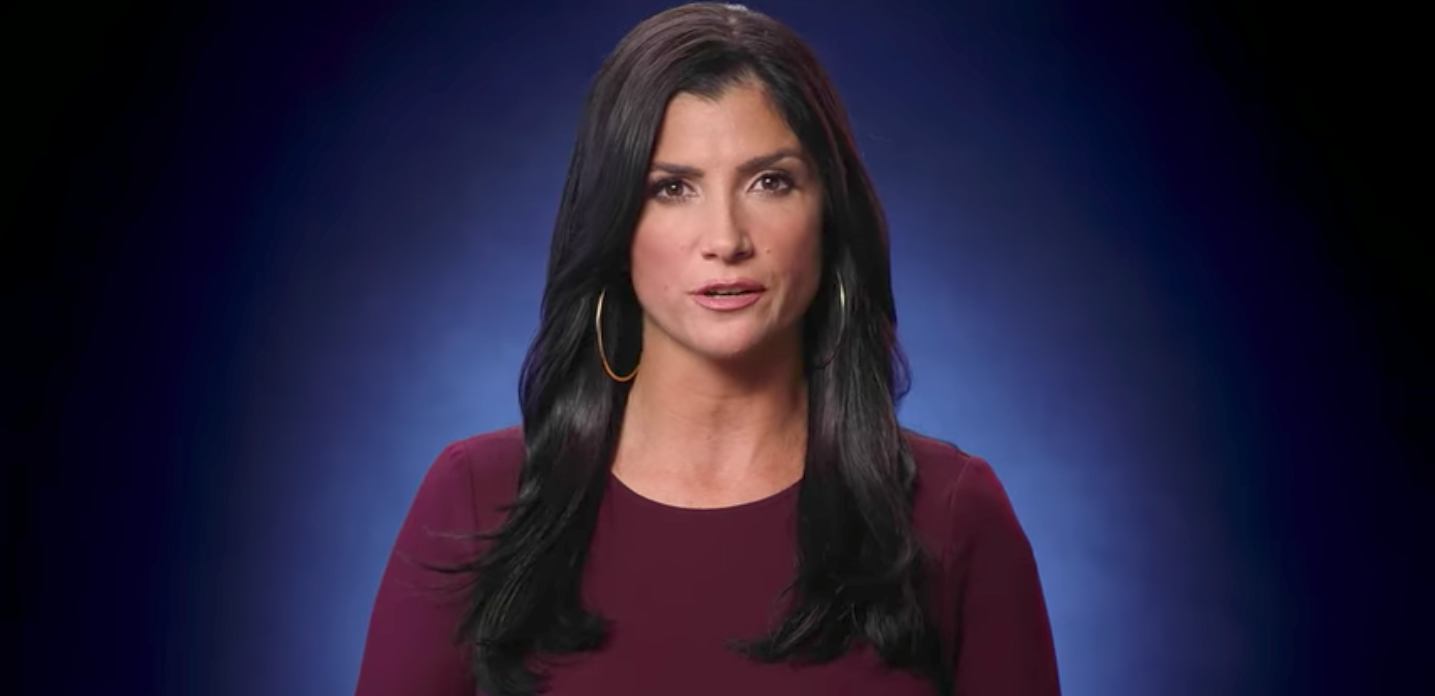 Loesch is not exactly the stereotypical NRA member; a caricature who you might imagine as a backwoods, tobacco-chewing, Confederate flag-flying, good old boy somewhere in the South or Midwest. Loesch is a brunette with a bible verse tattooed on her right forearm and a talent for tapping into the anger of the five million NRA members that she represents.
Her evolution into a household name only occurred in the past year and is the result of a series of NRA videos in which Loesch has nailed down the outraged conservative woman vibe. Her mannerisms, tone, and style on camera are similar to Tomi Lahren, who went viral in the same way.
READ MORE:
Dana Loesch NRA ads
Two recent videos, in particular, have sent shock and a fair amount of anger through those who don't adamantly agree with Loesch.
In the first video, which thrust her into the national spotlight, Loesch paints a scorched-earth landscape of the left, saying "they use their media to assassinate real news, they use their schools that their president is another Hitler."
https://www.youtube.com/watch?v=XtGOQFf9VCE
Eventually, she declared "the only option left [will be] for the police to do their jobs and stop the madness … the only way we stop this, the only way we save our country and our freedom is to fight this violence of lies with the clenched fist of truth."
Loesch's declaration sparked outrage with Black Lives Matter activist DeRay Mckesson, who tweeted it was an "open call to violence to protect white supremacy."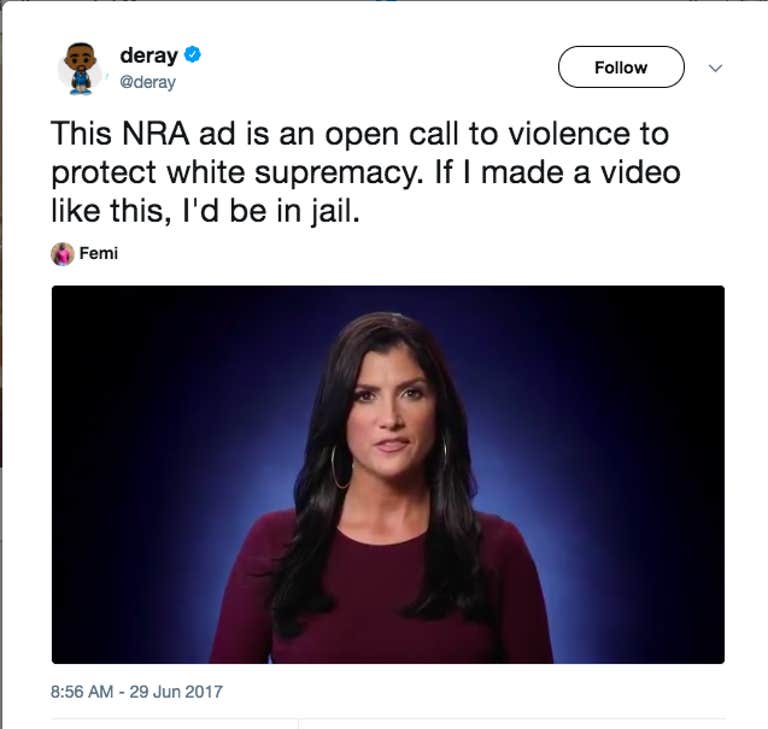 In calling conservatives to arms, she was accused of attempting to incite a civil war. The ad, though, was covered by every major news outlet, and Loesch's profile rose.
The second was a clip attacking the New York Times in which she bellowed "we're going to laser-focus on your so-called 'honest pursuit of truth.' In short we're coming for you."
Unfortunately for Loesch and the NRA, while the video was intended as a call to action, it was widely ridiculed for a hilarious line in which Loesch seemed to promise  "to fist The New York Times and find out just what 'deep, rich' means to this old grey hag."
Loesch swears that she said "fisk."
Where did Dana Loesch's career begin?
Though she regularly spits fire at journalists, Loesch began her career at a small paper and as a blogger. Eventually, she fell in with Andrew Breitbart and she even enjoyed a brief stint with CNN in 2012. After Breitbart died, she sued the company bearing his namesake. Last year, she took up with the NRA. As a former conservative radio host, she flourished as the voice of the organization.
In fairness, the 39-year-old has been a pretty big player on the conservative media spectrum for a long time, but she struck gold with the NRA and got in just as the organization was unrolling NRATV, their broadcasting arm that is constantly playing on the organization's website and on Amazon. She's the star attraction on that network.
And she's not afraid to threaten to burn down the New York Times.
READ MORE:
Dana Loesch news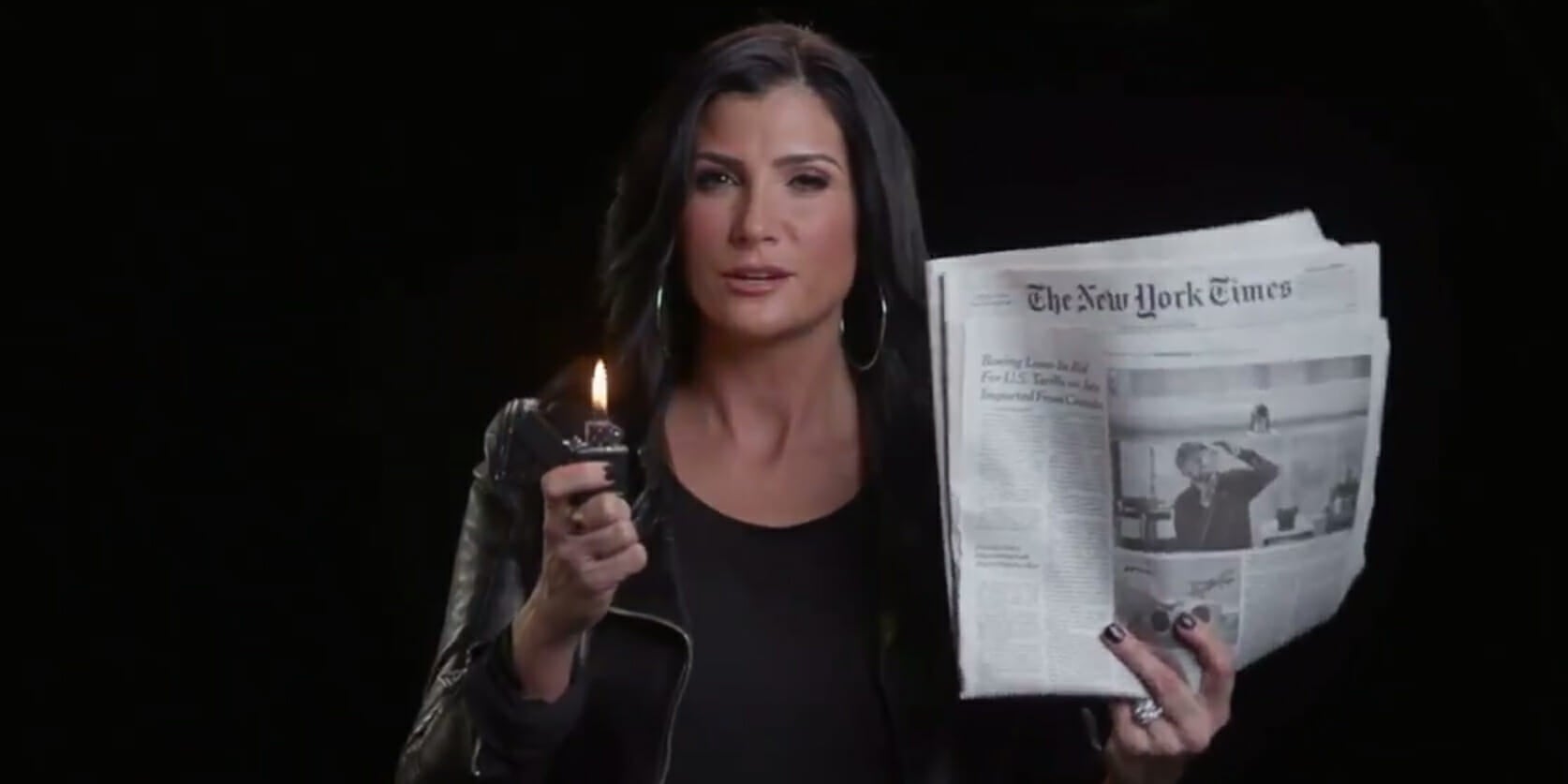 The February 2018 CNN town hall was the first time that Loesch faced a hostile audience on live television. She later remarked that she felt like Floyd Mayweather entering the ring when she entered the arena.
And, if an argument is lost by the first participant to lose their temper, Loesch certainly won. While the Parkland shooting survivors were justifiably furious with her, she stayed calm and repeated that she supports federal background checks on firearms, but staunchly defended the Second Amendment. 
There's a pretty good chance that you're going to be seeing a lot more of Loesch in the future. Because it's her penchant for offending that keeps her in the news. 
When she came to the NRA last year, she'd already made a series of disturbing remarks, including defending U.S. soldiers urinating on dead Islamic insurgents and describing RNC spokeswoman Kayleigh McEnany as flat-chested after McEnany underwent a double mastectomy following a breast cancer diagnosis.
At CPAC 2018, she even said the media loves mass shootings.
So the NRA knew what it had with Loesch, and she is more than likely to keep it going. 
Editor's note: This article is regularly updated for relevance.