Another civilian jumped the fence and attempted to infiltrate the White House Wednesday night. He was quickly brought down and arrested.
The suspect was apprehended and taken to an area hospital. The White House went on immediate lockdown.
This comes just a month after an armed man jumped the fence and made it not only inside, but into the first floor of the building. That man, Omar Gonzalez, did not have to deal with the Secret Service's security dogs. Wednesday night's suspect did—and it made a huge difference.
Fox News footage showed the suspect being attacked by two Secret Service K-9 officers. The suspect very clearly kicks and slams the dogs on the ground.
The Secret Service has confirmed the attack and released a statement.
#BREAKING Secret service sent us a statement about tonight's #WhiteHouse fence jumper. More @11pm @nbcwashington pic.twitter.com/FcJ8CWMVKb

— Shomari Stone (@shomaristone) October 23, 2014
According to the Washington Post, the dogs are Belgian Malinois, a breed chosen for its intelligence: "It typically takes a person sprinting across the grounds at least 20 to 25 seconds to run from the fence line to the mansion. Canine teams are trained to have the dog in position to be released within four seconds of the alarm sounding. The dog is trained to act as a missile, launching in the air to knock the subject down, and then biting an arm or leg if need be to subdue the person until the handler arrives."
The two dogs were taken to the veterinarian due to injuries sustained during the attack, NBC Washington reports.
Eyewitnesses said that the man got roughly 20 feet inside the fence.
This is the third time someone has attempted to intrude the White House since Sept. 11. Each time, perpetrators have attempted to enter through the Pennysylvania Avenue side of the White House that is generally open to pedestrians.
Update: ABC News reports that the jumper has been identified as 23-year-old Dominic Adesanya of Bel Air, Md. A glance at his public Instagram account reveals a fairly politicially minded individual, but also someone with innocuous sports and pop cultural interests: He claims to have made second-team all-conference as a track athlete at Stevenson University, loves breakfast foods and the Baltimore Ravens, and took a video of a duck by a pond. But he did also publish a handful of pictures that show government contempt, specifically paranoia about the Rothschild family.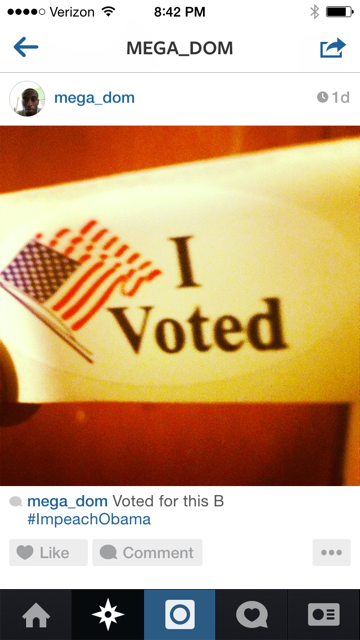 Screenshot via mega_dom/Instagram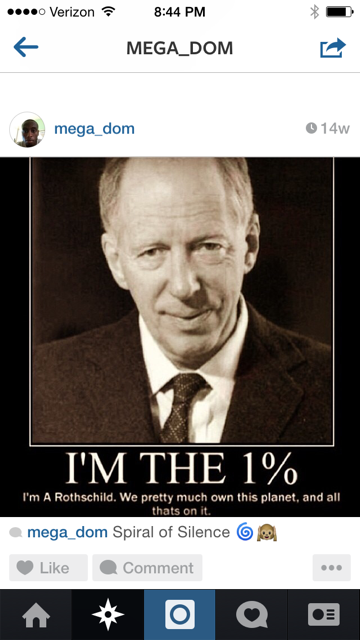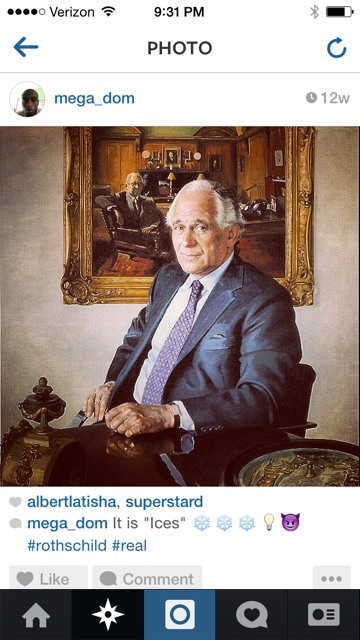 It should be noted that his selfie with a gas mask was a joke about an NFL game and did not seem to be political. But he also self-identfied as an "American slave."
Secret Service identifies fence jumper as Dominic Adesanya, 23 y/o, of Bel Air, MD. (PHOTO: @9Joe9, not confirmed) pic.twitter.com/Jq6H4yvUnO

— Breaking911 (@Breaking911) October 23, 2014
Editor's Note: This article has been updated to provide additional clarity and context. 
Photo via ehpien/Flickr (CC BY 2.0)