The now-famous 2011 meeting between WikiLeaks founder Julian Assange and Google executive Eric Schmidt, the focus of Assange's upcoming book When Google Met WikiLeaks, due out Thursday, may initially seem like a retelling of David versus Goliath.
It's not. 
In fact, calling this transcript of the Assange-Schmidt chat combined with supplemental essays a book at all might be stretching it. Despite itself, however, the tome does provide a rare, captivating glimpse into the dueling sides of the 21st century Internet: Assange, the staunch privacy and civil liberty advocate in one corner; Schmidt, the embodiment of the Internet's most powerful and pervasive company, in the other. 
As such, Assange meeting Schmidt is about as asymmetrical a battle as can be: World-conquering tech billionaire, let me introduce you to an anti-establishment activist currently under house arrest, who has a daily check-in with the cops.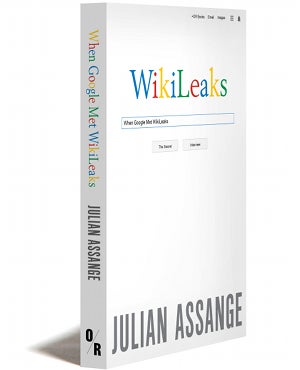 Assange frames the initially warm conversation as the opening skirmish in a larger war: Google's position as corporate surveiller-in-chief against the truth-exposing WikiLeaks founder—but there's also something more personal for Assange, a betrayal from Schmidt. 
As Assange notes in the book, the Google exec said to Assange's face that day that he is "obviously sympathetic" to the Australian cypherpunk's "vision." But then Schmidt went and wrote a 2013 book called The New Digital Age in which he linked Assange to a future of "terrorist hackers" and called WikiLeaks' success "unfortunate"—a sentiment that clearly raised Assange's hackles, and inspired the release of this book. 
When Google Met WikiLeaks is dedicated, first and foremost, to a sharp, lawyerly takedown of the "digital imperialism" worldview represented by Schmidt's New Digital Age. Assange blasts Google's omniscience fetish, and the company's close relationship with America's military and diplomatic establishment—entities that constructed the largest surveillance machine in the history of mankind. (For the record, Schmidt said he felt "attacked" by the National Security Agency (NSA) after Edward Snowden revealed the agency had breached Google's security.)
Much of the early chapters of When Google Met WikiLeaks call out Schmidt and Google as appendages of the United States government, and does so, satisfyingly, with footnote after footnote revealing evidence of intimacy between Washington, D.C. and Mountain View, Cali., evoking the sort of "scientific journalism" that Assange preaches about later in the book.
"Google's geopolitical aspirations are firmly enmeshed within the foreign policy agenda of the world's largest superpower," Assange writes. "If the future of the Internet is to be Google, that should be of serious concern to people all over the world for whom the Internet embodies the promise of an alternative to U.S cultural, economic, and strategic hegemony. A 'don't be evil' empire is still an empire."
In true Assange style, his book bestows near-biblical grandiosity to the Assange-Schmidt pow-wow. Like that old David and Goliath story, each line in Assange's book is pregnant with meaning, as illustrated by all those footnotes. In some ways, they make for a distracting read, but they also manage to translate the deep, riveting technopolitical talk of the meeting into something closer to normal English.
"We were at war," Assange writes, painting himself as a general in the battle for the 21st century's digital soul. And it's clear why he felt that way: At the time of the meeting he was under political, legal, and financial sieges. He wore ankle bracelets tracking his movements as he spoke with his guest, but all the time eyed his chess pieces and worked to understand the whole board. His conclusion: This game will end in a checkmate.
"It's not possible to win this kind of thing," Assange, who has spent most of the subsequent three years stuck in Ecuador's London embassy, told his visitor. "This is a continuous striving that people have been doing for a long time."
Lies, cheats, and deception will not go away, Assange asserts. But the fight for truth—and, therefore, WikiLeaks and the whistleblowers it has inspired—will endure as well.
"The process is part of the end game. It's not just to get somewhere in the end; rather, this process of people feeling that it is worthwhile to be involved in that sort of struggle, is in fact worthwhile for people."
When Google Met WikiLeaks is a compelling book, especially for anyone interested in the WikiLeaks credo and the site's effect on the world. In addition to the 132-page transcript of the Schmidt interview—which has been freely available on YouTube and WikiLeaks for well over a year—there are 90 pages of related essays that come closer than anything ever published to an Assange manifesto.
While Assange explores in depth several of the key philosophical catalysts behind WikiLeaks, this is primarily a book with Google in its crosshairs. In the wake of Snowden's landmark leaks from the NSA, which took place two years after the meeting with Schmidt, Assange smartly urges us to remember the corporate side of the coin, "commercial surveillance" like those that Google wields with its services, such as Web search and email.
"There is an uncomfortable willingness among privacy campaigners to discriminate against mass surveillance conducted by the state to the exclusion of similar surveillance conducted for profit by large corporations," Assange writes. "The movement to abolish privacy is twin-horned. Privacy advocates who focus exclusively on one of those horns will find themselves gored on the other."
When Google Met WikiLeaks is marketed as a "major" book about the "future of the Internet" in which Assange and Schmidt "locked horns." Actually, the pair don't debate directly at all; they mostly nod along with each other during the actual meeting—there's a lot of "Yes, yes, yes." and "Right, Right. That's interesting."  But the subsequent writing and books surrounding the meeting prove that it does eventually bring out, as advertised, a clash of "the North and South poles of the Internet." But the book alone is but one piece of the puzzle.
The main problem with this book—a problem that also plagued Assange's 2012 book Cypherpunks—is that a 132-page interview transcript inevitably leaves a reader repeatedly wishing for something less meandering in its mission.
Andy Greenberg's This Machine Kills Secrets, one of the top books ever written on WikiLeaks and the new ideas it's inspired, is the best example yet of how in-depth reporting and a captivating narrative on this subject almost always yields better results than a transcribed discussion. Thomas Keenan's Technocreep is another high-quality example. Assange could really use an editor who says, "No, a transcript copy-and-paste won't do, no matter how excellent the footnotes. Just write a damn book."
While the 2011 meeting predated Snowden's leaks, much of the writing has benefited from a post-Snowden perspective, an advantage Assange has over Schmidt's early 2013 book, which came out just weeks before Snowden's leaks began. As Assange repeatedly points out, Schmidt and his co-author make bogus predictions about how the future of whistleblowing in America will fade away.
Ever since Snowden shone sunlight on the American surveillance apparatus, Assange has had to deal with considerably less accusations of outright paranoia. The accusations of mad pessimism seem to have dropped off slightly as well.
"Populations basically don't like wars and have to be lied into it," Assange said. "That means we can be 'truthed' into peace. That is cause for great hope."
At its most optimistic and convincing, Assange's book gives a detailed outline of how he sees the Internet being used in an ideal world: An anti-surveillance, anti-censorship, anti-establishment tool that can fend off the advances of even the rich and powerful; a way to bring transparency and progress to power centers around the globe.
Valiant as it may be, that mission's success may depend on whether anyone bothers to read the footnotes.
Correction: An earlier version of this article misstated the timeline surrounding Snowden's NSA leaks and the Assange-Schmidt meeting. We regret the error.
Photos via Wikimedia | Remix by Max Fleishman