Earlier this week, everyone's favorite hateful thing to hate announced its intentions to embark on a whirlwind protest tour of Silicon Valley, because god hates fags and something or other.
On its God Hates the Media tour, the good ol' Westboro Baptist Church (WBC) will make a stop at every technology company it could come up with and scrawl onto a cocktail napkin. The tour's site defines the media as roughly everything ever (MTV, Cosmopolitan, Instagram, Disney, the NBA), but this particular segment will focus on the tech sector, a swirling nexus of fagness.
According to a flier obtained by Valleywag, on Tuesday, Aug. 12, the WBC will visit the campuses of Facebook, Google, and Apple (good luck with that one!), among other infamous fag sanctuaries.
It's like a pub crawl! One glutted on nonsense instead of microbrews and even more poorly planned out.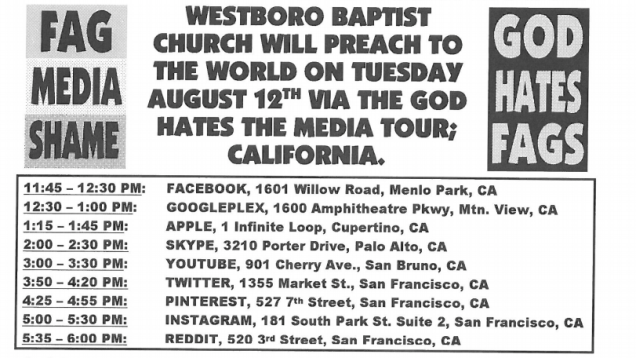 Image courtesy of Satan
The series of ill-fated flash mob-like protests will make a total of nine stops in a single afternoon, which—speaking from my own wealth of frantic transportation adventures in the Bay Area—will prove 100 percent impossible. The WBC starts at Facebook around the lunch rush hour, just in time for zero fucks to be given.
From Menlo Park, the procession will teleport to Google's Mountain View campus, before winding up locked well beyond Apple's gates in the crosshairs of the Cupertino company's own in-house SWAT team. From there, it's just a quick jaunt up the not-infamous 101 (or the 280) to round out the South Bay infidel contingents, before hopping onto the ne'er trafficked streets of San Francisco proper, where parking is anything but a literal hell on Earth. Considering that it's startup culture we're talking about, most of these offices will likely be empty or in kegerator bro mode after 4pm or so, but nevermind that. 
If everything goes according to (God's) plan, driving travel time will only be one hour and 35 minutes. If everything goes according to Google's plan, which here factors in no traffic or parking time whatsoever, it'll only take two hours to get from point A to point B, C, D, E, F, G, H, and I. On a normal workday in the Bay Area, we'd maybe quintuple that. 
All told, may we suggest that the WBC consider Skyping in their specific complaints pertaining to "fag media shame." When it comes to transportation in San Francisco, even Uber can't save you. 
H/T Stephen Lau/Google+ | Photo via Christian Rasmussen/Flickr (CC BY-SA 2.0)