The next major addition to the already big arsenal of the American soldier is something many of us take for granted: Livestreaming video on an Android smartphone.
An Army Battle Lab is now conducting experiments that will allow platoon and squad leaders in the field to receive real-time video and images from multiple drones in the sky and on the ground.
The prototype, called the Small Unit Leader Situational Awareness Tool (SULSAT), was demonstrated this month at Fort Benning in Georgia.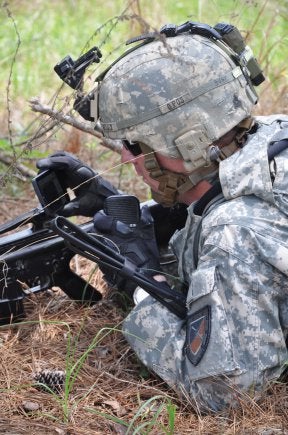 The early version gives Army officers greater situational awareness with points of view that any real-time-strategy gamer will appreciate and even envy: Total aerial overviews and dynamic ground views that will be simultaneously monitored by commanders behind the front lines.
"You always make the best decision you can with the information you have, and this gives me more information and greater confidence in my decisions," First Lt. Brandon Slusher told Army.mil.
Early SULSAT tests have been deemed a success with a few key drawbacks: Short transmission distance, for instance, limits the immediate usefulness of SULSAT.
Minor drawbacks notwithstanding, SULSAT will likely be added to the Nett Warrior system, a modernization effort that installs chest-mounted smartphones on soldiers in order to enhance their ability to plan and monitor missions, communicate, and stay situationally aware during combat.
The latest version of Nett Warrior is a Samsung Galaxy Note II smartphone with a modified Android operating system. The phone's communications capabilities are mostly wiped out by army engineers before they're integrated into the new system. Finally, they phones are connected via USB to a soldier's data-capable Rifleman radio which networks them onto the Nett Warrior system.
The Army is already looking to the next generation of smartphones to keep their systems on the cutting edge.
"We are beholden to the commercial industry," Programme Executive Office-Soldier Nett Warrior deputy project manager Jason Regnier said. "We have to keep up with them. So when the Note IIs are gone, they're gone. So then we'll have to be ready to buy Note IIIs or whatever it's going to be."
Photo via U.S. Army