Turkey's online censorship and banning of Twitter is fueling mass adoption of Tor, the most popular anonymity network online, as a tool to circumvent government obstruction.
Just days ago, the software had already hit a pace of 10,000 new users per week. Now the pace has picked up significantly; Turks are now moving to Tor at a rate of 10,000 new users per day for a total of over 50,000 users and growing.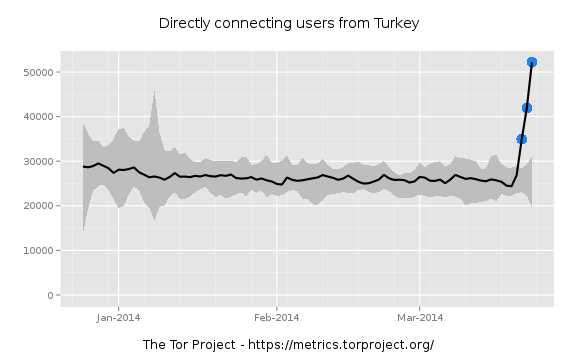 Graph via @FredericJacobs/Twitter
Prime Minister Recep Tayyip Erdoğan called Twitter "a menace," as it played a key role in organizing, recording, and maintaining year-long protests against what critics see as his administration's creep towards authoritarianism.
Tor, which protects users' Internet usage by encrypting data and bouncing it around the globe to circumvent censorship and tracking, can be downloaded at TorProject.org.
Anticipating an eventual attempt to block Tor in Turkey, advocates are asking that anyone who sympathizes with Turkish protesters to consider donating bandwidth by becoming a Tor bridge, an unlisted relay that helps quietly move users' encrypted Internet data around the globe.
Illustration via Jason Reed | H/T @FredericJacobs/Twitter